Matthew Padilla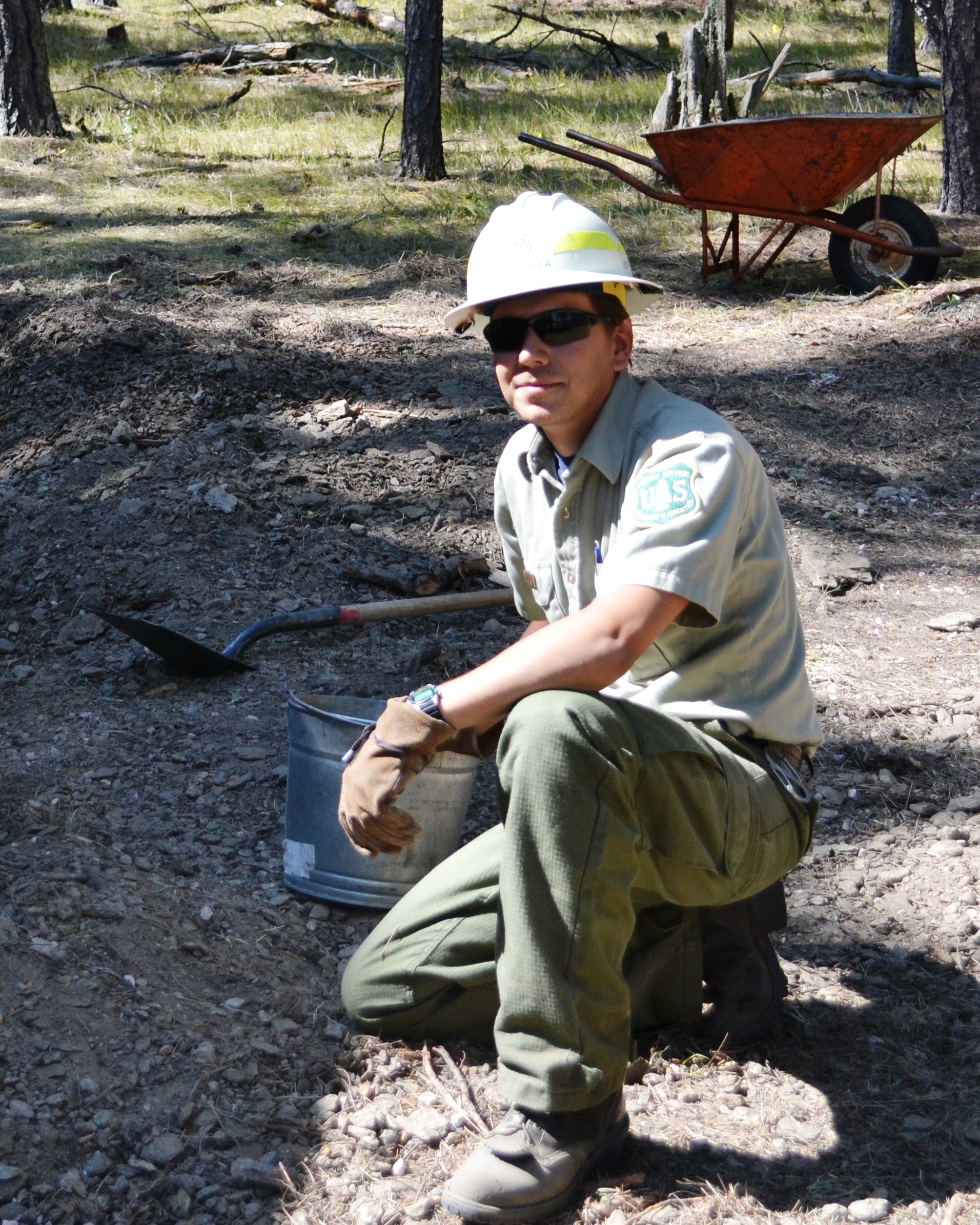 K-State graduation year: Winter 2003
Degree: Bachelor of Anthropology – focus in archaeology 2003 (KSU)
Other degree received: Master of Anthropology – focus in archaeology and minor in GIS 2006 (NMSU)
Current employer: US Forest Service, Shasta-Trinity National Forest
Position: Heritage and Tribal Relations Program Manager
How many times, if any, did you change your major during college?
I changed my major once, from Architecture to Anthropology.
Describe the process of choosing your major.
I started out at KSU in the Architecture program. After a long period of self-reflection I decided that although I enjoyed architecture, my real joy in buildings came from the history of places. As such, I switched to anthropology with an emphasis in archaeology.
What activities/organizations were you involved in while in college?
Developing Scholars

Anthropology Club
Did you complete an internship or have related work experience prior to receiving your job?
Yes. I took three field schools (Nebraska, Peru, and New Mexico), worked in an archaeology lab for three years at KSU, worked as a temporary employee (archaeological technician) for the Forest Service for three summers, worked at a KSU field school, went to Graduate School at NMSU, and had a summer internship with the US Forest Service in California as a part of my Master's program.
Describe the process of finding your first job.
I spent three summers working for the US Forest Service as a temporary employee to gain experience. At that point I decided I wanted to work for the federal government. I chose my graduate school based on the university's coordination with Forest Service recruiters. While in grad school I gained entry into a professional training program with the Forest Service called the Student Career Experience Program (SCEP). I incorporated my graduate studies into a paid internship with the Plumas National Forest in California. After I graduated with an MA in Anthropology I was converted to a permanent employee on the Plumas NF as an Assistant District Archaeologist. I now work for the Black Hills National Forest in South Dakota as a District Archaeologist.
Briefly describe a typical day at your job.
As the lead archaeologist for the Shasta-Trinity National Forest, I largely work on program development and Tribal consultation to help guide the protection of significant places. Most days it involves talking with people in the office and the field followed up by a lot of legal and technical documentation.
But when I was the district archeologist, I did a variety of assignments based on the season. During the summer I train and supervise permanent and temporary employees to conduct archaeological field surveys. I perform National Register of Historic Places evaluations of prehistoric and historic sites that are discovered, make determination of effects as a part of National Historic Preservation Act Tribal and State consultation, and plan/lead historic building preservation projects. During the winter I gather up all the information collected during the summer and write a lot of project reports for tribal and state consultation.
What are the most challenging aspects of your job?
Getting multiple nations to agree on the best way to protect sacred sites.
In the past when I was the archeologist, the biggest challenges were planning and leading large historic preservation projects is quite difficult because it requires budgeting, grant writing, managing volunteers, and specialized knowledge in historic preservation methodology… things that no university taught me.
What advice would you give someone interested in your field?
First, get a job with the US Forest Service as a temporary employee. Try it on. Learn all you can and see if it's something that interests you. The job market is tough. Without working as a temporary employee first you won't be very competitive. Also, go to graduate school and get a Master's degree in anthropology and learn GIS. You'll need it if you want to lead projects and it will make you much more competitive.
What were the stepping stones that led to your current career?
I started with a basic education and field school to get temp jobs during the summer in between semesters. I then used my temp job and graduate school experience to help get into a career program with the US Forest Service.
Has your career path taken any unconventional turns that you never would have expected?
My job has led me down an interesting path. During college I didn't expect to replace historic log cabin walls with tools from the 19th century one week and record pictographs with x-ray fluorescence the next.
How have any changes in your life situation affected your career path?
I learned right away, if you want to be competitive in archaeology, you really need to be willing to uproot yourself and your family and travel.
What job have you enjoyed the most and why?
I've enjoyed being part of something that is tangible, whether it's recording prehistoric sites or restoring fire lookout towers.
What were the major lifestyle changes your first year out of college that made the transition hard from college to the world of work and how did you adapt?
After many years of directed effort to get a job with the Forest Service, I had a full time permanent job waiting for me in California upon graduation. By the end of graduate school I already had a wife and child, so my life had pretty much settled down by that point. There wasn't much adaptation needed.
What was the one thing you did in college that has had the most impact on your life or career?
I was mentored as an undergraduate student in the Developing Scholars Program by Dr. Lauren Ritterbush. With her continual guidance I was able to build skills that have stayed with me to this day.
What tips do you have for current undergrads about opportunities they should definitely take advantage of while they are in school?
Attend a good field school, learn GIS, get a job during the summers in archaeology, and go to every multicultural event on campus you can attend.
Was there a specific class you remember that sparked your interest in your career direction?
Oddly enough, it was History of Architecture. Once I realized that individuals with distinct cultures in varying ecosystems guided architectural development I knew that the story behind the material items that were left behind was more important than the items themselves. I also learned that you can learn a lot about past cultures by studying their architecture.
Was there a specific person in college who had a significant impact on your life or career?
That's an easy one. Dr. Lauren Ritterbush was with me from the start. She pushed me to improve myself and stuck with me while I struggled. As an advisor, mentor, and friend, Lauren guided me down the path of success.
What didn't college teach you that you wish you would have known before you started your career?
I would have liked to have learned more about cultural resource management (CRM). As a professional archaeologist that works in CRM on the land management side, I'm responsible for merging anthropological theory with law and long term management of archaeological sites. It's much more complex than just surveying the ground and recording sites, as many would have you believe. Although I received some course work in CRM while at graduate school during my time at New Mexico State University, Kansas State University left me in the dark.
Do you keep in touch with your college classmates? How have those relationships influenced your career?
There are very few college classmates I still keep in touch with. However, archaeology is a small field and it's amazing how many times I've come across the same people over and over again. As such, I would recommend being as professional as possible with all your classmates. You never know who you will be working with in the years to come.