Lindsey Ott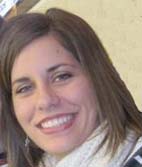 K-State graduation year: 2008
Degree: BS in Biological and Agricultural Engineering
Other degrees: PhD in Bioengineering (KU), Postdoc in Surgery (KUMC)
Currently enrolled: Likarda, LLC
Position: Product Innovation Scientist



How many times, if any, did you change your major during college?
Zero. I never changed my major. I came to K-State enrolled in engineering and I liked it so much that I never changed my major. I had a lot of friends that changed their major though.
Describe the process of choosing your major.
I asked for advice from some of my high school teachers, and I thought about what I was good at and what I liked to do. My math teacher recommended that I try engineering or the sciences. She saw that I enjoyed those subjects and knew I could make a career out of them, even before I did. In my case, I like math, science, and biology, so I decided to major in engineering. After researching the types of engineering at K-State, I decided on biological engineering.
What activities/organizations were you involved in while in college?
Society of Women Engineers

American Society of Agricultural and Biological Engineers

K-State Engineering Ambassadors

Steel Ring Professional Engineering Society

The Navigators
Did you complete an internship or have related work experience prior to receiving your job?
Yes, I had two internships during undergrad and grad school. During undergrad, I had an internship at Hospira, a pharmaceutical contract manufacturing company in McPherson, Kansas. I was assigned to a project in the product labeling department. My main role was to provide a fresh perspective to problems and develop solutions to make the department run more efficiently. The internship taught me how to problem solve, communicate, and work independently on a project. During grad school, I worked for Nanofiber Solutions, a biotechnology start-up company in Columbus, OH. Both internships taught me how to problem solve, communicate, work independently and with teams, and they gave me experience in industry.
Describe the process of finding your first job.
I discovered the KU Bioengineering program at the K-State Graduate School Fair. After doing some internet research and talking with professors at KU, I submitted my application, personal statement, and reference letters.
Since I did a PhD and postdoc, I was in school for a while before I started my first industry job. I found my job by networking and calling contacts of my PhD and postdoctoral advisors. I also looked at job websites and LinkedIn and applied for several positions.
Briefly describe a typical day at your job.
My role as a scientist is to develop R&D projects at my company. Since we are a drug discovery contract researcher, I work with clients to develop assays and protocols to test their drug compounds in our proprietary cell models. My typical day is spent partly in the lab and partly in my office on my computer or the phone. When I'm at my desk, I communicate with clients and collaborators, plan experiments, analyze data, write scientific articles or reports, and read scientific articles to keep current in the field. When I'm in the lab, I plan and conduct the experiments.
What do you enjoy most about your job?
I like the mental challenge of my job. I enjoy learning, whether it is science or the business-side of science like how to commercializing technology. I also enjoy thinking of new experiments and products, and solving scientific/technical problems. Ultimately, I enjoy working at a company that is developing new drugs and biomedical products to help people fight disease like cancer and diabetes.
What are the most challenging aspects of your job?
It is challenging to be in research because you are often doing things that no one or very few people have figured out. There is risk, failure, and trial-and-error, but it is rewarding when you succeed.
What advice would you give someone interested in your field?
I would encourage you to talk to people in the field you are interested in and maybe do an internship or shadow program. Hands-on experience, like working in a lab at K-State, will let you know if you would enjoy research as a career.
For more information, Lindsey can be reached at ott.lindsey.m@gmail.com