Laura Mendenhall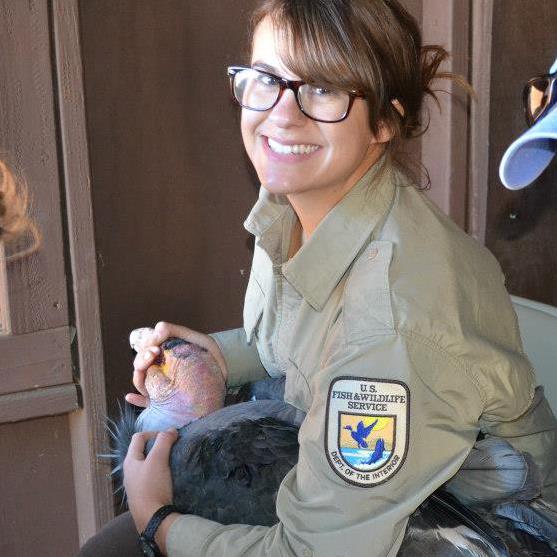 K-State graduation year: May 2009
Degree: Bachelor of Science in Biodiversity and Conservation Biology
Other degree received: Master of Environmental Management from Duke University
Current employer: U.S. Fish and Wildlife Service
Position: Endangered Species Biologist
How many times, if any, did you change your major during college?
Once, though I debated changing twice. I started at K-State as a biology major, then questioned whether I should switch to English (I loved to read and write and didn't want to lose that). I quickly realized I could keep reading and writing, but as a conservation biology major (environmental policy, op-eds, etc. could fulfill my reading/writing need!).
Describe the process of choosing your major.
I grew up camping, hiking, fishing, and traveling and always had a strong environmental ethic. Conservation biology would keep me outdoors, allow me to travel, and allow me to support a cause I felt should be a priority among voters. I also pursued a Spanish minor and Environmental Science secondary major to round out my education.
What activities/organizations were you involved in while in college?
I was a longtime member of Students for Environmental Action. We camped, did volunteer work, and generally enjoyed conversation on topics we cared about. I also spent many weekends hiking on the Konza prairie and enjoyed working at the KSU Herbarium during my fifth year.
Did you complete an internship or have related work experience prior to receiving your job?
Yes! I did two internships: one working with sea turtles at a conservancy in North Carolina during the summer between my two senior years at KSU and one working with California condors at a National Park following graduation. My internships were integral in helping me further narrow my focus and contextualize my graduate school experience in job market reality.
Describe the process of finding your first job.
I kept in close touch with the contacts I had made in both of my internships and sought help from career counseling professionals at my graduate school. The USAjobs.gov application process (you will use this for ALL federal jobs, e.g. U.S. Forest Service, National Park Service, U.S. Fish and Wildlife Service, etc.) is difficult to navigate, so getting help from experienced professionals was essential.
Briefly describe a typical day at your job.
There is no typical day! My job tasks vary with the season. Some days you'll find me rappelling into a cliff-side California condor nest to do a health check on a wild chick and other days you'll find me making maps or organizing geospatial data in my office.
What do you enjoy most about your job?
I enjoy and am challenged by the interagency aspect of the work. I am constantly communicating with partners to request or distribute data or troubleshoot cross-programmatic systems (related to data management and GIS). I love that I split my time half and half between office work and field work.
What are the most challenging aspects of your job?
Sometimes I have difficulty staying optimistic, especially when we have just treated several California condors for lead poisoning or when the media misrepresents what we do.
What advice would you give someone interested in your field?
Network! Go to conferences and meet people. Show your genuine interest as a student and people will be more than willing to help you out. Get out and volunteer on projects! Graduate students or natural resource groups can always use help from someone who is serious about the subject matter. Wildlife biology is a very small world. As an example, the woman who hired me for my first internship in North Carolina now works with me in California on condor recovery.
What were the stepping stones that led to your current career?
Internship > Graduate School to fill in the skills I felt I was missing but would be useful (GIS, population ecology, professional communication) > Networking at Conferences > Job!
What is one specific person in college who had a significant impact on your life or career?
My undergraduate advisor was certainly influential! I made sure I prepared for our semesterly meetings so I got as much information out of her as I needed and did not waste her time. I still keep in touch with her and keep up-to-date on her publications. She helped me get both of my internships by writing letters of reference for me. Ask your advisor for advice beyond simply which classes to choose! He or she is probably very well-connected in the field and could help you get your first job or internship.