Eric Mann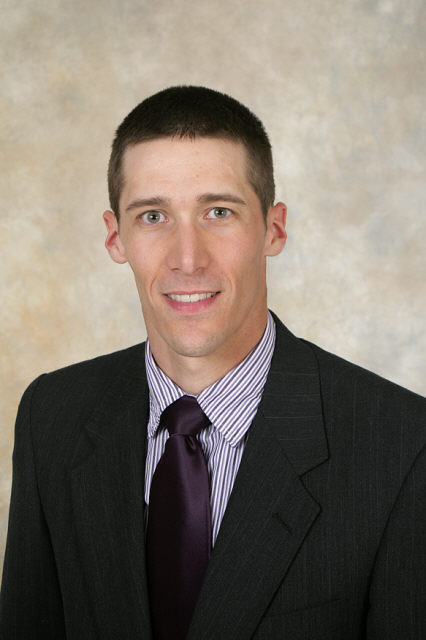 K-State graduation year: May 2006
Degree: BS Mathematics and Statistics
Other degree received: MS Statistics - May 2011. Fellow of the Casualty Actuarial Society - January 2014
Current Employer: Swiss Re
Position: Senior Pricing Actuary
How many times, if any, did you change your major during college?
I changed my major once by adding an additional major to my original major. I started my college career as a math major and ended as a math and statistics major.
Describe the process of choosing your major.
I knew going into school that I wanted to become an actuary. K-State offered a suggested track of coursework that primarily resided in the math department. Therefore, math was the major where I started. As part of the actuarial curriculum I took several statistics courses, and had very positive experiences in my classes and interacting with my professors. Because statistics only required a few extra courses on top of my math degree I added it as a major.
What activities/organizations were you involved in while in college?
KSU Marching Band

Resident Hall Government

Housing & Dining Ambassador

Community Assistant

Resident Assistant

Math Club

Statistics Club

Assistant Residence Life Coordinator - graduate
Did you complete an internship or have related work experience prior to receiving your job?
During the summer between my junior and senior years I worked as an intern for Allstate Insurance Company. During that time I met many new people and lived in an entirely new city (Chicago). It was a highly rewarding experience as I performed meaningful tasks like rate changes and rate filings. It was great because it was work that contributed to the company's bottom line. During that time I learned a great deal about insurance and the insurance industry along with gaining a better understanding of what exactly an actuary does.
My summer wasn't all work, either. The interns played volleyball, made music videos, had outings to the downtown marina, and even went to a Cubs game.
Describe the process of finding your first job.
The internship with Allstate went well and they offered me a job upon graduation. The difficult part was landing the internship to begin with. One of the actuaries at Allstate is from northeast Kansas and recruits in the area. I submitted a resumed and interviewed with them. I then went to the Allstate office in Chicago and interviewed there. Other advice I would have is try to meet other professionals in the field and leverage them to discover other contacts or opportunities.
Briefly describe a typical day at your job.
I spend significant time at my desk either providing estimates and analysis in Excel or another computer language. I then write reports describing my results and recommendations. Several times a year I will make visits to meet with clients in person.
What do you enjoy most about your job?
I get to work with business leaders and influence the decisions that they make and the actions that they take.
What are the most challenging aspects of your job?
In many of the math and statistics classes students are largely given homework problems that are relatively short and have defined right or wrong answers. However, in my current job I often need to define the problem, devise a solution that balances multiple issues, and then work to meet that end goal. There is no right or wrong. Also, since I work for a small firm I wear all hats including IT, HR, and quality control.
What advice would you give someone interested in your field?
Actuarial exams are the key to entering and advancing in the actuarial field. The exams are very challenging. Therefore, be prepared to study 2 to 3 hours per day while managing your work responsibilities.
Take a technical writing course! As a math and statistics student everyone knew that I could do math. But the technical writing course set me apart from other applicants and provided me with experience writing practical documents like resumes, reports, and proposals.
What were the stepping stones that led to your current career?
I passed my first actuarial exam during my sophomore year. This was crucial as it showed potential employers that I was serious about the actuarial career path. During my first few years of working I studied hard and continued passing exams. This opened many doors of opportunity that I hadn't expected. For example, I landed my current job partly because I was credentialed and therefore capable of signing actuarial opinions.
Has your career path taken any unconventional turns that you never would have expected?
Absolutely. During my time at Allstate I saw that the actuarial career field was shifting towards reliance on heavier statistical modeling techniques and ideas. In order to get ahead of the curve I left my job and returned to K-State to pursue my Masters in Statistics. During that time I learned a lot. The actuarial exams had given me a solid foundation and the statistics department expanded upon that greatly. My work experience also provided me with an understanding of what areas of statistics that I needed to study to pursue my career path.
Upon graduation I landed my current job with a small actuarial consulting firm that specializes in working with small companies. I landed this job specifically because of my graduate statistics experiences and actuarial accreditation. I went from a stable job at one of the largest insurance companies to an 'eat what you kill' consulting world where I work directly with company management and board members.
How have any changes in your life situation affected your career path?
Yes. I recently got married and bought a home. I couldn't have passed exams or advanced in my career the way I have if I had done these things earlier in life.
What job have you enjoyed the most and why?
I have enjoyed my current job the most. Because I work for a very small firm there is no one telling me how to perform my work. I am free to devise my own methods and be as creative as I want.
What were the major lifestyle changes your first year out of college that made the transition hard from college to the world of work and how did you adapt?
I lived in the residence halls during my entire college experience. So, when I moved into an apartment with one roommate post college it was kind of a shock to get accustomed to not being able to socialize with others whenever I wanted. I adapted by getting involved in activities outside of work.
What was the one thing you did in college that has had the most impact on your life or career?
Participating in marching band provided me with extremely valuable life lessons. I learned how to work with and lead a diverse group of people under difficult and stressful situations.
Was there a specific class you remember that sparked your interest in your career direction?
Statistics 713 - Applied Linear Statistical Models. I worked very hard, learned a lot, and fell in love with statistics. This class laid the foundation for the type of work that I regularly perform and excel at in my current job.
Was there a specific person in college who had a significant impact on your life or career?
The statistics professor that taught the applied linear models class was the most impactful. He was brilliant and emphasized practical intuition along with heavy theory. He taught the material in a way that challenged me but kept my wanting more. And to this day I still quote some of the things he said in class.
What didn't college teach you that you wish you would have known before you started your career?
Networking is extremely important for your career. Meet new people whenever you can and get their contact information. Never burn bridges. The circle of people in your field is smaller than you realize.
Do you keep in touch with your college classmates? How have those relationships influenced your career?
One of my best friends from college is also an actuary. Over the years we have had an informal race to pass exams. This has provided extra motivation to study even when life was busy.
For more information, Eric can be reached at ericmitchellmann@gmail.com