Mary Gleason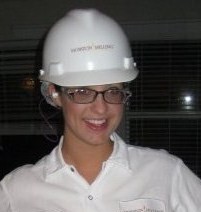 K-State graduation year: 2009
Degree: BS in Milling Science and Management, minor in Agricultural Economics
Other degree received:Milling Technology, Swiss School of Milling, St. Gallen, Switzerland
Current employer: Cargill-Horizon Milling
Position: Assistant Facility Manager
Describe the process of choosing your major.
I did research at the Career Center on the majors at K-State and looked into the type of jobs that would be available after graduation with that degree. I then visited the milling science department and met as many people as I could to see if it was truly a good fit.
What activities/organizations were you involved in while in college?
Kappa Alpha Theta

Grain Science Club

Agriculture Economics Club

St. Isidore's Catholic Student Center
Did you complete an internship or have related work experience prior to receiving your job?
I completed an internship with Dakota Growers Pasta Company in Carrington, North Dakota, after my sophomore year. At that internship I worked with the lead miller to learn about operating a fully automated durum mill. The following summer I had an internship with Cargill in the Horizon Milling business unit in Saginaw, Texas. I attended management meetings and was given the opportunity to provide input. I also updated flow sheets and policies.
Describe the process of finding your first job.
I truly think that networking is key. It's both who you know and what you know. I took every opportunity I could to attend conferences, career fairs, and lectures and interviewed with as many companies as I could. It was really easy to interview with several companies since they specifically came on campus to interview students in the Department of Grain Science.
Briefly describe a typical day at your job.
Every day is different. It always starts with safety and catching up on what happened at the mill the night before. The rest of the day is a combination of being in the mill, working on projects, and of course, being ready for anything, whether it's something that happens in the milling process or with the people involved.
What do you enjoy most about your job?
I like that it's not just a desk job and you can get your hands dirty. I enjoy making changes to the process and then seeing the improvements.
What are the most challenging aspects of your job?
There is never enough time to do everything you want to do. Managing people isn't always an easy task, and there are many hard decisions you have to make that can affect a lot of people.
What advice would you give someone interested in your field?
Visit mills to see what the working environment is really like, and if you're still interested complete as many internships as possible. Get as involved with industry as much as possible, and network, network, network!