Mitch Gerstenkorn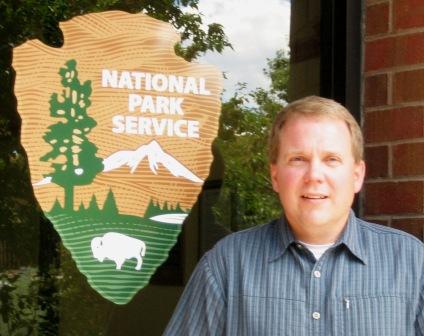 K-State graduation year: 1998 & 2000
Degree: 1998 - BS Agriculture, Animal Science and Industry (Pre-veterinary Medicine); 2000 - BS, Agriculture, Park Management and Conservation
Current employer: National Park Service, U.S. Dept. of the Interior - Intermountain Regional Office, Denver, Colorado
Position: Concession Management Specialist, Project Manager
Describe the process of choosing your major.
I had worked on my uncle's family farm in North-Central Kansas during high school, and enjoyed the animal husbandry side of the operation, thus the reason for the Animal Science Degree. As for the Park Resource Management Degree, my parents always planned family vacations at National Parks, and my dad and I spent many Sunday afternoons fishing at Kirwin National Wildlife Refuge, so I think I was destined to end up working for the National Park Service.
What activities/organizations were you involved in while in college?
KSU Park Resource Management Club

KSU Pre-Veterinary Medicine Club

Manhattan Sunset Zoo Docent

Ducks Unlimited
Did you complete an internship or have related work experience prior to receiving your job?
Yes- One summer I completed a practicum as a maintenance laborer at Milford Reservoir, working for the U.S. Army Corp of Engineers. The following summer I completed an internship as an Environmental Interpreter at Ponca State Park, working for the Nebraska Game & Parks Commission. This led to my first permanent employment opportunity as the Park Superintendent at Lake McConaughy State Recreation Area also with the Nebraska Game & Parks Commission.
Describe the process of finding your first job.
For my summer internships I worked with my college advisor to find opportunities in the field. This led to me landing my first full-time opportunity. As for making the leap to my current job with the National Park Service, I spent many hours networking through co-workers and peers, as well as applying to approximately 50 federal, 45 county, 15 city, and 3 state positions. I can say that I landed about 10 interviews and this was a great opportunity to preview many of the different agencies along the way.
Briefly describe a typical day at your job.
The Commercial Services Program of the National Park Service (NPS) administers approximately 600 concession contracts with gross receipts totaling over $1 billion annually. Our concessioners employ over 25,000 hospitality industry people during peak season, providing services ranging from food & beverage, lodging, and shuttle bus services, to guided horseback rides and white water rafting adventures. The Concession Program administers these contracts and monitors the performance of concessioner operations. Concessioners are authorized to offer certain specific goods and services to park visitors, which are not provided by NPS personnel. By welcoming the private sector as a partner in park operations, the NPS broadens the economic base of the surrounding communities.
As for my work day, there really isn't ever a typical day in the NPS Commercial Services Program. I develop contract prospectuses that are used to market the business opportunity offered within our concession contracts. I assist with annual operating evaluations, special project budgeting, contract sale & transfers, and many day-to-day questions that come up with our park administrators and concessioners. My job is to assist our parks in managing their concession operations.
For more information on the NPS Commercial Services Program please feel free to visit our website at:http://concessions.nps.gov And all information relating to our Nation's Parks and the National Park Service at:www.nps.gov
What do you enjoy most about your job?
As a public servant working for the NPS, we have been mandated to "manage park resources and values in such a manner and by such a means as will leave them unimpaired for the enjoyment of future generations." We as the NPS, have the ability to ensure that future generations will be able to enjoy what we have strived to conserve. Being able to visit some of the most beautiful resources that our country has to offer while working isn't half bad either!
What are the most challenging aspects of your job?
I think the biggest challenge surrounding this job is to keep everyone on task during projects and to keep up with our ever changing policies and regulations.
What advice would you give someone interested in your field?
If I could do it all over again, I would have started getting experience working in the parks much sooner. Life throws you options, you just have to be willing to jump at the challenge(s) by being willing to take some calculated risk. Look into programs like Peace Corps, Student Education Employment Program (SCEP), summer internships, or volunteering for local community parks and recreation programs.
What were the stepping stones that led to your current career?
It is really difficult to single out any specific events that prepared me best for my career with the National Park Service, although I know they include:
1) FFA in high school
2) Working on my uncle's family farm
3) Having Dr. Keith Lynch as my college advisor
4) Summer Internships with the US Army Corp of Engineers at Milford Reservoir
5) Summer Internship with Nebraska Game and Parks Commission at Ponca State Park
6) But most importantly, attending the best school in the nation, Kansas State University! Go Cats!
Has your career path taken any unconventional turns that you never would have expected?
I always wanted to work for the National Park Service, but I never thought I would be working for the Commercial Services Program. This took me from more of an emphasis on resource management to a total emphasis on business management.
How have any changes in your life situation affected your career path?
I am now married and have two children, and this has definitely changed the level of dedication to my professional career, as my family will always rank #1. I think all graduates need to look very thoroughly at the benefits employers have to offer, as a few years ago, my wife and I would have never worried about saving for two kid's college funds. Things change so rapidly, it is ever so important to stay educated and flexible in today's professional work force.
What tips do you have for current undergrads about opportunities they should definitely take advantage of while they are in school?
Think twice about doing something that you'll never have the chance to do again. This may involve a stint in the Peace Corps, spending a summer in an underdeveloped country helping people, fighting wildfires on a summer seasonal crew, etc. I really wish I would have spent more time networking with professionals to better understand what goals I should set for myself.
What didn't college teach you that you wish you would have known before you started your career?
How to prepare for the future through benefits, savings accounts, IRA's, 401K's, life insurance, retirement, home mortgages, health benefits, etc. Who would have known there is so much to prepare for? [Editor's note: K-State's Powercat Financial Counseling service now offers students free info and education about these kinds of practical financial matters. Learn more about PFC here: http://www.k-state.edu/pfc/]
Do you keep in touch with your college classmates? How have those relationships influenced your career?
I have a few classmates that I've kept in contact with. Some still have jobs related to their degrees, others have moved on to other endeavors. It allows me to continue to network outside of the agency that I'm currently employed with. Plus it never hurts to have a few more 'Wildcats' on your side.
For more information, Mitch can be reached at mitch.gerstenkorn@outlook.com