John Churchill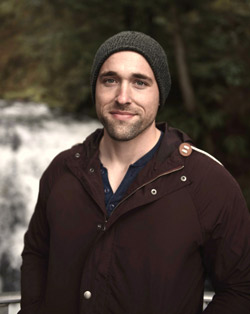 K-State graduation year: 2010
Degree: B.A. Music Composition
Current employer: Self-Employed
Position: Composer, Pianist
Describe the process of choosing your major.
I had always loved math and science. My original major was architectural engineering. An engineering professor, though he didn't know it at the time, convinced me to switch to music.
Did you complete an internship or have related work experience prior to receiving your job?
I taught private music lessons while in college. I also composed a piece for dance.
Describe the process of finding your first job.
For teaching, it was online advertising. For film scoring, I blind carbon copied hundreds of email addresses of people in film and sent out my portfolio offering my services. Expect to work for free in the beginning.
Briefly describe a typical day at your job.
My days are usually cut in half. The first half, I'm writing music for any number of film projects that I'm currently working on or personal projects. The second half of my day consists of teaching private piano, guitar, or drum lessons.
What do you enjoy most about your job?
I love that my job constantly makes me better at my craft.
What are the most challenging aspects of your job?
With film, the hardest part is giving up a lot of creative control over the final product. You are writing music that is what the director wants it to be like. With teaching, every student is different. You are constantly having to adjust to the type of student you have in your studio.
What advice would you give someone interested in your field?
Don't expect anything that you aren't willing to work really hard for. If you wish to make money, get creative and proactive. Also, leave space for your own creative endeavors.
What were the stepping stones that led to your current career?
The first step is putting yourself out there. The next is taking the opportunities that present themselves.
Has your career path taken any unconventional turns that you never would have expected?
I grew up as a singer/songwriter. I thought that was my career trajectory. I rarely do that anymore. Composing has taken over my life.
What job have you enjoyed the most and why?
I have found a love in writing music for animation. I would say that and writing for musical theatre have been the most enjoyable thus far.
What were the major lifestyle changes in the transition from college to the world of work during your first year out of college?
Everything about life changes after college. You don't have a choice but to adapt.
What was the one thing you did in college that has had the most impact on your life or career?
There wasn't just one thing, but I did get to write for an original modern dance piece. It provided the platform for seeing how diverse my field can truly be.
What tips do you have for current undergrads about opportunities they should definitely take advantage of while they are in school?
Whatever your focus of study is, you need to glean as much of the information as you can. You are surrounded by experts of your field of interest. They have a lot of experience to share. College is the opportunity.
Was there a specific class you remember that sparked your interest in your career direction?
Yes. Orchestration. I fell in love with thinking about music in such a medium.
Was there one specific person in college who had a significant impact on your life or career?
There were two. Dr. Slawomir Dobrzanski showed me how to truly listen to what I was playing. Dr. Craig Weston taught me how think about the color of sound.
What didn't college teach you that you wish you would have known before you started your career?
It didn't prepare me for what the competitive landscape would truly be like. But, to be honest, I don't know if there is a better way to learn that than to just dive in and fail.