Amanda Cebula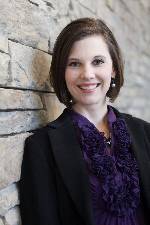 K-State graduation year: May 2007
Degree: BS Communication Studies, minor in Music and Leadership Studies
Other degree received: Master of Arts in Management and Leadership from Webster University completed in October 2010
Current employer: Kansas Leadership Center
Position: Director of Project Development
How many times, if any, did you change your major during college?
Describe the process of choosing your major.
My first major in college, Music Education, was based on what others expected of me and probably at the time, what I believed myself. It is what I was good at in high school and made logical sense for a career. Once I got into it though, I realized that music was my passion, but not a good match for my job every day. I started exploring other areas of interest and landed on Communication Studies. The biggest challenge in changing majors was convincing my parents I would find a job since the career path wasn't as spelled out (for example, major in music education become a music teacher – major in Communication Studies and the opportunities are limitless but not as defined).
What activities/organizations were you involved in while in college?
K-State Singers

Forensics

Student Governing Association

Lambda Pi Eta

Leadership Studies & Programs Ambassadors

Leadership Studies & Programs Class Leader

Chimes

Campus Tour Guide

Orientation and Enrollment Leader

First Tee Counselor
Did you complete an internship or have related work experience prior to receiving your job?
Orientation Leader and Campus Tour Guide. Both of these jobs immensely prepared me for my first job as an Admissions Representative for K-State by introducing me to future employers and colleagues and getting to see other people performing in the position I would later interview for and take on.
Describe the process of finding your first job.
Through my involvement and connections made as an undergraduate, finding my first job was not as stressful as it could have been. In fact, because I started looking for a job early (during the Fall semester of my senior year), I was able to secure my job during the early part of the Spring semester, long before graduation. The interview process was the most challenging, but earlier high school involvement in FCCLA (Family, Career and Community Leaders of America) and classes I took for my major, like Business and Professional Speaking, really prepared me for giving a presentation, answering questions in a professional setting and coming overly ready to the interview.
Briefly describe a typical day at your job.
There really isn't a typical day at my current job. Each morning I come into the office knowing that the day is mine to create with a focus on doing whatever is most purposeful to work toward achieving our organization's mission. Some days this may mean a calendar of meetings and other days it may mean sitting at my desk or taking a walk to organize my thoughts. While my work tends to be rather ambiguous by nature, I find comfort and energy in the work our organization sets out to do – to create healthier Kansas communities.
What do you enjoy most about your job?
There are really two things I enjoy most about my job. The first is the nature of the work we do. I feel truly blessed to be part of an organization that is passionate about people and changing the civic culture of our state through leadership development. The second thing I enjoy most is the people and culture of the Kansas Leadership Center. We have a truly unique culture at KLC that includes outstanding people and a high level of trust and appreciation for work/life balance.
What are the most challenging aspects of your job?
One of the most challenging aspects of my job is trying to figure out how to turn off work at the end of the day so I don't get burned out, especially because my work is something that I care so much about and truly excites me.
What advice would you give someone interested in your field?
Get involved and do as much as you can to build experience. Be purposeful about your involvement and networking. If you know where it is you want to end up, don't wait for the job to open to start gaining the skills and experience you need to end up there.
What were the stepping stones that led to your current career?
I think the stepping stones go pretty far back, but I think a combination of K-State's Communication Studies department and the School of Leadership Studies really gave me my first look at how I could make a career in the field of leadership. From there, I knew I enjoyed the area of study, so I continued to pursue that for my master's degree while working in a field that excited me and built important foundational skills. Then it all came down to networking (in fact, at a good old K-State alumni club event) in which I met someone who told me about an opportunity I might be interested in. I was also blessed by connections to many former instructors and colleagues who were able to provide me advice, suggestions and references along the way.
How have any changes in your life situation affected your career path?
Within my first six years out of college, I got my first job, got married, moved out of state, held another job, earned my master's degree, moved back to Kansas and started job number three. I was really worried that my career path would be affected and even more so that I had multiple jobs already and hadn't been in the workforce for all that long. In the end, it seemed that being purposeful about my involvement, gaining appropriate experience and continuing my education meant more than the amount of transition I had gone through.
What job have you enjoyed the most and why?
The job at the Kansas Leadership Center because it matches my desire to work with people making a difference with the skills I acquired around communication and leadership development in an outstanding culture with high-achieving people.
What were the major lifestyle changes your first year out of college that made the transition hard from college to the world of work and how did you adapt?
The major lifestyle changes in the transition from college to the world of work were a) adapting to someone else's schedule for work, b) learning how to balance traveling for work and c) having to think about things like vacation time, sick leave and benefits. I was able to adapt by staying connected with others experiencing the same things, asking a lot of questions, and having a supportive work environment filled with people who had been in this same situation before.
What was the one thing you did in college that has had the most impact on your life or career?
Changing my major to Communication Studies, where I not only enjoyed what I was learning about, but I had faculty who treated me like an adult, genuinely cared about my goals and future and put me through a rigorous and rewarding academic experience that overly prepared me for my first career and graduate school.
What tips do you have for current undergrads about opportunities they should definitely take advantage of while they are in school?
While you are in school, take advantage of every opportunity you are provided. This is a unique time in life, when the sky is literally the limit regarding time, resources and the level at which you can become engaged, so find the things that you are interested in and matter most and prepare for the future. You don't have to wait for your first job after college to start gaining the skills and experience to be qualified.