Marcus Bragg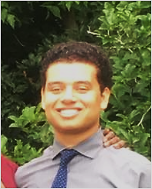 K-State graduation year: May 2014
Degree: B.S. Business Administration (Management Information Systems)
Current Employer: John Deere
Position: IT Production Planning Analyst
How many times, if any, did you change your major during college?
Three times. It's a common struggle so don't be embarrassed or stressed if you are unsure. It's difficult to make big decisions at 18 and even at age 25. Weigh your options, do online research, consult with trusted advisors/friends, and go visit the ACIC. There are tons of resources on campus to help you make this decision – utilize them.
What activities/organizations were you involved in while in college?
My fondest college memories are of my involvement in student organizations, especially my fraternity Alpha Phi Alpha and the Black Student Union. I look back on myself pre-college and realize I would not be the person I am today or hold the convictions I do if it weren't for the friendship, mentorship, and development I received as a member of these groups. I also enjoyed participating in the MIS Club, Student Alumni Board, and Multicultural Ambassadors. You can never go wrong involving yourself in student groups that interest you - experiences gained through these groups make for great answers to behavioral-based interview questions as well.
Did you complete an internship or have related work experience prior to receiving your job?
I completed three and a half internships during undergrad. In 2011, I interned for Hallmark Cards, Inc. in Kansas City. When I returned to campus in the fall, I successfully interviewed and was offered a second internship at a highly sought-after company. Unfortunately due to some difficulty I experienced that semester, I dropped out and moved home for the remainder of that term. As a result I lost the internship, but due to some amazing people I'd stayed in contact with at Hallmark I was allowed to return as an intern while I was withdrawn from school and even received an internship with the company to replace the one I lost for that upcoming summer. This experience taught me two things: 1) Life happens – just don't stay down. Get up. 2) Your relationships are critical. Don't burn bridges, contact old colleagues (and not only when you want something from them), and do good work.
I interned at ConocoPhillips the following summer before my 5th year and became a full-time employee in June of 2014 after graduation.
Describe the process of finding your first job.
My final internship made it easy to land my first full-time position. Before the summer ended at ConocoPhillips, I received an offer of full-time employment and accepted a few days after the fall career fair. I did explore a few other options, but ultimately decided that working for ConocoPhillips would be best for me at that time. Many factors come into play when deciding upon an offer and you've got to decide what matters most to you, whether it's money, location, work load, travel, proximity to family/friends, or relationships. I try to do what makes me happy.
Briefly describe a typical day at your job.
John Deere is a manufacturer and as an IT Production Planning Analyst, I assist engineers and other factory employees at our locations around the globe. Each day is different, but my job primarily entails system configuration, creating queries/reports, training end users and working to resolve production issues, and utilizing data to design effective solutions to increase our users' productivity. I work on a team of four – my teammates are fun but hard-working, and their drive motivates me. I really do enjoy my job.
What do you enjoy most about your job?
I work on a global team and support Deere business customers all over the world. Coworkers I interact with every day are across the US; Mannheim, Germany; Pune, India; Monterrey, Mexico; Indaiatuba, Brazil and Tianjin, China. I learn a ton about different cultures, try new foods, and get teased (playfully) a lot for my lazy American English. I also enjoy the challenge of my work and the autonomy I am given over my schedule. I am not closely supervised and definitely not micro-managed – I am trusted to do my job. It's a nice feeling.
What are the most challenging aspects of your job?
In a global workplace you encounter challenges in scheduling due to time differences and language barriers. One of my longest days was waking up at 5:30am to call into a meeting in India, working a normal 7-4pm shift to support US operations, and then logging into my computer again from 8:30 – 12am to talk with folks in China. I am always amazed at how many languages my foreign counterparts speak. I have learned not to judge foreigners for occasional broken English - it generally means they know more languages than I do.
What advice would you give someone interested in your field?
Don't be afraid to try new things and step out of your comfort zone. I worked as an SAP programmer at my first job (and in college I was not the biggest fan of my programming courses). The general perception of this position was that it would be incredibly difficult and as a result few others in my new hire class were interested. That, however, is precisely why I applied for it and I'm so glad that I did. SAP IT is a lucrative field and knowing the software made it relatively easy to relocate back home and get my current job. This move wouldn't have been quite as easy had I taken an easier route and stuck with what was familiar.
What were the stepping stones that led to your current career?
Maintaining a good GPA and being involved in student activities in college made my internships possible. Without these internships, I know that I would've had a more difficult time finding gainful employment upon graduation.
Has your career path taken any unconventional turns that you never would have expected?
My career path is beginning to veer off the traditional IT path. I started on the technical side as a programmer, I now work more on the business side of things, and it's likely in my next job rotation (Jan. 2017) I'll be moved into the supply chain division as a Buyer. A few months ago my mentor gave me a good piece of advice – "Do what interests you over everything else." She told me that careers are less linear than they were in the past. Graduates leave college with marketing degrees, work for 10 years in IT, then leave corporate altogether and enroll in law school. Of course this is an extreme example, but many of my IT coworkers are teachers, engineers, and accountants by degree so I have seen these unconventional turns in action. I am open to any future opportunity that is challenging, interesting, and will provide me with development and growth.
What job have you enjoyed the most?
I've been out of college for just two years and have only worked for two different companies. However I'd say my current job is my favorite of the two. The work is challenging and intriguing, I learn so much each day, and I'm back in my hometown with my family and old friends.
What was the one thing you did in college that has had the most impact on your life or career?
I was an active student. I took full-time class loads, worked 20 hours per week, and held positions in several student organizations. As a result I learned (often through trial and error) how to prioritize and juggle a busy schedule, and I think this is the most valuable lesson I learned in college. I currently work full time and am involved in philanthropic activities and enrolled in graduate school. Learning to manage my time in college laid the groundwork for me to be successful in my current activities.
What tips do you have for current undergrads about opportunities they should definitely take advantage of while they are in school?
My major college regret is not studying abroad. I always made an excuse as to why I couldn't go despite several people close to me suggesting I take advantage of the opportunity. I've only been out of the USA once for two weeks, but I returned with such a unique perspective and have begun to see things through a different lens. I'd like to take an international trip once a year from now on.
Do you keep in touch with your college classmates?
I keep in touch with several classmates and college friends who are now working in their career fields. It's nice having these relationships because we are able to bounce ideas off of each other, share experiences, and help each other make career decisions. I have one friend in particular who is such a "go-getter." Keeping in touch with him and hearing about his successes at work motivate me to do better and aim for my own goals.