Recent Department Achievements
"BMB Majors Achieve 100% Acceptance to the University of Kansas School of Medicine"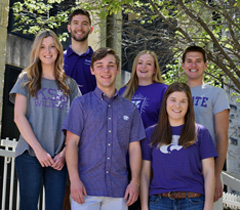 Photo by Maxwell Braasch
The Department of Biochemistry and Molecular Biophysics is pleased to report that all of its undergraduate majors who applied to the 2021 Class of the University of Kansas School of Medicine were accepted. The students are in order left to right: Natalie Ost, Matthew Brettmann, Samuel Broll, Tate Gilchrist, Mackenzie Wahl and Garrison Olds. All six of these seniors participated in the recently developed Medical Biochemistry track, which BMB created in 2013 for its undergraduate students. This curriculum allows biochemistry students who desire a career in medicine or other health-related fields to both prepare for entrance exams and focus their classroom study on subject matter that will comprise their first year of medical, veterinary or nursing school. In 2016, the overall acceptance rate for US applicants to in-state medical schools was 60.6%, so this year's K-State BMB acceptance rate of 100% was well above the norm. (Read full pdf article.)
Faculty Achievements
Phillip Klebba has earned a promotion to University Distinguished Professor. announcement
Michal Zolkiewski has earned a promotion to full professor. announcement
Student Awards and Scholarships
Zachary Donley, Sammantha Goetting, Jacob Nichols, and Emily Roggenkamp (undergrads, Finnigan) received the College of Arts & Sciences Undergraduate Research Award ($1000) for Fall 2017.
Mark Boatwright (Biochemistry grad student) and mentor David Wetzel (Grain Science) had their article, "Profiling Endosperm Purity of Commercial Mill Streams Preceded by Debranning Using Quantitative Chemical Imaging" translated in German and published in "Mühle + Mischfutter" journal. announcement
Eric Aube, James Houghton, and Hannah Schauf (BMB undergrads) were seleceted as 2017-2018 members of Mortar Board Senior Honor Society. announcement
Tate Gilchrist, Faith Rahman, and Hannah Schauf (BMB undergrads) were inducted into Phi Beta Kappa academic honor society. Spring 2017 announcement
Nicole Green (grad, E. Geisbrecht) received a Sarachek Scientific Travel Award ($2000)announcement.
Erianna Basgall and Emily Turnquist (undergrads, Finnigan) received K-INBRE awards ($3,600) for the 2017-2018 academic year.
Erianna Basgall, Rachael Giersch (biology), Bailey Porter, and Laken Tedrow (biology) received K-State Arts & Sciences Research Awards ($1000) to work in Finnigan's lab for Summer 2017.
Vaithish Velazhahan (junior, BMB) was awarded a Goldwater Scholarship. announcement
Emily Turnquist (senior, Finnigan) received a Microscopy Society of America (MSA) Undergraduate Research Award ($3000) for Summer 2017.
Publications
Tam N. T. Tran, Rebecca J. Breuer, Ragothaman Avanasi Narasimhan, Lucas S. Parreiras, Yaoping Zhang, Trey K. Sato and Timothy P. Durrett. (2017) Metabolic engineering of Saccharomyces cerevisiae to produce a reduced viscosity oil from lignocellulose. Biotechnology for Biofuels 10:69
Duhachek-Muggy, S., Qi, Y., Wise, R., Alyahya, L., Li, H., Hodge, J., and Zolkiewska, A. (2017) Metalloprotease-disintegrin ADAM12 actively promotes the stem cell-like phenotype in claudin-low breast cancer. Molecular Cancer 16:32