Yasuaki Hiromasa, Ph.D., Research Assistant Professor
Associate Director of Biotechnology/Proteomics Core facility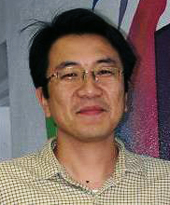 Contact information
Office: 208 Burt Hall
Phone: 785-532-5956
Fax: 785-532-7278
E-mail: hiromasa@ksu.edu
Education
B.S. 1990, Kyushu University, Japan
M.S. 1992, Kyushu University, Japan
Ph.D. 1996, Kyushu University, Japan
Areas of specialty
Proteomics
Peptide/protein characterization
Protein interaction
Regulation of protein complex
I am interested in studying protein structure and function using the variety of biophysical techniques including proteomics analysis, structural analysis, and protein-protein interaction analysis. As Associate Director of the Biotechnology Core facility, I have worked with numerous researchers determing protein/peptide sequence employing with proteomics technologies including 2D gels, MALDI-TOF/TOF MS and ESI-MS instruments. For my own research I focus on the regulation of human pyruvate dehydrogenase complex (PDC) by specific kinases and phosphatases. The PDC is responsible for the regulation of energy and metabolite producing TCA cycle in mitochondria.
Selected publications
Dittmer, N.T., Hiromasa, Y., Tomich, J.M., Lu, N., Beeman, R.W., Kramer, K.J. and Kanost, M.R. (2012) Proteomic and transcriptomic analyses of rigid and membranous cuticles from the elytra and hindwings of the red flour beetle, Tribolium castaneum. Journal of Proteome Research. 11, 269-278.
Morris, K., Lorenzen, M.D., Hiromasa, H., Tomich, J.M., Oppert, C., Elpidina, E.N., Vinokurov, K., Jurat-Fuentes, J.L., Fabrick, J., Oppert, B. (2009) The Tribolium castaneum larval gut transcriptome and proteome as a resource for the study of the coleopteran gut. Journal Proteome Research, 8: 3889-3898.
Mo, X., Hiromasa, Y., Warner, M, Al-Rawi, A., Iwamoto, T., Rahman, T., Sun, X., Tomich, J.M. (2008) Design of 11-Residue Peptides with Unusual Biophysical Properties: Induced Secondary Structure in the Absence of Water. Biophysical Journal, 94: 1807-17.
Hiromasa, Y., Roche, T.E. (2008) Critical role of specific ions for ligand-induced changes in pyruvate dehydrogenase kinase isoform 2. Biochemistry, 47: 2298-311.
Roche, T.E., Hiromasa, Y. (2007) Pyruvate dehydrogenase kinase regulatory mechanisms and inhibition in treating diabetes, heart ischemia, and cancer. Cell and Molecular Life Science, 64: 830-49.
Hiromasa, Y., Hu, L., Roche, T.E. (2006) Ligand-induced effects on pyruvate dehydrogenase kinase isoform 2. Journal of Biological Chemistry, 281: 12568-79.