Rollie J.Clem, Professor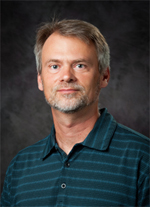 Contact information
268 Chalmers Hall
(785) 532-3172
rclem@ksu.edu
Education
Ph.D. 1994, University of Georgia.
Area(s) of Specialization
Regulation of apoptosis in insects; arbovirus-mosquito interactions; molecular biology of insect viruses
Research Focus
Our work mainly focuses on the interactions between arboviruses and mosquitoes. We are using the mosquito Aedes aegypti and arboviruses such as Sindbis, dengue, and chikungunya viruses to study these interactions. The overall question driving our research is determining why certain mosquitoes are able to serve as vectors of arboviruses, even though most mosquitoes are not. We are particularly interested in the role of apoptosis in antiviral defense, and in determinants of midgut escape by arboviruses. We use molecular and biochemical techniques to investigate these processes. We also have ongoing projects related to the molecular biology of baculoviruses and their interactions with lepidopteran hosts.
Selected Publications
Franz, A.W.E., Clem, R.J., and A.L. Passarelli. 2014. Novel genetic and molecular tools for the investigation and control of dengue virus transmission by mosquitoes. Current Tropical Medicine Reports. 1:21-31.
Clem, R.J. and A.L. Passarelli. 2013. Baculoviruses: Sophisticated pathogens of insects. PLoS Pathogens 9(11): e1003729. doi: 10.1371/journal.ppat.1003729.
Huang, N., Civciristov, S., Hawkins, C.J., and R.J. Clem. 2013. SfDronc, an initiator caspase involved innapoptosis in the fall armyworm Spodoptera frugiperda. Insect Biochemistry and Molecular Biology 43:444-454.
Liu, B., Behura, S.K., Clem R.J., Schneemann, A., Becnel, J., Severson, D.W., and L. Zhou. 2013. P53-mediated rapid induction of apoptosis conveys resistance to viral infection in Drosophila melanogaster. PLoS Pathogens 9:e1003137. doi:10.1371/journal.ppat.1003137.
Wu, W., Clem, R.J., Rohrmann, G., and A.L. Passarelli. 2013. The baculovirus sulfhydryl oxidase Ac92 (P33) interacts with the Spodoptera frugiperda P53 protein and oxidizes it in vitro. Virology 447:197-207.
Brand, I.L., Civciristov, S., Taylor, N.L., Talbo, G.H., Pantaki-Eimany, D., Levina, V. Clem, R.J., Perugini, M.A., Kvansakul, M., and C.J. Hawkins. 2012. Caspase inhibitors of the p35 family are more active when purified from yeast than bacteria. PLoS One 7:e39248. doi:10.1371/jounrnal.pone.0039248.
Wang, H., Gort, T., Boyle, D.L., and R.J. Clem. 2012. Effects of manipulating apoptosis on Sindbis virus infection of Aedes aegypti mosquitoes. Journal of Virology86:6546-6554.
View the complete publication list in NCBI