Stephen K. Chapes, Professor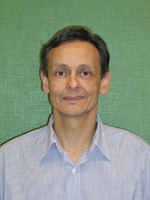 Associate Director, Johnson Cancer Research Center
Director, Undergraduate Office,
Kansas IDeA Network of Biomedical Research Excellence

Contact information
239C Chalmers Hall
(785) 532-6795
skcbiol@ksu.edu
Education
Ph.D., 1981, University of Illinois-Urbana Champaign, Department of Pathobiology.
Area(s) of Specialization
Immunology
Courses
BIOL 670 Immunology
BIOL 671 Immunology Lab
BIOL 840 Molecular and Cellular Immunology
BIOL 850 Advances in Immunology-Inflammatory Cells
Research Focus
Projects in my laboratory focus on macrophages, inflammatory cells and other white blood cells. I am interested in the function of these cells, the role these cells have in infectious diseases and the impact of space flight on these cells.
Publications
Von Ohlen T, Luce-Fedrow A, Ortega, M T Ganta RR, Chapes SK. 2012. Identification of critical host mitochondrion-associated genes during Ehrlichia chaffeensis infections. Infect Immun 80: 3576-3586. (PMID:22851751; PMC3457586) Spotlighted Paper and Cover Feature.
Drolia, R, Von Ohlen T, Chapes SK. 2013. Ehrlichia chaffeensis replication sites in adult Drosophila melanogaster. Int J Med Microbiol 303: 40– 49. (PMID:23306065;PMC3558598) Also see the RNAi screening center blog.
Chitko-McKown, CG, Chapes SK, Miller LC, Riggs PK, Ortega MT, Green BT, McKown RD. 2013. Development and characterization of two porcine monocyte-derived macrophage cell lines. Results in Immunology. 3:26-32 (PMID:23610747; PMC3631004).
Chapes, SK,Velasquez SE. 2013. Assessment of the impact of the Kansas IDeA Network of Biomedical Research Excellence program on undergraduate participation in research. J Microbiol and Biology Education. 14:47-57 (PMID:23858353; PMC3706165).
Chapes SK, Ortega MT. 2013. Understanding macrophage differentiation during space flight: The importance of ground-based experiments before space flight. Recent Patents on Space Technology. 3:40-47. (PMID:24432200; PMC3890248).
Dib LH, Ortega MT, Fleming SD, Chapes SK*, Melgarejo TL*. 2014. Bone Marrow Leptin Signaling Mediates Obesity-Associated Adipose Tissue Inflammation in Male Mice. Endocrinology. 155:40-46. (PMID:24169547; PMC3868799) *Co-Sr. Investigators. Also see the counterpoint article and rebuttal in Endocrinology, 155:12–14, 2014.
Xie L, Fu Q, Ortega MT, Zhou L, Rasmussen D, O'Keefe J, Zhang KK, Chapes SK. 2014. Overexpression of IL-10 in C2D macrophages promotes a macrophage phenotypic switch in adipose tissue environments. PloS ONE 9(1):e86541.doi: 10.1371/journal.pone.0086541 (PMID 24466141; PMC3897709).
View the complete publication list in NCBI