Loubna Tazi, Assistant Professor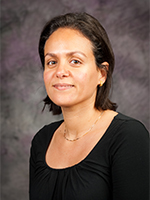 Contact information
134 Ackert Hall
(785) 532-3930
ltazi@k-state.edu
Education
Ph.D. 2002, University Montpellier II, Montpellier, France. Biomedical Sciences.
Area(s) of Specialization
Evolutionary Genetics of Infectious Pathogens.
Research Focus
My long-term research interests are in the evolutionary genetics and population dynamics of pathogenic microorganisms. Understanding those parameters is crucial for the implementation of more successful strategies for disease prevention and control, particularly in the face of the alarming emergence of antimicrobial drug-resistant pathogens.
For the major part of my research, I am applying bioinformatic tools and computational programs to understand the population dynamics and evolutionary genetics of various infectious pathogens. I am currently focusing on the evolutionary analyses of two human pathogens: HIV-1 and Neisseria gonorrhoeae. I am also interested in understanding the dynamic relationships between microorganisms and their hosts, and I am studying the differential gene expression of host genes upon infection with Mycobacterium tuberculosisisolates.
Selected Publications
Tazi, L., Imamichi, H., Hirschfeld, S., Metcalf, J.A., Orsega, S., Pérez-Losada, M., Posada, D., Lane, H.C. and Crandall, K.A. 2011. HIV-1 infected monozygotic twins: a tale of two outcomes. BMC Evolutionary Biology, 11: 62.
Tazi, L. and Ayala, F.J. 2011. Unresolved direction of host transfer of Plasmodium vivax v. P. simium and P. malariae v. P. brasilianum. Infection, Genetics and Evolution, 11: 209-221.
Tazi, L., Pérez-Losada, M., Gu, W., Yang, Y., Xue, L., Crandall, K.A. and Viscidi, R.P. 2010. Population dynamics of Neisseria gonorrhoeae in Shanghai, China: A comparative study. BMC Infectious Diseases, 10: 13.
Keele, B.F., Tazi, L., Gartner, S., Liu, Y., Burgon, T.B., Estes, J.D., Thacker, T.C., Crandall, K.A., McArthur, J.C. and Burton, G.F. 2008. Characterization of the Follicular Dendritic Cell reservoir of human immunodeficiency virus type 1. Journal of Virology, 82: 5548-5561.
Rothenburg, S., Deigendesch, N., Dey, M., Dever, T.E. and Tazi, L. 2008. Characterization of the double-stranded RNA activated protein kinase PKR of fishes and amphibians. BMC Biology, 6: 12.
Tazi, L., Reintjes, R. and Bañuls, A.L. 2007. Tuberculosis transmission in a high incidence area: a retrospective molecular epidemiological study of Mycobacterium tuberculosis in Casablanca, Morocco. Infection, Genetics and Evolution, 7: 636-644.
Pérez-Losada, M., Porter, M.L., Tazi, L. and Crandall, K.A. 2007. New methods for inferring microbial population dynamics from DNA Sequences. Infection, Genetics and Evolution, 7: 24-43.
View the complete publication list in NCBI