Chingakham Ranjit Singh, Research Assistant Professor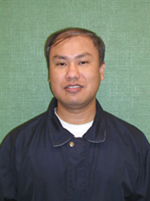 Contact information
345 Ackert Hall
(785) 532-6517
csingh@ksu.edu
Education
Ph.D., 2002, North Eastern Hill University, Shillong, India. Biophysics.
Area(s) of Specialization
Translational regulation of protein synthesis. Structure and function of ribosome-inactivating proteins and their possible applications in biomedicine as cytotoxic drugs. Molecular mechanisms of proteasome assembly and regulation.
Research Focus
Selected Publications
Jean-Pierre H. Perchellet, Elisabeth M. Perchellet, Chingakham Ranjit Singh, Meghan T. Monnett, Elizabeth Studer and Keith R. Buszek (2014) Mechanisms by Which Synthetic 6,7-Annulated-4-substituted Indole Compounds with Antiproliferative Activity Disrupt Mitosis and Block Cytokinesis in Human HL-60 Tumor Cells.Anticancer Research, International Journal of Cancer Research and Treatment (Special Issue on "New Anticancer Agents"). 2014, 34:4.
Chingakham Ranjit Singh, Scott Lovell, Nurjahan Mehzabeen, Wasimul Q. Chowdhury, Erid S. Geanes, Kevin P. Battaile and Jeroen Roelofs (2014) 1.15 Å resolution crystal structure of the Proteasome Assembly Chaperone Nas2 PDZ Domain. Acta Crystallographica Section F. F70, 418-423.
Naoki Nemoto, Tsuyoshi Udagawa, Wasimul Chowdhury, Makoto Kitabatake, Byung-Sik Shin, Hiroyuki Hiraishi, Suzhi Wang, Chingakham Ranjit Singh, Susan J. Brown, Mutsuhito Ohno, and Katsura Asano (2013) Random mutagenesis of yeast 25S rRNA identify bases critical for 60S subunit structural integrity and function.Translation. Vol-1, Issue 2
Alina De La Mota-Peynado, Stella Y. Lee, Brianne M. Pierce, Prashant Wani, Chingakham Ranjit Singh and Jeroen Roelofs (2013) The proteasome-associated protein Ecm29 inhibits proteasomal ATPase activity and in vivo protein degradation by the proteasome. Journal of Biological Chemistry. First Published on August 30, 2013, doi:10.1074/jbc.M113.491662.
Soyeon Park, Xueming Li, Ho Min Kim, Chingakham Ranjit Singh, Geng Tian, Martin A. Hoyt, Scott Lovell, Kevin P. Battaile, Michal Zolkiewski, Philip Coffino, Jeroen Roelofs, Yifan Cheng, and Daniel Finley. 2013. Reconfiguration of the proteasome during chaperone-mediated assembly. Nature, 497, 512-516.
Chingakham Ranjit Singh, Ryosuke Watanabe, Wasimul Chowdhury, Hiroyuki Hiraishi, Marcelo J. Murai, Yasufumi Yamamoto, David Miles, Yuka Ikeda, Masayo Asano, and Katsura Asano. 2012. Sequential Eukaryotic Translation Initiation Factor 5 (eIF5) Binding to the Charged Disordered Segments of eIF4G and eIF2β Stabilizes the 48S Preinitiation Complex and Promotes Its Shift to the Initiation Mode. Molecular and Cellular Biology. 2012, 32(19): 3978-3989.
Chingakham Ranjit Singh, Ryosuke Watanabe, Susan Campbell, Ronald C. Wek, Graham D. Pavitt, Mark P. Ashe, John A. Chiorini and Katsura Asano. 2011.Mechanisms of translational regulation by a human eIF5-mimic protein. Nucleic Acids Research. 2011: 1–15.
View the complete publication list in NCBI