Current News
Congrats to all our students who are already landing some big jobs and assistantships:

Brett Eichman - Shawnee Mission Northwest

Weston Cook - Washburn Rural

Jacob Miller - Dodge City

Chris Johnson - El Dorado

Emily Roth - Nebraska City

Michael Meier - Assistantship, KSU

Melissa Askren - Blue Valley North West

Deborah Caldwell - Fellowship, Georgia

Chris Miertschin - Assistantship, Georgia

Chelsea White - Assistantship, Florida State

Heather Gering - Assistantship, New Mexico

Jordan Parker - KU Medical

Katie Daniels - KU Law

4/14/15: Wildcats take Manhattan:

The Wind Ensemble had an amazing trip to the Big Apple and had the experience of a lifetime performing on one of the world's greatest stages. On April 7th, the K-State Wind Ensemble presented the works of Holst, Maslanka, Marquez, Richards, and Stravinsky in Stern Auditorium at Carnegie Hall. The concert was presented as the showcase performance of the New York International Music Festival. The band also performed on April 6th in Central Park at the famous Naumberg Band Shell to a very enthusiastic New York Audience. The trip ended up being a very valuable learning and performance experience for the group and everyone left the city inspired and proud of what they had accomplished. We would like to take the opportunity to thank all who made this trip possible and would like to thank the many family members who made the trip to see their loved ones perform in such a unique and wonderful environment.

K-State Band Students and Staff Travel to Midwest Clinic in Chicago

December 21, 2014

The K-State band faculty, graduate assistants, and undergraduate staff traveled to the Midwest Clinic in Chicago, IL, to represent Kansas State University Bands, and to attend numerous clinics and concerts. The band staff provided a recruiting presence at the international conference which attracts musicians, educators, and top lecturers from across the country and around the world. In addition, the K-State Marching Band, along with directors Dr. Frank Tracz and Mr. Don Linn, was awarded the 2015 Sudler Trophy, an award given every two years to a marching band that has shown consistent exemplary performance. The trophy announcement was made at a ceremony for the John Philip Sousa Foundation, the presenting foundation for the award.

"For the past 66 years, musicians and educators of all skill levels have gathered in Chicago for the largest music conference of its kind. The Midwest Clinic International Band, Orchestra and Music Conference offers guests an array of clinics and exhibits as well as access to music and teaching icons while also focusing on industry trends and future topics in music education and business. With more than 17,000 attendees from all 50 states and more than 30 countries, The Midwest Clinic offers musicians and educators an unmatched networking opportunity." - Midwest Clinic Website
Assistant Drum Major is the recipient of the Tau Beta Sigma National Scholarship for Outstanding Student Leaders for 2013-2014!
August 9, 2014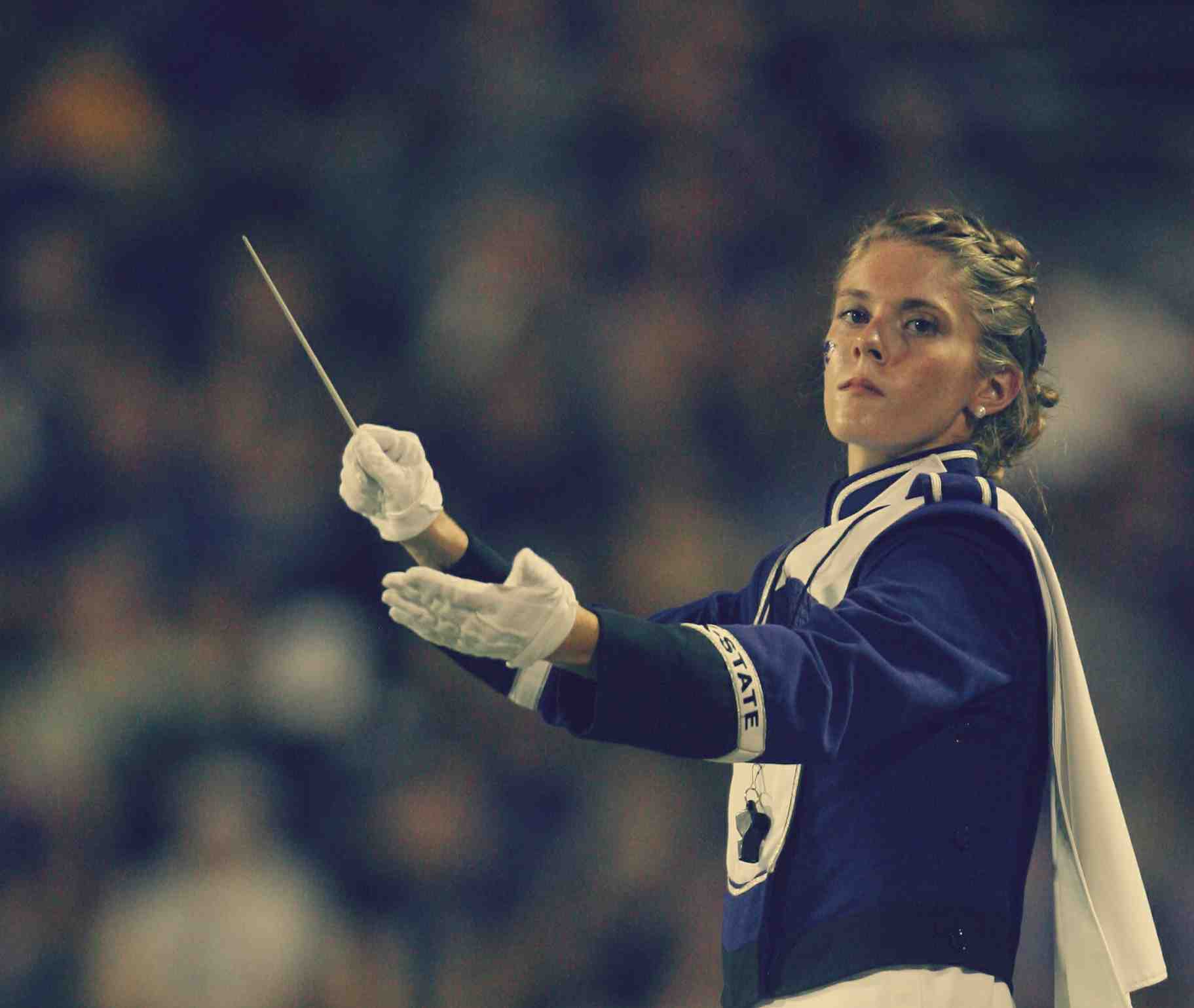 Congratulations to our own Jordan Parker for being the Tau Beta Sigma National Scholarship for Outstanding Student Leaders for 2013-2014! This award honors active members who have distinguished themselves as outstanding student leaders of Tau Beta Sigma, their band, their campus, and in academics. Recipients are awarded $750 and receives a plaque of recognition. Read a little bit about Jordan Parker below.

Jordan Parker is a senior in pre-medicine, Biology, and Gerontology. She became a sister in Tau Beta Sigma in the fall of 2011, and has served as both treasurer and president of the organization over the past three years. Jordan also is also the Pride Store Administrator (online KSUMB retail store ran by Kappa Kappa Psi and Tau Beta Sigma).

Outside of TBS, Jordan is a drum major for the KSUMB, an instructor of the university's cadaver dissection team, a mentor for KAWSE (K-State Office for the Advancement of Women in Science and Engineering), and works as a certified nursing assistant at a local healthcare facility. Additionally, Jordan is an undergraduate researcher in a laboratory on campus, in which she is currently investigating ischemia and reperfusion in mice.

Next year, Jordan plans to attend medical school, after which she hopes to open her own practice, continue to research disease, and treat patients affected by such diseases. In particular, she hopes to inspire young women to pursue their passions, no matter the field, and encourage them to never give up the joys that music can provide!

Congratulations again Jordan for being recipient of this prestigious scholarship!
2014 K-State Music Camp a Success!
June 13, 2014
The 2014 edition of the K-State Summer Music Camp was an incredible musical experience for the 140 campers participating. The guest conductors for the camp were Dr. Larry
Blocher
from Troy University and Dr. Jay Gilbert from
Doane
College. Campers participated in two large bands, various chamber ensembles, jazz bands, and sectionals. The Campers age 5th - 12th grade got a taste of college life at K-State by living in the dorms, eating in the dining halls, and attending rehearsals at McCain Auditorium. The brilliant music camp staff was comprised of former and current graduate students, successful Kansas band directors, recent alumni, and current K-State band leadership. The 2015 Music Camp will be held June 15th - 18th and registration will be coming soon!
KSU Marching Band Sousaphones are as Good as New
March 14, 2014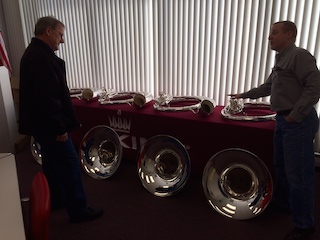 Shortly after the KSUMB's return from the Buffalo Wild Wings Bowl, four recently purchased sousaphones were sent to the Conn-Selmer Institute in Eastlake, OH for repairs and maintenance.
Dr. Frank Tracz and Dr. Tod Kerstetter are looking at the newly rebuilt sousaphones on a factory tour in between rehearsals with the W.D. Packard Concert Band.
Conn-Selmer rebuilt the bodies , replaced broken parts, refinished, and polished all four sousaphones; they look as good as new!
Thank you Conn-Selmer for taking such good care of the KSUMB and for your superior customer service!
KSU Marching Band receives $100,000 from Athletic Department for scholarships

February 8, 2014

The K-State Athletic Department presented the Kansas State University Marching Band with a check for $100,000 for the Marching Pride Scholarship Fund before the K-State vs. Texas men's basketball game on Satruday, February 8. The Marching Pride fund provides scholarships to all section leaders and upperclass marching band members. With continued support the Marching Pride fund hopes to provide scholarships for all members.
Over 670 students attend 2014 K-State Concert Band Clinic
January 30, 2014
Over 670 high school musicians from the state of Kansas attended K-State's 21st annual Concert Band Clinic. The students were divided in to six separate concert bands led by guest directors from across the country. Guest directors for this year's clinic included:
Dr. Chris Chapman - Oregon State University
Dr. Lance Nielsen - Doane College, Nebraska
Mr. Chris Hedges - Williamstown Schools, Kentucky
Dr. Susan Creasap - Morehead State University
Dr. Louis Menchaca - Concordia University, Wisconsin
Mr. Jim Kull - St. Charles East High School, Illinois
Students attending the clinic spend the weekend working on challenging music with the guest directors before presenting a concert on Sunday afternoon. In addition to student opportunities, the clinic also provides learning sessions for the band directors in attendance presented by the guest conductors.
K-State Band Staff Travels to Midwest Conference in Chicago
December 22, 2013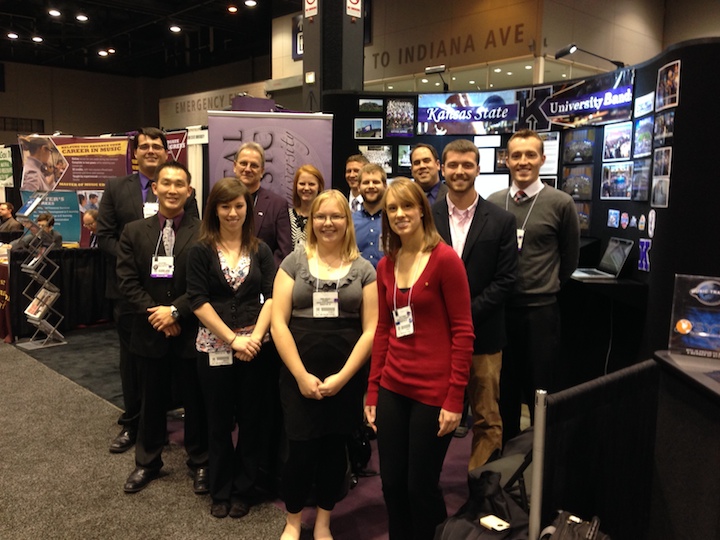 The K-State band faculty, graduate assistants, and undergraduate staff traveled to the Midwest Clinic in Chicago, IL, to represent Kansas State University Bands, and to attend numerous clinics and concerts. The band staff provided a recruiting presence at the international conference which attracts musicians, educators, and top lecturers from across the country and around the world.
"For the past 66 years, musicians and educators of all skill levels have gathered in Chicago for the largest music conference of its kind. The Midwest Clinic International Band, Orchestra and Music Conference offers guests an array of clinics and exhibits as well as access to music and teaching icons while also focusing on industry trends and future topics in music education and business. With more than 17,000 attendees from all 50 states and more than 30 countries, The Midwest Clinic offers musicians and educators an unmatched networking opportunity." - Midwest Clinic Website
"If you think you know the K-State Marching band, think again. I spent my Saturday morning before the TCU game like never before, waking up early to meet up with Dr. Frank Tracz, Professor of Music and Bands at K-State, and see what being a part of the K-State Marching band is all about. From 7 a.m. meetings to warm ups to run-throughs and making sure the halftime show is, as usual, spot on, the K-State band takes 'game day' to a whole new level." Keep reading...
11/1/13 - Announcing:
The 4th Annual KSUMB Golf Tournament. July 31st. Colbert Hills in Manhattan. Details coming soon!
Thanks to the BOSTON BRASS for a memorable halftime performance with the KSUMB!
The K-State Marching Band will be sharing the field with legendary brass quintet, The Boston Brass. This electrifying group will be joining the KSUMB on September 7th at the Louisiana game halftime presenting the music of Blood, Sweat, and Tears. The Boston Brass performed with the K-State Marching Band in 2009 and we are excited to them them back.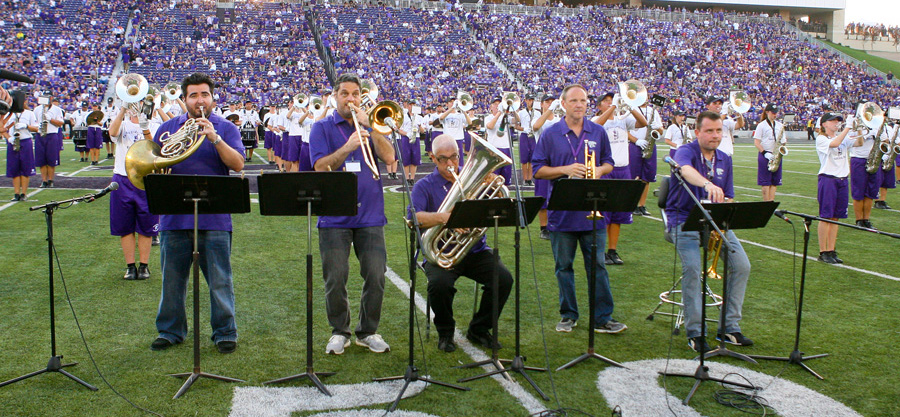 K-State Marching Band Helps Over 34 Area Kids for Christmas
The Kansas State University Marching Band teamed up with the fraternity Delta Chi's "Adopt-A-Child" to help 34 Manhattan area children in need this holiday season. Initially, each of the 13 sections in the band was given $100 to help a child and see to their Christmas wishes. After learning of the program and the good that it does locally, all of the sections took it upon themselves to donate an additional $100 to sponsor a second and in some cases, third child. The members of the KSUMB were given the name and Christmas list for the children and went shopping for clothes, shoes, toys, and other needs. The generosity and service of these outstanding band students brought smiles to kids and parents all over the area.
K-State Marching Band Drumline Mini-Camp!

On Saturday, July 13th, 2013, the K-State Marching Band hosted its annual Drumline Mini-Camp for prospective drumline members for the 2013-2014 season. 53 prospective members were in attendance for the 6 hour camp and were under the direction of Ben Yancey, the K-State Drumline Instructor. If you have any questions about the materials covered during the camp or about the 2013-2014 Drumline Audition process, please email Ben Yancey at bpyancey@k-state.edu. Thanks for everyone who attended and we look forward to seeing you at auditions on Tuesday, August 20th!
Read More
Composer Michael Schelle, guest of the K-State Bands in December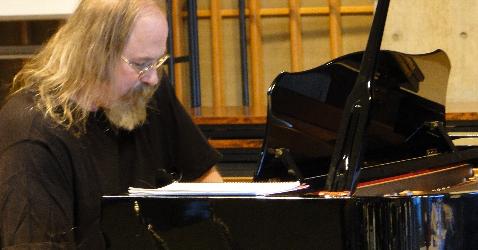 The K-State Band program as well as the School of Music, Theatre, and Dance will be welcoming composer Michael Schelle on campus this December to work with students at K-State and talk about his music. This visit is in conjunction with a special performance of his recent work titled "End of the World" with will be performed by our top university Wind Ensemble on December 4th in McCain Auditorium at 7:30pm.
Schelle's music has been commissioned and/or performed by over 300 orchestras, symphonic bands and professional chamber ensembles across the U.S. and abroad including the Chicago Symphony, the Minnesota Orchestra, the Detroit Symphony, the Buffalo Philharmonic, the major orchestras of Pittsburgh, Cincinnati, Milwaukee, Indianapolis, Louisville, Dayton, Kansas City, Honolulu and Springfield (MA).
He has held composition residencies at dozens of leading American universities, conservatories and new music festivals, and at Spoleto USA, Wolf Trap, the MacDowell Colony (NH), and many extended residencies abroad - including the Czech Republic, Austria, Amsterdam, Costa Rica, Japan and China. Schelle holds degrees from Villanova University (theatre), the Hartt School of Music (CT), Trinity College of Music, London, UK, (diploma), and a Ph.D. from University of Minnesota. His composition teachers have included Aaron Copland, Arnold Franchetti (student of Richard Strauss in 1940's Munich), Paul Fetler (student of Hindemith and Boris Blacher), and Dominick Argento.
Dr. Larry Blocher and Mr. Jim Rupp, guest artists with the K-State Bands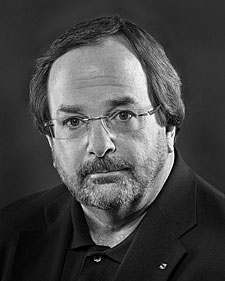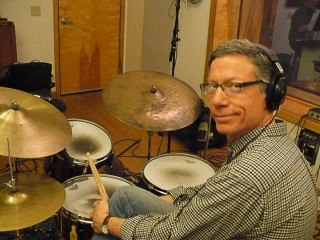 The K-State Band program as well as the School of Music, Theatre, and Dance was proud to have Dr. Larry Blocher and Mr. Jim Rupp as guest artists from May 5th through May 7th. Dr. Larry Blocher is the current head of the School of Music at Troy University and is one of the founding authors and editors of the Teaching Music Through Performance in Band series. Dr. Blocher was a guest conductor for both the Wind Ensemble and Wind Symphony in their Monday and Tuesday concerts, presenting stirring interpretations of wind band literature. Dr. Blocher also presented lectures to music education and conducting classes. Mr. Jim Rupp is presently the drum set instructor at The Ohio State University and has toured with many famous groups and artists including Maynard Ferguson and Woody Herman. Mr. Rupp performed two drum set concertos with the Wind Ensemble and Wind Symphony: Reactions by Dave Morgan and Riffs by Jeff Tyzik. Mr. Rupp also spoke with many percussion and jazz students at K-State, sharing his years of experience and expertise. We are very fortunate to have such incredible musicians join us as guests here at K-State.
Andrew Feyes Finalist for GTA of the Year at K-State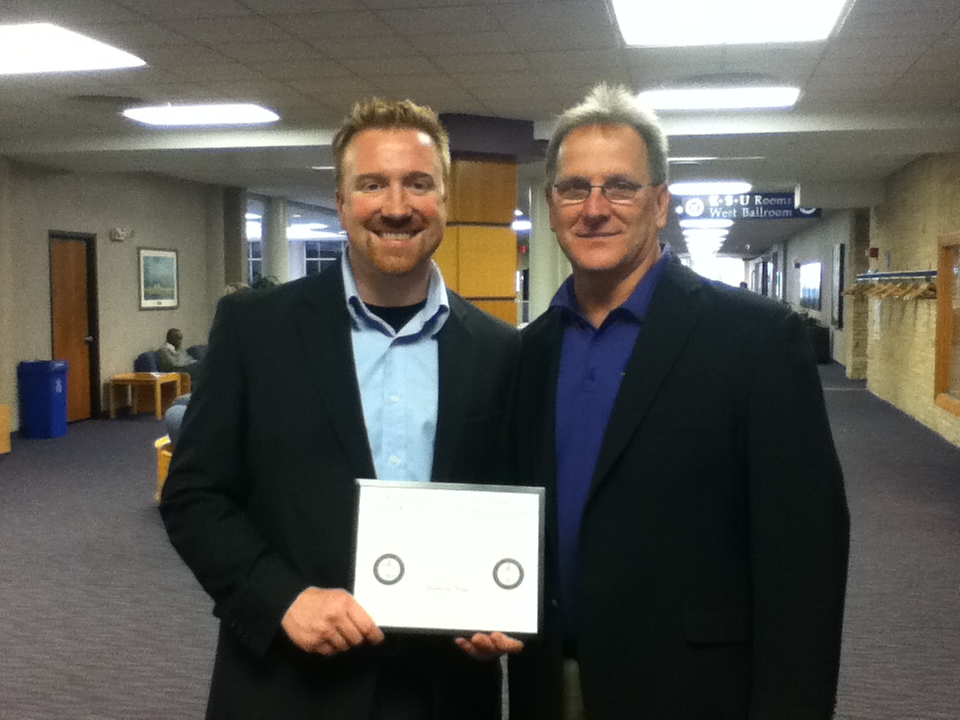 Graduate assistant with the K-State Bands, Andrew Feyes was selected as one of two finalists for the Golden Key Honors Society GTA of the Year Award. This is a campus wide award that seeks to acknowledge outstanding graduate teaching assistants. Andrew is currently finishing his Ph.D. in music education at K-State. As a GTA with the K-State bands, Andrew serves as the director of the Volleyball Band, Pub Crawl Band, and Brass Ensemble. He also organizes the daily activities of the University Band while assisting with the marching band, basketball "CatBand," and all three auditioned concert bands. Congratulations Andy!!
The K-State Wind Ensemble finishes an incredible tour!
The K-State wind ensemble has just finished it's tour of the Midwest and east coast. The tour began the Thursday before spring break with its first performance at Union High School in St. Louis , MO. The band then performed in Pickerington HS in Columbus, Ohio before continuing on to Cleveland, Ohio. On Sunday the band performed with the legendary professional Packard Band in Warren Ohio. The Wind Ensemble continued on to Washington D.C. where they spent three days attending local concerts and participating in rehearsal with the President's Own United States Marine Band. The band was truly honored to be the guests of the premier service concert band in the country. After Washington D.C., the group went south to Greensboro, North Carolina to attend the College Band Director's National Association National Conference to hear the nation's top college wind ensembles and learn from some of the leading conductors in the profession.
The K-State Marching Band Recieves Significant donation to Scholarship Account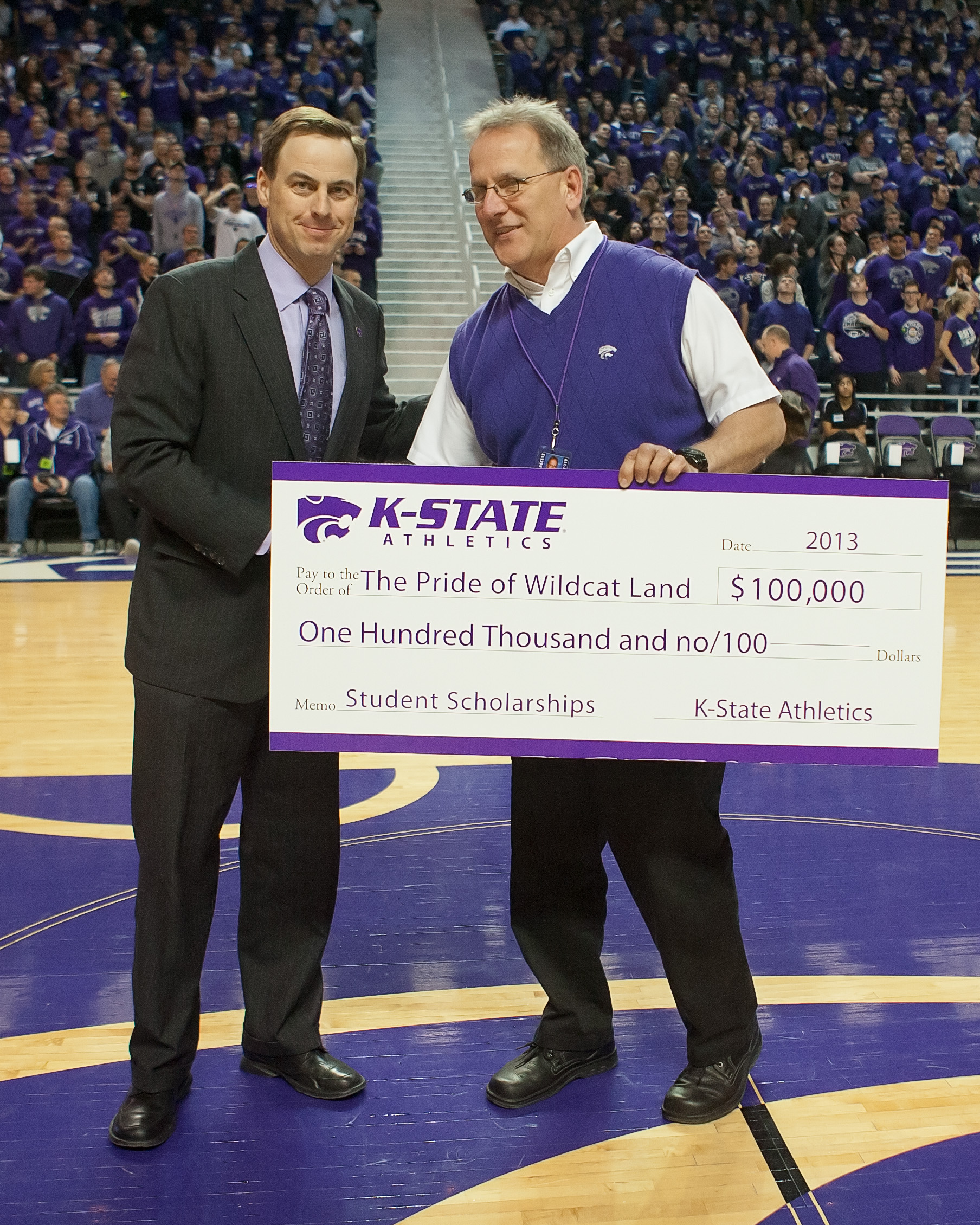 Dr. Tracz and the K-State Marching band were presented a check for $100,000 at a Men's Basketball game versus this February. The $100,000 is a check made to the Kansas State Marching band from Athletics for the band's cooperation in planning this past winter's trip to the Fiesta Bowl in Arizona. This check represents some of the money saved by both the band and the athletic department for the band volunteeringly electing to take bus transportation to the BCS Fiesta Bowl instead of flying. This money would go to the band's Marching Pride Scholars fund. The decision to accept this offer was made by Dr. Tracz in cooperation with Athletics, Band Staff, and Band leadership. The $100,000 will significantly add to the Marching Pride Scholarship program which will eventually provide financial assistance and scholarships to all of the Juniors and Seniors in the K-State Marching Band. A similar donation was made in the spring of 2011 to the band for busing to the Pinstripe Bowl in New York City. The photo above shows Dr. Tracz being presented with the check by K-State Athletic Director John Currie.