Summer Music Camp
2014 Dates: June 8 - 12, 2014
Click here to register for the 2014 K-State Summer Music Camp
2013 Music Camp News: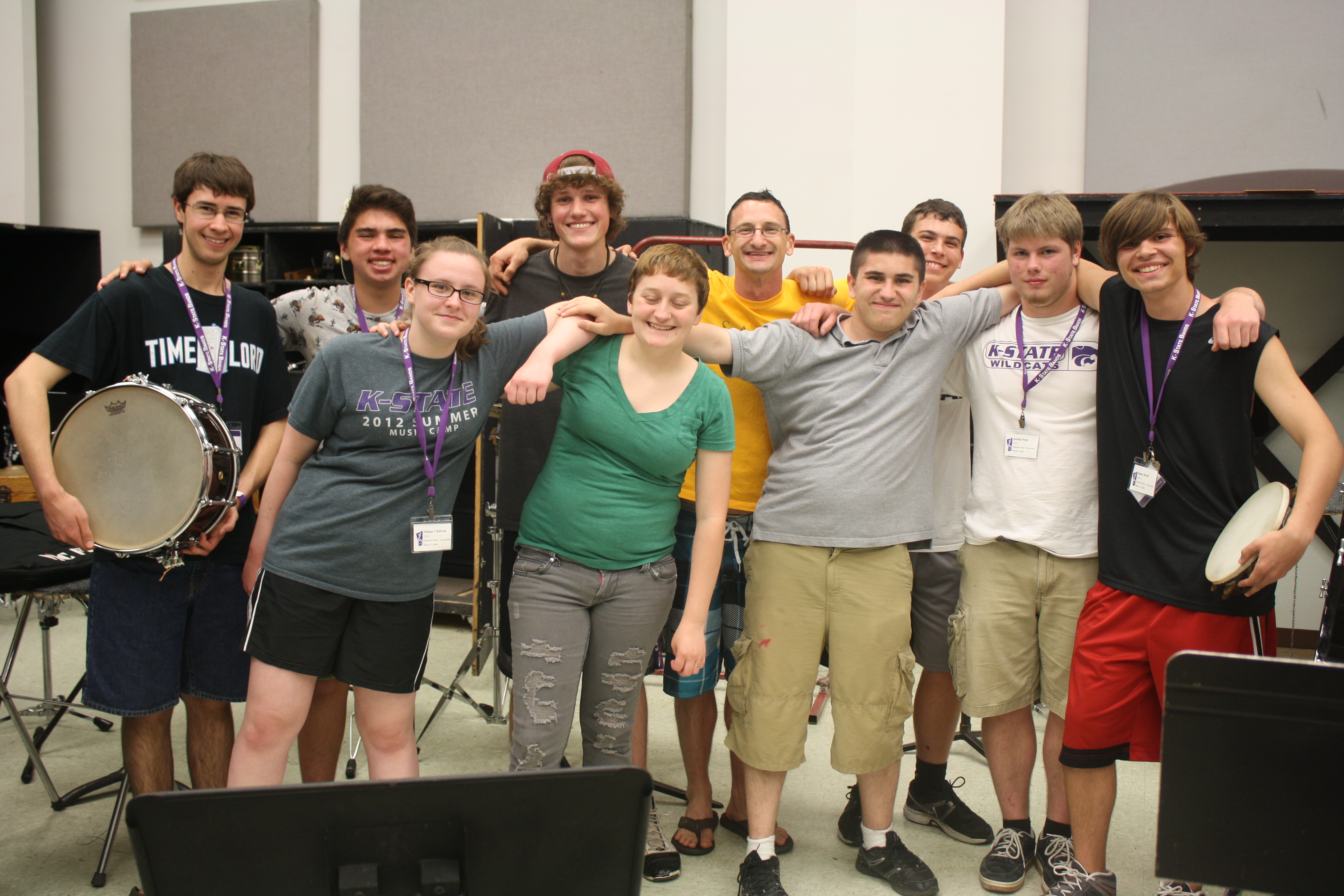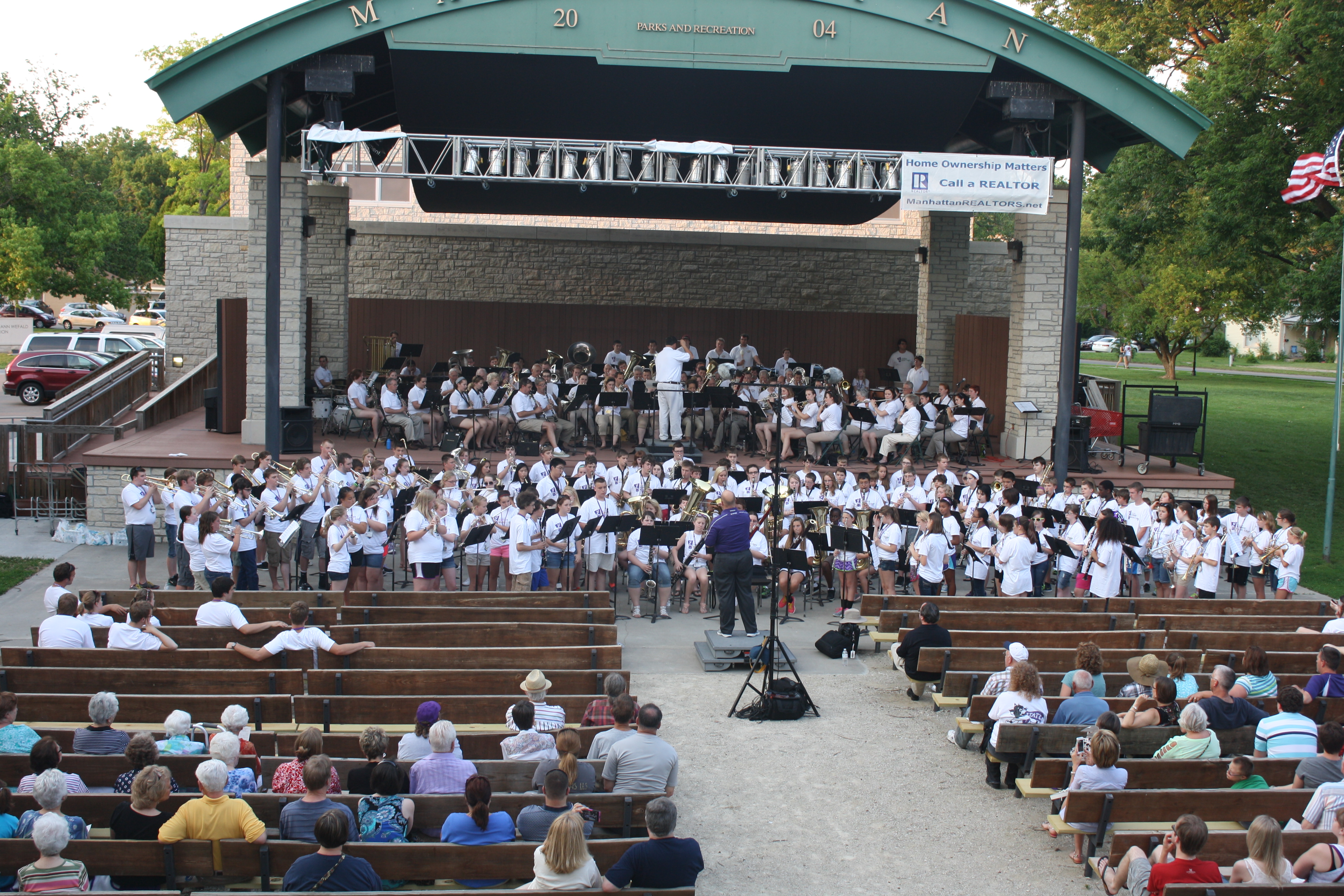 The 2013 Kansas State University Summer Music Camp was held on June 9-13th on the K-State Campus and served 170 band students grades 5 through 12. Students participated in all sorts of musical activities including a full band rehearsals in the morning and evenings, small ensemble rehearsals with instruction by specialists, a joint concert with the Manhattan Municipal Band, and even a talent show. We were pleased to have Dr. Gilbert and Dr. Blocher back rehearsing the bands this year. The campers also got to have some fun with trips to the student union rec center and the Manhattan City Pool. Camp finished with a spectacular concert on Thursday afternoon with the Large Bands and the Jazz Bands. Come join us next year for even more fun and bring your friends!
The 2014 Kansas State University Summer Music Camp will be held on June 8-12th and is open to all band students grades 5 through 12. A typical daily schedule during camp includes a full group rehearsal in the morning, followed by a sectional (small group) rehearsal with instruction by a specialist. Lunch is followed by supervised recreation time at either the K-State Union or the brand new Manhattan City Water Park, another full group rehearsal, then small group instruction. The campers perform with the Manhattan Municipal Band on Tuesday evening and camp culminates with a final performance by the camp ensembles Thursday afternoon.
The guest conductors for the 2014 KSU Music camp will be Dr. Jay Gilbert, Director of Bands at Doane College in Crete, Nebraska, and Dr. Larry Blocher of Troy University (Alabama). There is also the possibility of adding a 3rd band due to increased interest in the camp. The five-day camp exposes students to a variety of ensemble and rehearsal settings, including concert band, small ensembles, and jazz ensembles.

The staff of the Kansas State Music Camp is comprised of the finest musicians and teachers from the area who are chosen for their interest and ability to inspire and teach talented young musicians. College music students complete our staff. A minimum of two staff members reside on each floor of the residence halls with the resident campers, and all staff members supervise student rehearsals throughout each day and evening.
Resident campers will stay in a university residence hall. Cafeteria-style meals are served in the university dining center. Students who choose not to stay in university housing have the option of purchasing a commuter meal card which includes four lunches and four dinners. They may also choose to pay cash for each individual meal.

For more information regarding the Kansas State Music Camp, call (785) 532-3816
Resident Camper ($385.00)

2 students per room in university residence hall
Instruction
Camp T-Shirt
Meal Card

Non-Resident Camper ($225.00)

Instruction
Camp T-Shirt

Optional Meal Card available for $105.00
(4 lunches / 4 dinners)
For an additional fee, campers may take private lessons with K-State University faculty during the camp!
The Summer Music Camp is directed by
Dr. Frank Tracz, Director of Bands
Mr. Don Linn, Assistant Director of Bands
In addition to their rehearsal and classroom experiences, campers were provided with ample social and recreational activities, including recreation time at the KSU Student Union, a Picnic Dinner at the Manhattan City Park followed by a concert performance with the Manhattan Municipal Band, and a student talent-show.
After completing online registration, Checks and Medical Forms can be mailed to:
K-State Bands Music Camp
Kansas State University
226 McCain Auditorium
Manhattan, Kansas 66506
For more information, contact:
K-State Bands
Depatrment of Music
Kansas State University
226 McCain Auditorium
Manhattan, KS 66506
(785) 532-3816
(785) 532-3817 - fax
ftracz@ksu.edu


Future Dates:

2014 - JUNE 8-12, 2014
2015 - JUNE 14-18, 2015