Notes
These graduating seniors representing their respective majors were recognized at the May 12 College of Honors Reception. Jared Heiman, wildlife and outdoor enterprise management; Audrey Schmitz, agricultural communications and journalism; Erin Bush, agronomy; Karly Frederick, agribusiness; Macy Sherwin, food science and industry; Conner White, horticulture. Ross Niehues, agricultural technology management; Joseph Limbach, animal sciences and industry; Jacob Rutledge, agricultural education; Gideon Butler-Smith, bakery science and management; Ramsey Hundley, milling science and management; Kyle Anderson, feed science and management; Kenan Reeh, agricultural economics.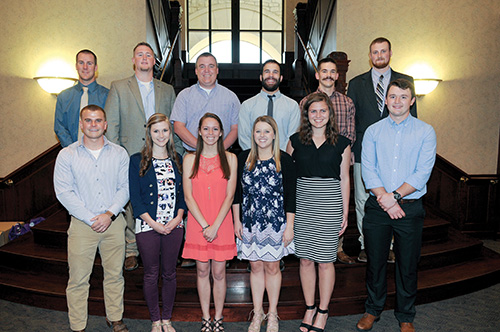 ---
K-State's Soil Judging Team placed second in the Overall Team and the Group Judging categories at the 2017 National Collegiate Soils Contest. Mickey Ransom, coach and professor of agronomy; Megan Owens, Harlan, Iowa; Tessa Zee, Erie, Colorado; Tara Wilson, Highland, Michigan; Peter Bergkamp, Garden Plain; Logan Evers, Great Bend; Lucas Scott, Olathe; Keren Duerksen, Newton; Jacob Reinecker, Caldwell; Erin Bush, Franklin, Indiana, second high individual; Chris Weber, Hoxie, seventh high individual; Kim Kerschen, assistant coach, agronomy instructor, and academic coordinator.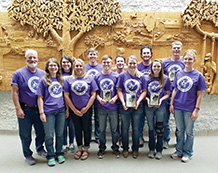 ---
The K-State Animal Sciences and Industry Academic Quadrathlon team was named Reserve National Champion at the American Society of Animal Science annual meeting. Team members are Cameron Hayden, Cassopolis, Michigan; Jenna Chance, Lebanon, Indiana; MaRyka Smith, Hoyt; and Taylor Ochsner, Andover. Karol Fike, assistant professor, coaches the team. The team is sponsored by Fourth and Pomeroy Associates, Inc. of Clay Center.
---
Blue Key scholarships were awarded to 21 students, including a Neal Atkinson Junior Leadership Award to Kyler Langvardt, agricultural communications and journalism, Chapman; and a Roy C. Langford Memorial Scholarship to Dean Klahr, animal sciences and industry, Holton.
---
Taryn Huckabay, animal sciences and industry, Topeka, was one of five K-State students to receive a Benjamin A. Gilman International Scholarship.
---
Mortar Board Senior Honor Society selected Megan Steward, food science and industry, Garden City, as one of its 29 new members.
---
Silver Key, a sophomore leadership honor society, has selected 40 new members including Maci Rockers, food science and industry, Garnett; Bryn Swearingen, agribusiness, Hiawatha; Clara Wicoff, agricultural economics, Iola; Taylor Nikkel, agricultural economics, Maple Hill; Trenton Smedley, agribusiness, Thayer; and Delaney Keeler, animal sciences and industry and biotechnology, Colorado Springs, Colorado.
---
Results from the North Central Weed Science Society Collegiate Weed Science Contest: One undergraduate team with Nicole Sudbeck, Keren Duerksen, and Sarah Zerger placed first overall. The graduate team with Jeffrey Albers, Garrison Gundy, Joey Rains, and Nate Thompson placed third overall. Anita Dille, Kevin Donnelly, and Dallas Peterson coach the teams.
---
The K-State Meat Animal Evaluation Team successfully defended its title to win back-to-back national championships at the 2017 Collegiate Meat Animal Evaluation Contest. Chase Gleason won the overall individual title; Shelby Teague placed third; and Brooke Jensen was fourth. Team members and coaches: Shelby Teague, Fort Morgan, Colorado; Brooke Jensen, Courtland; Lauren Ivey, Montpelier, Virginia; Leah Scholz, Lancaster; Emily Voris, Atwater, California; and Maggie Smith, Lewistown, Illinois. Chris Mullinix, Manhattan, coach; Lauren Prill, Wichita, assistant coach; Jessie Vallejo, Gridley, California; Matt Marion, Terre Haute, Indiana; Dakota Ferguson, Williamsburg; Austin Matheny, Mayslick, Kentucky; Callahan Grund, Wallace; Trevor Birky, Strang, Nebraska; Cole Renner, Norton; Jake Wagner, Erie, Colorado; Chase Gleason, Uniontown; Ken Odde, animal sciences and industry department head; Travis O'Quinn, coach; and Austin Langemeier, assistant coach.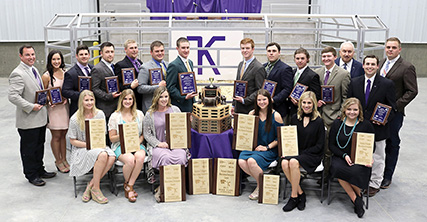 ---
The 2017–2018 Kansas FFA Officer team President Eli Ohlde, Clifton-Clyde FFA; Vice President John Kennedy, Jackson Heights FFA; Secretary Marie Reveles, Hays FFA; Treasurer Quentin Umphenour, Jayhawk-Linn FFA; Reporter Riley Sleichter, Abilene FFA; and Sentinel Skyler Denio, Hoxie FFA. All six plan to enroll in the K-State College of Agriculture; four would like to become agricultural education teachers and FFA advisors.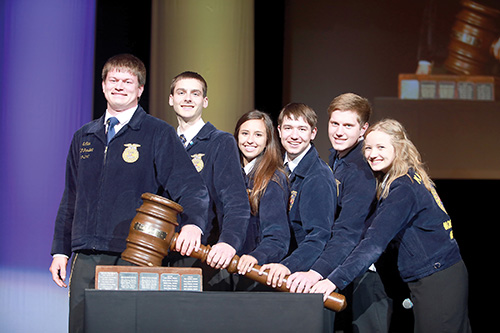 ---
Graduate Students
Three K-State doctoral students — Narinder Singh, plant pathology; Joseph Weeks, agronomy; and Tesfaye Tadesse, grain science and industry — are among 40 students selected nationally to participate in the U.S. Borlaug Summer Institute on Global Food Security. Singh's research focuses on mining novel genetic diversity in wheat wild relatives. Weeks is working to improve phosphorus fertilizer use efficiency in calcareous soils, such as those found in western Kansas. Tadesse is researching alternative insecticides and technologies on postharvest loss reduction for smallholder farmer's commodities.
---
Ananda Bandara, plant pathology doctoral candidate, Sri Lanka, was awarded a $2,000 Sarachek Scientific Travel Award to present his research findings on sorghum-Macrophomina phaseolina (a destructive plant fungus) interaction at the American Phytopathological Society annual meeting.