New Buildings, New Technology, Same Focus
Providing real-world experience for Kansas State University students has been the mission of the Purebred Beef Unit for generations. Each year, hundreds of students work and learn at the Purebred Beef Barn, east of Bill Snyder Family Stadium.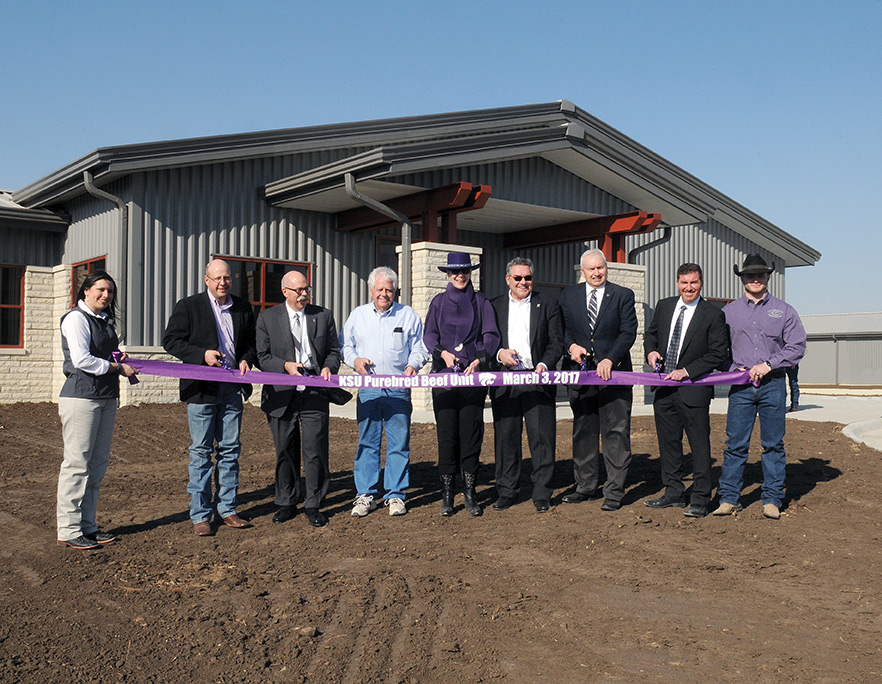 On March 3, university dignitaries and Department of Animal Sciences and Industry family and friends hosted the dedication and ribbon cutting for the new Purebred Beef Barns and the beginning of the next chapter for the unit.
"Our new facility will enhance our ability to serve students," said Ken Odde, animal sciences and industry department head, "particularly hands-on learning in the areas of managing seedstock cattle (animals maintained for breeding purposes), sale preparation and management, livestock judging, genetic evaluation of cattle, and calving management. The new facility also strengthens our research capabilities, especially in understanding genetic contributions to feed efficiency."
New Facility
Several factors necessitated the replacement of the Purebred Beef Barn built in 1957.
"Since that facility was built, the campus and community have built up around it, creating incompatible land uses," said Bob Weaber, faculty unit coordinator and extension cow-calf specialist. "Residential, office, and research facilities, including the National Bio and Agro-Defense Facility (NBAF), now surround the program."
"In the last 60 years, best management practices for animal care and handling, feeding, reproduction and calving management have changed substantially. Similarly, beef cattle housing, livestock handling, and feeding facilities have improved considerably."
With state-of-the-art equipment, the new facilities open a fresh chapter in the unit's history and dedication to student education.
The expanded unit includes the Headquarters and Calving Center, located near the Stanley Stout Center off Denison Avenue, and the Bull and Heifer Development Center, next to the existing Beef Cattle Research Center north of Marlatt Avenue.
Animals at the Headquarters and Calving Center will primarily be managed in pasture conditions. This location will include the calving and maternity barn, multipurpose space, office spaces, and an apartment for student workers. Animal holding pens, pasture space, as well as a barn for processing, feed storage, and mechanic shop are adjacent to this facility.
The Bull and Heifer Development Center includes covered feed bunks and an automated individual animal feed and water intake monitoring system situated in a drylot condition. The facility will include additional animal staging pens and a processing area.
"The Insentec technology being installed in the new center will enable collection of individual feed and water intake records on all classes of cattle — cows, calves, and yearlings," Weaber explained. "This technology will really add to our capabilities of genetic selection and research at the unit. All bull and heifer selection candidates will go through the test allowing us to make better breeding decisions."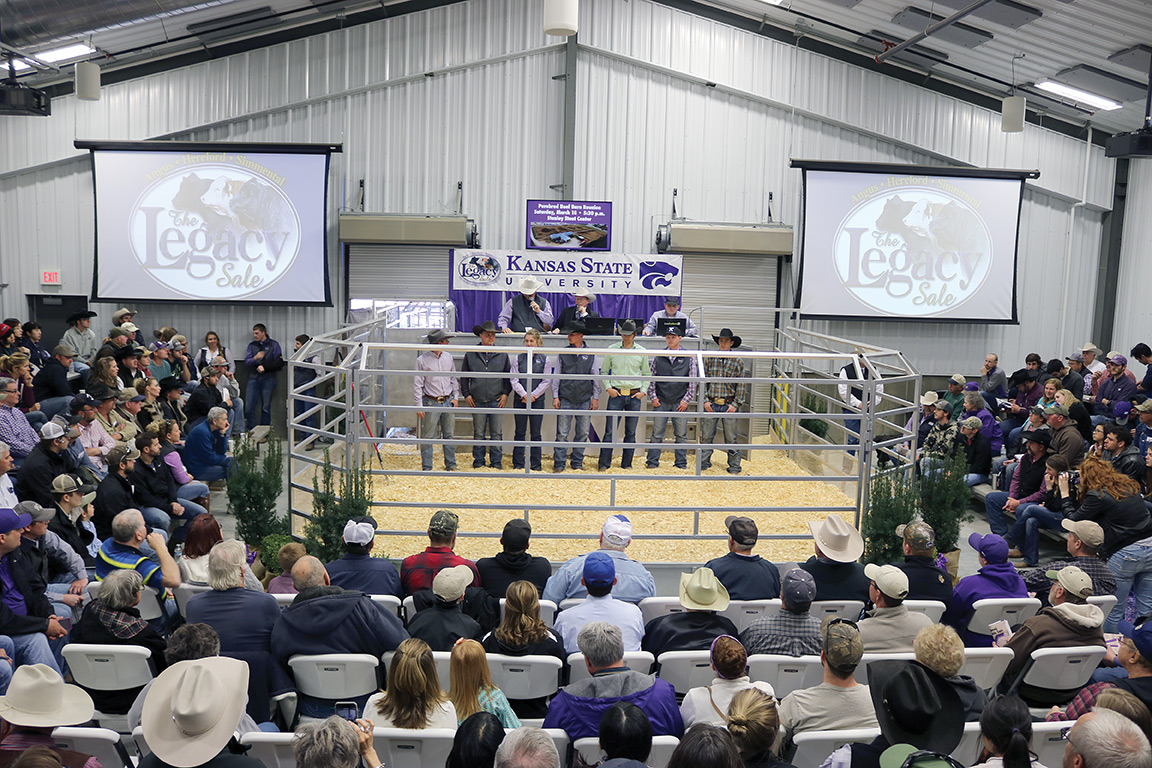 Focus on the Student
Unit cattle are used for teaching purposes in classes — such as Livestock Sales Management, Pregnancy Diagnosis, Bovine Calving — and for competition in the annual Little American Royal. A portion of the purebred unit herd are sold in the annual Legacy Bull and Female Sale hosted the first Friday in March. This sale is unique to the nation because it is engineered entirely by students to give them hands-on, practical experience in purebred cattle marketing.
"The new facilities will strengthen the student experience through enhanced teaching opportunities for many of our classes and laboratory sections in a safe, modern animal housing and management facility similar to what our students might experience upon entry in the workforce," Weaber said. "Our mission will continue to be providing undergraduate and graduate students with practical experience in breeding, feeding, management and marketing of purebred seedstock. Livestock selection and general animal science courses give students the opportunity to evaluate quality cattle."