Learning in the Pits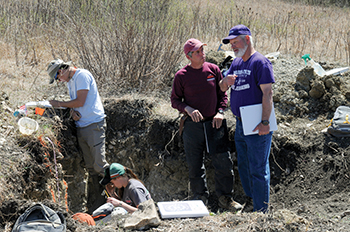 Why would college students travel across the country to spend hours in a soil pit? They are aspiring soil scientists applying what they learned in the classroom at a national competition.
Twenty-three teams qualified at their regional events to compete at the 2016 National Collegiate Soil Judging Contest in Manhattan last April.
As the host institution, Kansas State University could not compete at the event. K-State last hosted the contest in 1968. They were national champions in 2008 and 2009.
Mickey Ransom, professor and coach of the K-State Soils Judging Team, oversaw the contest. He, graduate student Michelle Scarpace, and Kim Kerschen, instructor and academic coordinator, spent more than a year preparing for the contest. Kerschen (B.S. '12, M.S. '14), was a member of the 2009 K-State national championship soil judging team.
Ransom explained how the contest works. Participants compete as teams and individually. Being in the 4- to 5- foot pits allows students to see exposed layers or horizons of soil. They identify soil properties and rate whether the soil would be good for various uses such as urban development or rangeland. Students compare soil colors to charts and determine soil properties, including sand, silt, and clay.
All the judges were from the U.S. Department of Agriculture/Natural Resources Conservation Service. Agronomy faculty and graduate students served as pit monitors during the contest. They were in charge of rotations and made sure everyone complied with the rules.
"The contest reinforces what's learned in the classroom," Ransom said. "It has practical application that transfers well for a variety of good jobs."
Coach's perspective
"Mickey Ransom and his team planned, prepared, and delivered a well-organized contest that provided learning opportunities for the students and coaches alike," said Jim Thompson, coach from West Virginia University.
Thompson said a comprehensive website and frequent communication helped prepare the coaches and students for the contest.
In addition to educational practice sites, activities such as a tour of the Konza Prairie Biological Station and social events helped the students learn about the local soils and land use, which broadened their understanding and deepened their appreciation for soils and soil science, added Thompson.
Student roles
Members of K-State's Wheat State Agronomy Club helped with whatever needed to be done — digging practice pits, checking practice sites before the event, greeting teams, preparing awards, or doing set up and take down for events. They also hosted an ice cream social with lots of Call Hall ice cream.
"Since I have been a collegiate judger for three years, I have gotten to know several students from other schools," said Erin Bush, senior in agronomy from Indiana. "Soil judging is a great opportunity to make connections with students across the country, especially when they have the same goals and passions as myself."
K-State students Logan Evers, Morgan Witt, and Bush "competed" in the alternate pits. Typically, there are no alternate pits, so only four people from each team can compete.
"Dr. Ransom made sure every student could be part of the competition, even if the scores didn't count. I loved that," Bush said.
Bush has participated in three regional and two national collegiate contests, a North American Colleges and Teachers of Agriculture competition in Minnesota plus the international contest in Hungary last September, where she took fourth place.
"Soil judging in 8th grade got me to where I am today," said Bush. "Who knew I would end up soil judging on a college level three states away from my Indiana home? It also has given me opportunities to look for good jobs and has guided me to pursue a graduate degree, which I will begin in January 2017 under Dr. Ransom."
Jim Thompson, West Virginia State University coach, summarized the event by saying, "The selfless dedication of Mickey Ransom and his team to soil judging and the clear commitment from the K-State Department of Agronomy to this event made it both enjoyable and memorable."