It's a Grain-Based World
Department trains leaders to meet future challenges
Training Global Leaders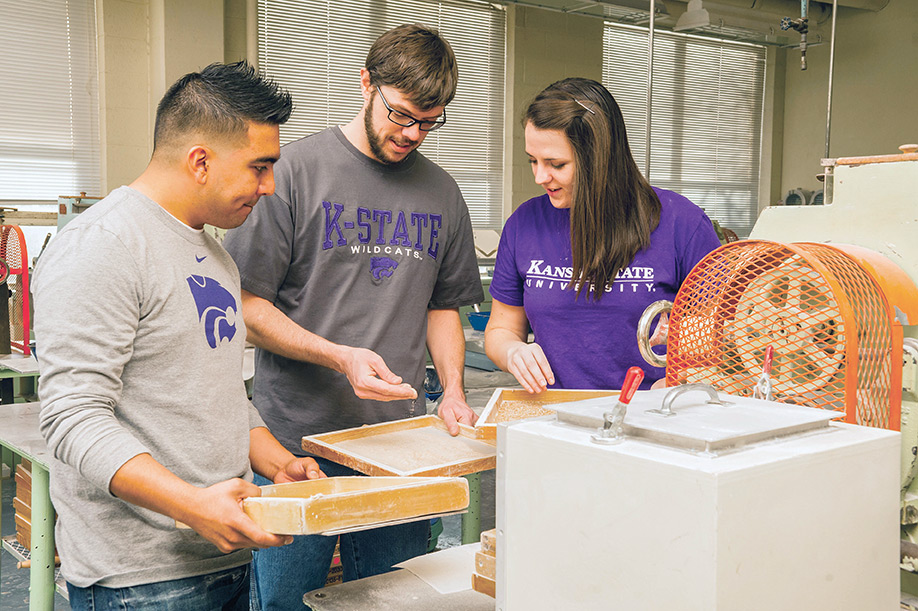 With the world population expected to rise to more than 9.7 billion people by 2050, the pressure on the earth's resources has never been greater. To help meet that challenge, faculty in the Department of Grain Science and Industry are training future researchers and industry professionals in the areas of bakery science, milling science, and feed science.
Through their research efforts and humanitarian work, the team helps solve global malnutrition through novel food processing and enhanced means of grain storage to maximize the world's resources. This is accomplished through funding support via national grants as well as with industry partnerships. According to Department Head Gordon Smith, the department finds unique ways to address difficult challenges.
Undergraduate Education
Smith credits the faculty's industry experience for providing students with real-world learning opportunities. "All of the faculty are highly integrated with the industry and more than 80 percent have industry experience, so they can train students to meet current and future demands."
The department averages 200 undergraduates and 50 graduate students annually. "About half of our graduate students are international, so we're training people who are going to work all over the globe," Smith added.
Undergraduate students participate in clubs related to their majors and an undergraduate honorary society. A graduate student organization offers hands-on activities and trips to national meetings.
Gideon Butler-Smith, Overland Park, said he appreciates all the experience he gains as a bakery science and management student.
"The Bakery Science Club focuses on running a small business and producing baked goods for the Manhattan community. I am the production manager this year facilitating the scaling, mixing, and baking of our cherished products," explained Butler-Smith. "This club allows students from all majors and backgrounds to experience the joy of baking and learn a little bit of science and business while they're at it."
Kyle Anderson, a feed science and management student from Olathe, said he was amazed by how much real-industry experience he received through the O.H. Kruse Feed Technology Center and internships. "It showed me that I do enjoy the process of feed production and want to pursue this career after graduation."
Those experiences helped Butler-Smith and Anderson secure industry jobs upon graduation. Butler-Smith will be working in production for Kroger Manufacturing in Utah, while Anderson will be designing feed processing systems and serve as a feed processing equipment dealer for Waitt Equipment in Indiana.
"The applicability of the education is why the department has 100 percent job placement and starting salaries that are only second to the College of Engineering," stated Anderson.
He added that many of his peers have multiple job offers.
Smith noted that starting salaries for most graduates are in the $55,000 to $65,000 range, depending on the degree.
Megan Holton (B.S. '11 milling science/bakery science) works as the head miller for Ardent Mills in Commerce City, Colorado.
"The KSU grain science program provided me with background knowledge that I apply every day in my job and helped instill a problem-solving mindset," Holton said.
Learning Labs
As department head, Smith strives to constantly improve the student experience and lab facilities.
"We have world-class modern facilities including two training mills that are unparalleled anywhere," Smith said. Those facilities are located across from Bill Snyder Family Stadium at the Grain Science and Industry Complex.
The department also has lab and classroom space in Shellenberger and Waters halls on the main campus that Smith hopes to upgrade.
"It's a great testimony to our faculty that we continue to produce high-class research and high-quality students in aging facilities," Smith added.
For Mayra Perez-Fajardo (B.S. '16 bakery science and management), working on two research projects was a big part of her educational experience. One involved seeing the effects of different tempering times on the milling of waxy wheat, and the other tested the effects of final product characteristics using quinoa and tapioca flour to create a gluten-free muffin.
"Conducting undergraduate research projects really fueled my passion," Perez-Fajardo said. "Because I enjoy learning, I decided to expand my education and further challenge myself by pursuing a master's degree."
Her career goal involves a job that brings people together through food. She hopes to accomplish this through product development — creating new products or optimizing existing ones.
Relevant Research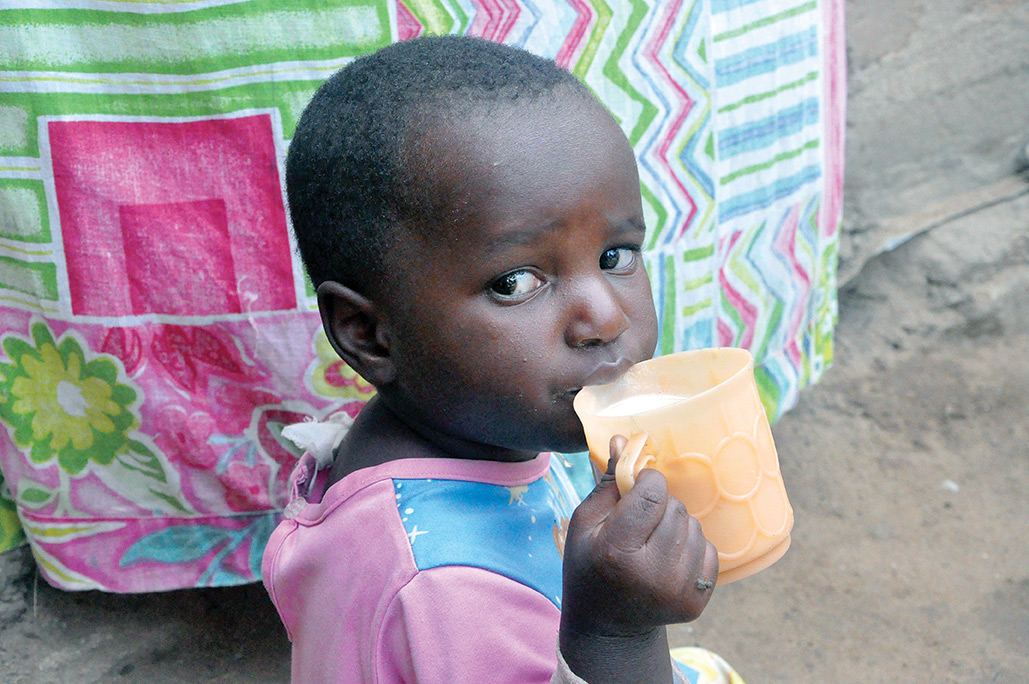 Departmental research funding comes through state and federal competitive grants, humanitarian aid, and industry support.
"Our research funding is fairly balanced among those three," Smith said. "Compared to most departments, we conduct more industry and humanitarian-based projects. We have significant humanitarian research being conducted in multiple countries including Tanzania, Ethiopia, Guatemala, Bangladesh, China, Ghana, and India."
Sajid Alavi, professor and extrusion processing engineer, leads a project on sorghum nutrition funded by the USDA Foreign Agricultural Services. It aligns with the university's Global Food Systems Initiative and focuses on improving child nutrition in Tanzania and other parts of the world where children suffer long-term health effects from poor diets.
Through this project, sorghum-based products fortified with proteins and micronutrients were developed and field-tested with families in Tanzania. "The future impact of this research is going to be global because these new nutritious products have the potential to impact millions of children," Alavi said.
Kansas is the No.1 grain sorghum producing state. This research was partially funded by Kansas and U.S. grain sorghum producers who also reap benefits. "In the future, there could be hundreds of thousands of tons of these new products manufactured in the U.S. and shipped to 20–30 countries around the world," added Alavi.
Industry Partnerships
Departmental success is linked to strong funding support from commodity groups and other industry partners.
"We have some of the most generous partners I've ever seen," Smith stated. "Their generosity is continually demonstrated in practice to our students, faculty, and administration."
Trainings through the IGP Institute, formerly the International Grains Program, illustrate how partnerships benefit the department and professionals across the world. In 2016 alone, institute faculty trained 2,001 industry professionals from 67 countries in 80 courses through on-site courses and via distance education. These programs are made possible through support from the Kansas Soybean, Wheat, Corn, and Grain Sorghum commissions.
"The IGP Institute provides innovative and relevant education and technical programs to enhance the market preference, consumption, and utilization of U.S. cereal grains, oilseeds, and their value-added products for the global grain industry," Smith said.
The classes and seminars are geared toward grain processing and flour milling, feed manufacturing and grain quality management, and grain marketing and risk management. Grain science faculty and industry professionals lead these hands-on trainings, which are adapted to meet the needs of the ever-changing industry.
"For example, technology continues to evolve as we try to process more types of grain into different finished products," Smith said.
With the world's growing population, the need for well-trained grain professionals has never been greater. Grain science students and alumni such as Anderson, Perez-Fajardo, Butler-Smith, and Holton are well equipped to meet these head on.
Butler-Smith summed it up by referencing the K-State alma mater, "The department shaped who I am today, and I will forever be grateful to the people who had an impact on my education. This department and university is a place I love full well."