Campus Involvement Rewarded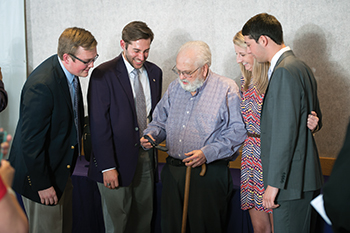 Five College of Agriculture seniors — Garrett Kays, Nathan Laudan, Kurt Lockwood, Mayra Perez-Fajardo, and Abby Works — were among 16 students recognized as 2016 Dean of Student Life Outstanding Graduating Seniors. Each student received a plaque with his or her photo taken in a favorite place on campus.
Garrett Kays, agricultural economics, Weir, was involved with the Student Governing Association, Blue Key, Alpha Gamma Rho, and the Office of Governmental Relations.
"Through leadership positions on campus, I learned the importance of caring and investing in your co-workers, friends, and family," said Kays. "It was also very rewarding to share my experiences with freshman and sophomore students and help them achieve their own goals."
Nathan Laudan, Paola, majored in agricultural communications and journalism/food science and industry with minors in international agriculture, agricultural economics, and journalism and mass communications. His many activities included K-State Student Ambassador; Blue Key, Quest, and other honor organizations; Student Alumni Board; and Agriculturist magazine editorial board.
He advises future leaders to "find and build yourself an advisory board," which he describes as multiple people with greater life experiences in areas you want to succeed. "Without them as support, buildup, and sometimes reality check, no way in heck could I have accomplished half of what I have done here at K-State," said Laudan.
Kurt Lockwood, agricultural economics with a minor in political science, Caney, was very involved with Student Senate, Kansas FFA, Blue Key, Ag Ambassadors, and the Catalyst Student Development Program.
"Never be afraid to take advantage of opportunities and invest in people around you," Lockwood said. "People will forget the title before your name, but they won't forget the energy you invest."
Mayra Perez-Fajardo, bakery science and management with a minor in Spanish, Laredo, Texas, was a McNair Scholar, Developing Scholar, Spanish and Education Supportive Services peer ambassador, and a member of Minorities in Agriculture, Natural Resources, and Related Sciences.
She enjoyed being able to mentor other students and help them succeed. She said her leadership experiences made her aware of how to troubleshoot issues when they arise, and that communication is key.
Abby Works, food science and industry, Iola, was involved with various aspects of the Student Governing Association, Student Alumni board, Student Foundation, K-State Proud, and several honor groups.
Her advice for future leaders would be, "Say yes to experiences outside your comfort zone. These types of opportunities and situations might change your life. Go ahead and give it a shot. It will be worth it."