Meat Animal Evaluation Team Crowned Champions
The Kansas State University Meat Animal Evaluation Team made history by winning the national championship at the 2016 Meat Animal Evaluation Contest in Lincoln, Nebraska.
It was K-State's first national title in the contest's 53-year history, with eight team members placing in the top 10 overall.
"We're proud of our students," said Ken Odde, professor and head of the department. "K-State has a strong tradition of judging team success, and it's exciting to have the accolades continue with the 2016 national champion meat animal evaluation title."
The event, previously known as the AKSARBEN contest, now rotates between host institutions across the country. The competition includes live market animal carcass predictions and pricing, breeding animal evaluation, and a meats judging competition. It serves
as a capstone judging experience, because it incorporates concepts that apply directly to industry.
K-State earned top honors in five divisions: Market Animal, Meats, Breeding, Beef, and Sheep and was reserve champion team in the Swine Division.
Team members with individual placings:
Barrett Simon, High Individual Overall, 1st in Market Animal, Breeding, Beef, and Sheep;
Blake Foraker, 1st in Meats; 2nd Overall, 2nd in Sheep and Market Animal; 3rd in Swine;
Rob Johnson, 4th Overall, 2nd in Meats and Beef;
Joseph Limbach, 5th Overall, 3rd in Breeding and Sheep;
Lauren Prill, 6th Overall;
Riley Lafrentz, 8th Overall;
Allison Schulz, 9th Overall;
Tanner Aherin, 10th Overall; and
Austin Deppe, 3rd in Market Animal.
Travis O'Quinn, assistant professor, Chris Mullinix (B.S. '96), instructor, and Austin Langemeier, graduate student, coach the team.
The Department of Animal Sciences and Industry prepares students for careers in the animal and food industries. The curriculum includes the study of nutrition, reproduction, genetics, behavior, meat science, food science with production, management, and agribusiness skills.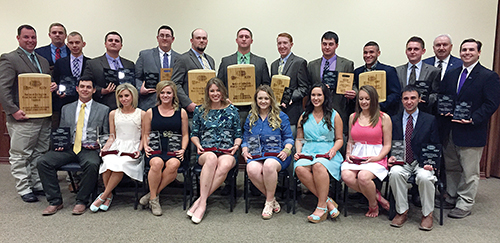 Members of the National Champion Meat Animal Evaluation Team (seated, l to r) are: Barrett Simon, Leon; Payton Stoppel, Russell; Samantha Trehal, Kiowa, Colorado; Allison Schulz, Iron Ridge, Wisconsin; Grace Hammer, Wallace; Lauren Prill, Wichita; Joelle Sylvester, Wamego; and Michael Cropp, Damascus, Maryland. Back row (standing, l to r) are: Chris Mullinix, coach; Austin Langemeier, assistant coach, Manhattan; Blake Foraker, Burton; Zach Godde, Galesburg, Michigan; Rob Johnson, Niantic, Illinois; Ted Creech, Lloydminster, Alberta; Joseph Limbach, Eugene, Missouri; Austin Deppe, Maquoketa, Iowa; Tanner Aherin, Phillipsburg; Cody Knight, Shawnee; Riley Lafrentz, Bienfait, Saskatchewan; Ken Odde, animal sciences and industry department head; and Travis O'Quinn, coach.