Sorghum's Popularity Keeps on Growing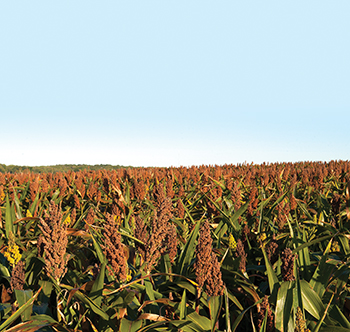 From flowing fields in Kansas, to barren, starved villages in Africa, sorghum is gradually strengthening its foothold in the world's agricultural economy.
Also known as milo, sorghum is recognized by the bronze, beaded heads of the mature crop seen in Kansas fields each fall. The farther west one travels in Kansas, the more sorghum you're likely to see, because it is ideal in areas where water is sparse.
"Sorghum is a very hardy, water-sipping crop, making it very fitting for our harsh, unpredictable weather," said Pat Damman, director of the Kansas Grain Sorghum Commission. "It also is gaining in popularity because of our growing export market; China has really made the world look at grain sorghum."
Damman (B.S. '96 agricultural education, M.S. '97 secondary education) farms near Clifton.
Kansas: No. 1 in production
Kansas farmers grow more of the crop than any other state. In 2014, Kansas ranked first in grain sorghum production in the United States with 200 million bushels grown, or more than 40 percent of the country's total production.
"We rely on the drought tolerance of sorghum," said Matt Splitter (B.S. '08 agricultural communications and journalism), who planted 750 acres to sorghum this year on his farm near Lyons. "With sorghum, we are able to raise high yields even when we have long periods of drought and heat."
Sorghum's role in feeding people
The use of sorghum for human consumption is being developed further in countries where malnutrition and hunger are prevalent.
In the Mara Region of Tanzania, one of the most starved areas of the world, K-State grain scientist Sajid Alavi is part of a research team working to improve child nutrition and health by providing a sorghum-soybean porridge blend to children younger than 5.
Earlier this year, 2,000 children ages six months to five years and their mothers traveled periodically to a central distribution point to receive the porridge blend.
While the results of the five-month study are yet to be finalized, Alavi said the early indications are that children were more healthy and had average growth rates.
"This whole project was started by our own sorghum farmers in Kansas and nationwide through the checkoff program and the Kansas Grain Sorghum Commission," Alavi said.
Research key to sorghum's popularity
In 2013, the U.S. Agency for International Development (USAID) awarded K-State $13.7 million to establish the Innovation Lab for Collaborative Research on Sorghum and Millet, known as SMIL.
The project, administered through the U.S. government's Feed the Future initiative, focuses on advancing the science of sorghum and pearl millet in semiarid regions of the world.
Geoffrey Morris, an assistant professor of agronomy, develops genetic tools that sorghum breeders use to develop new varieties. One project, supported by the Kansas Grain Sorghum Commission, is developing climate-resilient sorghum for Kansas farmers.
"We look for genetic differences that help plants cope with climate stresses, like limited availability of water and chilling stress early in the season," Morris said.
"Chilling tolerant sorghum would allow Kansas farmers to plant earlier and capture more of the moisture from early-season rains. It could increase yield by extending the growing season, which would give Kansas farmers more options for their rotations by having a sorghum season that matches the corn season."
Splitter noted that he and his fellow sorghum growers regularly deal with threats to the crop from insects, fungal disease, and weeds. Recently, the destructive sugarcane aphid has caused anxiety in sorghum fields. He appreciates the security that research offers his business.
"What I love about what Kansas State University does is that they solve problems that are real and applicable to what I do in the field," Splitter said. "When the research is being done 80 miles from my farm, 50 miles from my farm, or sometimes right on my farm, it's more likely to help what's going on here."
"Historically sorghum hasn't had the research investments that a crop like corn has had, but that means that research investments now can have a huge effect on accelerating sorghum breeding," Morris said.