Hydrologist's Message Resounds with Farmer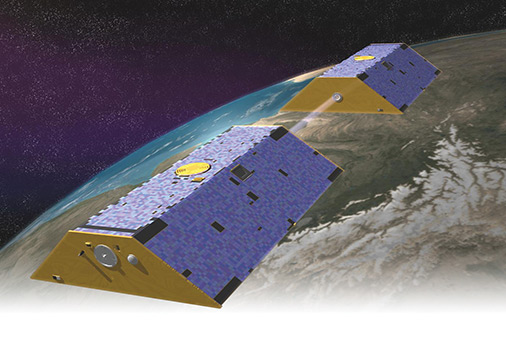 Dwane Roth, who farms near Holcomb, figured the five-hour drive to hear hydrologist Jay Famiglietti speak at Kansas State University last fall was well worth the road time.
After all, Famiglietti has spent nearly three decades studying water sustainability and security, including the past 14 years monitoring the Earth's water supply with NASA satellites.
"I wanted to find answers to questions about water issues in western Kansas," said Roth, owner of Big D Farms, one of three water technology farms in Kansas. "What I realized is that it comes back to us farmers. I'm the one with the ability to make changes."
Famiglietti was the third speaker in the Henry C. Gardiner Global Food Systems lecture series, cosponsored by Kansas State University and the Gardiner Angus Ranch of Ashland. The series was initiated in 2015 to provide science-based education about the global food system.
Famiglietti, also a senior scientist at NASA's Jet Propulsion Laboratory in Pasadena, California, was part of a team that launched two satellites — each roughly the size of a minivan — that hover over the Earth and take measurements of water mass.
He told the audience of 1,100 that data from the project, called Gravity Recovery and Climate Experiment (GRACE), indicates that 20 of the world's 37 major aquifers are being depleted, including the Ogallala Aquifer in western Kansas.
"I think we're in rough shape, that's the implication for water sustainability and security," Famiglietti said. "We have a crisis. And I think that the groundwater depletion part that has been revealed by the GRACE data poses a far greater risk to global water security — and therefore food security — than we really acknowledge. We need to work on this together; this is a big, big problem."
Roth said he took Famiglietti's message to heart. Since the October lecture, he has hosted meetings of water rights owners in his area, gathered data from the Kansas Water Office and Kansas Geological Survey, and presented to government officials about his goals for water conservation.
As a water technology farm, Big D Farms showcases the latest technologies in irrigation infrastructure and water management, soil moisture measurement, conservation tillage, automation, telemetry, crop selection, and other agronomic practices to reduce water use.
"I've been spending my time educating and giving people information," Roth said, "and so far it seems to be working."
A video with highlights of Famiglietti's lecture is available.