Global Efforts Span 60 Years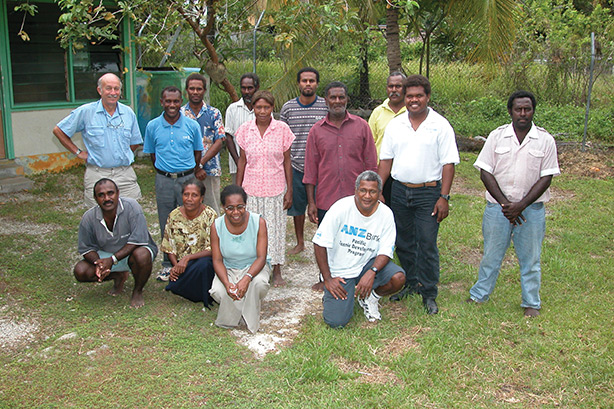 Kansas State University now hosts four U.S. Agency for International Development (USAID) Innovation Labs — Applied Wheat Genomics, Collaborative Research on Sorghum and Millet, Reduction of Post-Harvest Loss, and Sustainable Intensification. Only the University of California, Davis has five innovation labs.
How did K-State achieve such success? It didn't happen overnight. Its global history began 60 years ago when Kansas State Agricultural College's (KSAC) School of Agriculture created the Office of International Agricultural Programs and signed an agreement to start development of Andhra Pradesh Agricultural University in India. William Pickett, horticulture department head, was the first director.
KSAC was officially changed to Kansas State University of Agriculture and Applied Science in 1959, and the School of Agriculture was renamed the College of Agriculture in 1964. President John F. Kennedy created USAID in 1961.
Wealth of Projects
From 1956 to 1972, 59 faculty, including Arthur "Dad" Weber, head of the Department of Animal Sciences and Industry (1944 to 1952) and dean of the College of Agriculture (1952 to 1961), worked in India, and 160 Indian faculty received advanced training, mostly in Kansas. The experience in India led to a similar 13-year project in Nigeria that involved 90 K-State faculty.
In 1976, agricultural economist David Norman obtained a major USAID grant to promote the farming systems research approach in the U.S. and abroad. It included training programs, literature on the system for Hale Library, and annual symposiums and conferences. The initiatives helped form the International Association of Farming Systems Research and Extension, which has been used extensively throughout the world.
During his 38-year tenure at K-State, Norman worked in 70 countries. He was honored as a distinguished fellow of the African Association of Agricultural Economists.
In the '90s Phillip Stahlman, weed scientist at the Agricultural Research Center-Hays, consulted on establishing agricultural training centers in Kazakhstan, Ukraine, and Russia. He also hosted government officials, scientists, and land managers from those countries in Kansas. As a visiting fellow (2007 to 2008) at the University of New England in Armidale, New South Wales, he worked with local agronomists on weed management in oil-seed sunflower. As a result, he was featured on the cover of Australian Grains Magazine.
Stahlman went to Malawi, Africa, twice in 2010 on behalf of a USAID group to educate and train agro-dealers on proper herbicide application and helped them establish 25 weed control demonstration plots. He also was a member of a multi-university delegation that visited Ethiopia to assess the progress and capital needs of five universities there. Stahlman retired in March 2017 after 42 years of dedicated service.
Pearl Millet, Then and Now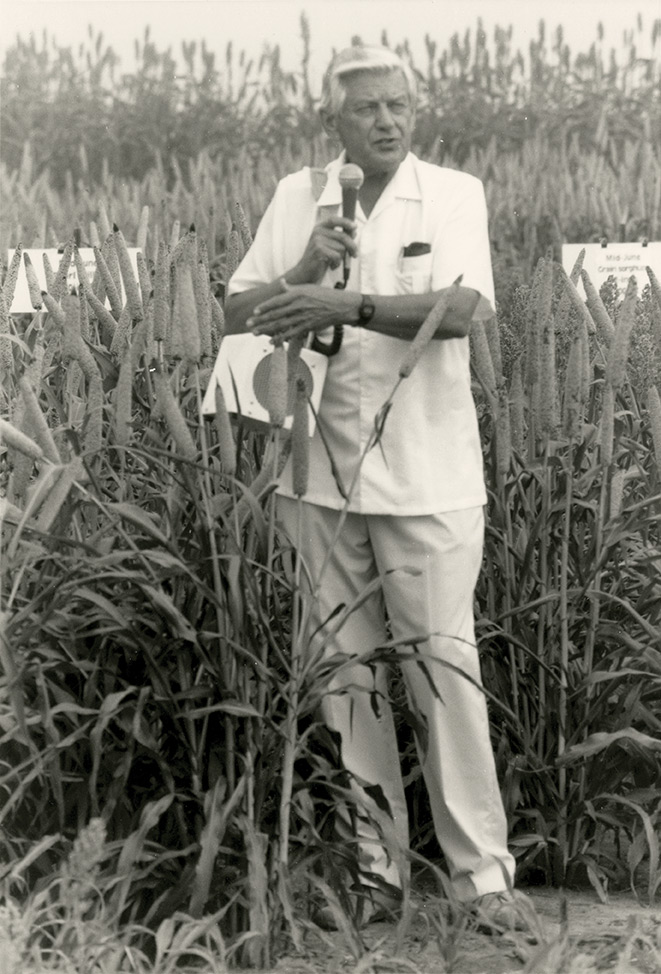 Bill Stegmeier, an alternative crops researcher at the Fort Hays Branch Experiment Station (now the Agricultural Research Center–Hays), created a breeding program for pearl millet in the early '70s. Pearl millet was a staple food and feed crop in Africa and Asia.
Richard Vanderlip, emeritus professor of agronomy who worked with Stegmeier, said they wanted to see if the crop would work as an alternative to sorghum in the sandy soils of central Kansas.
According to The First 100 Years, A History of the Agricultural Research Center–Hays: By 1978, the breeding program was linked to international crop improvement programs, including the International Crops Institute for Semi-Arid Tropics (ICRISAT) headquartered in Hyderabad, India, and the International Sorghum and Millet Cooperative Research (INTSORMIL) program. That cooperation resulted in the exchange of several thousand varieties, germplasm lines, and elite inbred selections of pearl millet.
By 1997, at least half of the pearl millet hybrids marketed by India's private growers were produced using female parents from the Hays program … more than five million acres.
The Hays pearl millet program ended in 1999 but was revived in conjunction with the USAID Sorghum and Millet Innovation Lab. Desalegn Serba was hired as the millet breeder in 2016. The program develops genetically diverse parental lines that will produce high-yielding hybrids that withstand drought, high temperature, pests, and diseases.
Military Connections
To help military families, USDA and 4-H entered into a cooperative agreement with the U.S. Army Family and Child Services system. The goal was to create a 4-H club at each installation.
"The Army wanted to use 4-H because we had research-based material written to use in working with youth," said Marcia McFarland, 4-H Youth Development specialist.
The Air Force also implemented the project, and Navy/4-H programs were added in 2003.
In 2009, K-State Research and Extension initiated basic agriculture trainings for deploying soldiers from the Army's 1st Infantry Division at Fort Riley. From 2009 to 2011, four Kansas National Guard Agribusiness Development Teams attended trainings to prepare them for service in Laghman Province in Afghanistan.
The Larson Legacy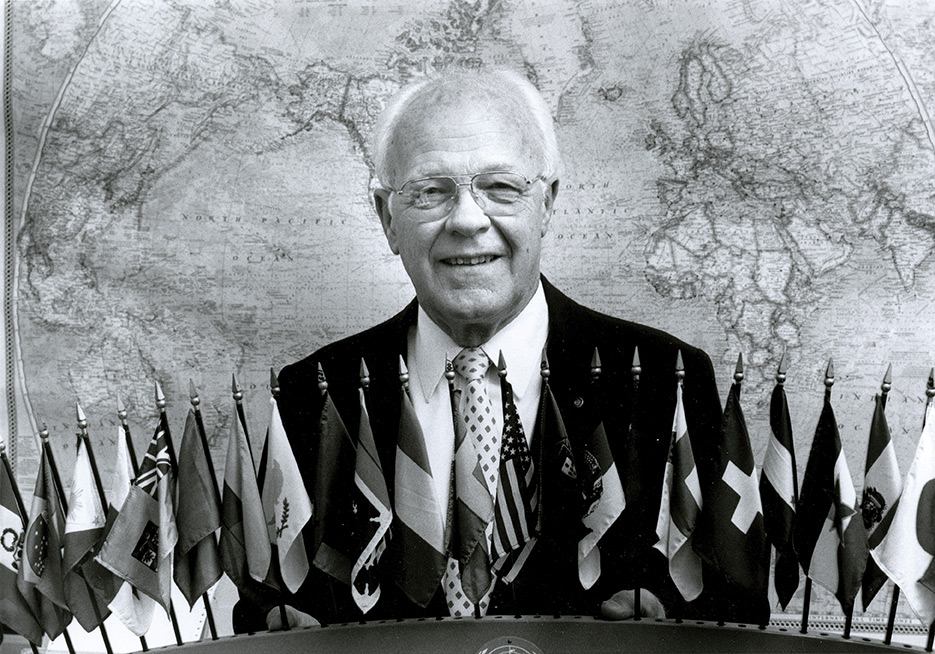 Vernon Larson became director of the Office of International Agricultural Programs in 1962 and added the title of K-State assistant provost for international programs in 1986.
Larson established formal relationships between K-State and universities and institutes in Paraguay, Costa Rica, Honduras, Mexico, France, China, and Botswana. He also helped form the Association of U.S. University Directors of International Agriculture Programs and the Mid-America International Agriculture Consortium.
An article from University Archives attributed to the KAES Editorial Office, provided this quote from Larson about how assignments overseas benefit Americans as well as the host countries.
"Agriculture in Kansas is based on knowledge received from other nations. Almost all of our crops and livestock originally came from other countries. Because of threats from insects and disease, we need to continually seek more resistant and resilient plant and animal resources."
The Vernon Larson Lecture Series was created in 1979 and remains one of the university's longest continuous lecture series. Larson retired in 1991.
A June 16, 1991, Manhattan Mercury article stated that Larson believed something had to be done about a world that is "part hungry and another part well-fed" and that goal is best achieved through international programs in the land-grant school concept.
Moving Forward
Assistant Director Jim Jorns became acting director after Larson's retirement. Jorns accepted the leadership position in extension education in 1994, leaving the international agriculture position open.
Steven Graham (M.S. '81 grain science) was hired as assistant to the dean and director in 1995. Because of his experience in the Peace Corps, international agricultural programming was incorporated into his duties.
Robert Hudgens served as director from 1997 to 2004, when he accepted a position with USAID in Jordan. Graham again stepped in to manage the program. Nina Lilja joined K-State as director in 2008.
Lilja credits Graham with keeping the program going between directors, working with Peace Corps volunteers, and helping coordinate international projects.
When she came on board, she looked for faculty with international experience and an interest in leading projects related to global issues. She found a wealth of expertise and interest, which led to applying for and receiving the four USAID Feed the Future Innovation labs."Strategically focusing on our strengths adds value to our domestic work, allows us to compete for larger grants, and expands our collaborative network," said Lilja.
Student Advantages
Having faculty who have studied or worked abroad can bring a different perspective to classrooms.
Don Boggs (M.S. '77 animal science) became associate dean of the college in 2005, taking on responsibilities for student study abroad growth and leadership. That same year Fred Cholick, dean of the college and director of K-State Research and Extension, approved financial support for students to study abroad.
In 2004, 24 College of Agriculture students studied abroad, and by 2016 that number had risen to 138 students.
"K-State's contributions to the world's well-being have been far-reaching, long-lasting, and multifaceted," said John Floros, dean and director.
"Recently, we have accelerated our international involvement not only because we need to produce better prepared graduates for a global economy, but also because most challenges ahead are global. As we try to address major issues in our food and agricultural systems, our environmental and natural resources, our people's health and our communities' vitality, it would behoove us to think globally and strategically. Our international efforts have always brought benefits back home to help the citizens of Kansas and the USA."