Research Brings Expertise Together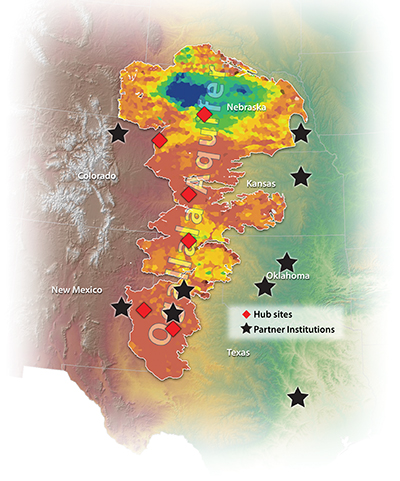 The aquifer serves as the main source of agricultural and public water for western Kansas and parts of seven other Great Plains states. Because water from the Ogallala Aquifer region, or OAR, supports 30 percent of total crop and animal production in the U.S., the rapid decline of the aquifer level creates a problem for all of Kansas, the Great Plains, and the nation.
To address the issue, the U.S. Department of Agriculture/National Institute of Food and Agriculture funded $10 million over four years for a Coordinated Agriculture Project grant for innovative research and extension activities.
The group will study how agriculture within the region can adapt to declining water levels and improve water use efficiency, said K-State team coordinator Chuck Rice, university distinguished professor of soil science and Mary L. Vanier university professor.
In addition to leading the K-State team, Rice will study the impact of soil management practices as producers change to limited irrigation, alternative crops, or dryland systems.
Irrigation options
Because more than 90 percent of the water pumped from the Ogallala Aquifer is used for irrigated agriculture, the K-State team includes three irrigation experts — Danny Rogers (B.S. '76, M.S. '77), professor and extension irrigation specialist; Jonathan Aguilar (Ph.D. '09), water resources engineer; and Isaya Kisekka, irrigation engineer.
They will develop and identify the best irrigation technologies, cropping system management practices, and decision-support tools to improve water use efficiency. Aguilar and Kisekka are both based at the Southwest Research-Extension centers near Garden City and Tribune, where the Kansas test sites are located.
"This project will support many of the research and extension needs identified by the governor's Water Vision process," said team member Dan Devlin, director of the Kansas Center for Agricultural Resources and the Environment. "It is also an indication of the nationally recognized water resources expertise of K-State faculty."
Adapting to change
"One of our primary goals within this project is to take a broad, in-depth look at how agricultural producers, landowners, and other stakeholders can become more adaptive and resilient to changing water and climatic conditions in the Ogallala Aquifer region as a whole, and western Kansas in particular," Rice said.
State climatologist Xiamao Lin will contribute to climate data and projections. Vara Prasad — university distinguished professor and director of the U. S. Agency for International Development Feed the Future Sustainable Intensification Lab — will look at how different crops respond to changes in water availability and management practices to optimize crop yields under declining water resources.
Sociologist Matthew Sanderson and agricultural economist Bill Golden will identify social and economic barriers to adoption and evaluate the impacts of various best management practices (BMPs) on water use. They also will explore the impact of groundwater conservation policies and BMPs on aquifer levels and regional economies.
In addition to lead institutions Colorado State University and Kansas State University, others involved in this project include the University of Nebraska, Lincoln; Oklahoma State University; New Mexico State University; Texas Tech University; West Texas A&M University; Texas A&M AgriLife; and the USDA/Agricultural Research Service.
"The Ogallala Aquifer is critical to the state of Kansas and the region's agricultural economy," said John Floros, dean of the College of Agriculture and director of K-State Research and Extension.
"USDA/NIFA recognizes the importance of the Ogallala to the nation's agriculture and has chosen this team of experts to lead efforts to prolong the use of the aquifer for future generations."