Celebrating 50 Years of Distance Education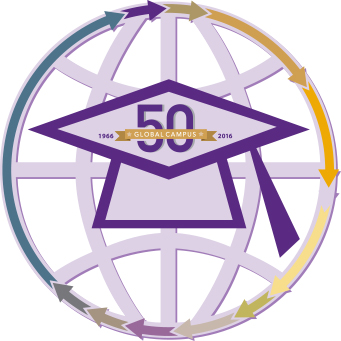 For half a century, Kansas State University Global Campus has helped make a K-State education more accessible to adult learners worldwide. Advancements in educational technologies and collaborative partnerships on campus and beyond have brought K-State courses, degrees, and professional development to both individuals and industry.
K-State Global Campus began at the roots of the university land-grant mission of extension programming with a commitment to make research-based information available beyond the university campus.
To provide credit opportunities for working adults and professional development through conferences and noncredit programs, K-State formed the Department of Continuing Education.
It separated from extension in 1966 and became the Division of Continuing Education. In 2014, the division was renamed K-State Global Campus to better reflect its global reach and breadth of educational options.
"The K-State Research and Extension initiative often helps get something started, which later develops into a successful stand-alone program," said Daryl Buchholz, associate director of extension and applied research. "K-State Global Campus continues advancing the initiative."
Today, K-State Global Campus has students in all 50 states and international connections and partnerships with 20 countries. More than 70 distance programs include bachelor's, master's, and doctoral degrees; graduate and undergraduate certificates; and minor programs.
The College of Agriculture and K-State Research and Extension have maintained close ties with K-State Global Campus. Here are a few highlights of their collaborative efforts.
Food science shares golden anniversary
About the same time that K-State Global Campus was getting started, faculty in the Department of Animal Sciences and Industry developed a food science graduate degree followed by an undergraduate degree in 1972.
To serve the specific needs of U.S. Department of Agriculture food technologists, the distance education food science undergraduate certificate program was initiated in 1986. The program now offers a B.S. in food science and industry, an M.S. in food science, undergraduate certificate in food science, and graduate certificate in food safety and defense.
"The industry repeatedly comes to us to have their employees involved in the program, and most companies pay for those students' tuition and fees," said Curtis Kastner, director of the Food Science Institute, or FSI.
Kastner explained that the program has grown about sevenfold since FSI was formed in 2001. He anticipates continued growth to provide qualified applicants for open industry positions.
For more information about the institute, visit foodsci.k-state.edu.
MAB — First of its kind
In 1996, the Department of Agricultural Economics initiated the Master of Agribusiness — the first agribusiness graduate program in the nation to be offered via distance education.
Current students and alumni reside in 40 states and 30 foreign countries and represent every segment of the food chain. Students complete the program in two and a half years while working full-time, often moving frequently.
The program has won numerous honors, including awards from the American Distance Education Consortium and the University Continuing Education Association/Peterson's Award for most innovative distance education program and best new for-credit education program.
For more information about the MAB program, go to mab.k-state.edu.
Sharing resources
Through the Interactive Distance Education Alliance, a consortium of universities share teaching resources. For example, K-State and six universities across the United States teach online classes through AG*IDEA for the master's degree in agricultural education and communication.
Looking to the future
Delivering education to professionals in Kansas continues to change and evolve. K-State Global Campus forges ahead into the next 50 years determined to bring new educational options and delivery methods to place-bound students and professionals, no matter their location.
For more information, go to global.k-state.edu/ag.
Timeline
1966 –Division of Continuing Education formally established by Kansas Board of Regents.
1986 – Food science distance education courses marked the beginning of the food science undergraduate certificate program to serve the needs of USDA food technologists.
1988 – DCE began to relocate to 1615 Anderson, formerly located in the Wareham building and the third floor of Umberger Hall.
1990 –Animal Sciences and Industry bachelor's degree program established.
1996 – Master of Agribusiness introduced.
2001 – Great Plains Interactive Distance Education Alliance (IDEA) youth development graduate program prepares youth development workers.
2002 – Food Science master's degree first offered.
2007 –Food Safety and Defense graduate certificate launched.
2007 – K-State helped form the Agriculture Interactive Distance Education Alliance (AG*IDEA), a consortium of 23 institutions.
2009 – Horticultural Therapy graduate certificate launched.
2012 – Servicemembers Opportunity Colleges Army Degree (SOCAD) agreement is signed to help soldiers complete a bachelor's degree in food science and industry.
2012 – Masters' degree in Agricultural Education and Communication offered through AG*IDEA.
2014 – The College of Agriculture Scholarship for Distance Education Students established.
2014 — Renamed Global Campus