News Briefs
Department chooses new name
One of the oldest departments on the Kansas State University campus has a new name. In April 2016, the Kansas Board of Regents officially approved changing the Department of Horticulture, Forestry and Recreation Resources to the Department of Horticulture and Natural Resources.
The department was formed in 1871 when the Agriculture Science College was split into the Horticulture Department and the Farm Department. Over the years, the horticulture unit has been merged with a variety of disciplines, including botany, entomology, landscape architecture, and forestry.
Currently, the department offers three undergraduate programs — horticulture, park management and conservation, and wildlife outdoor enterprise management — plus M.S. and Ph.D. degree programs across all disciplines.
"The faculty had discussed a name change for several years and voted in December 2015 to proceed with the Department of Horticulture and Natural Resources," said Candice Shoemaker, department head.
"The Kansas Forest Service continues to be a part of our department," explained Shoemaker.
---
Draper chosen to lead plant pathology department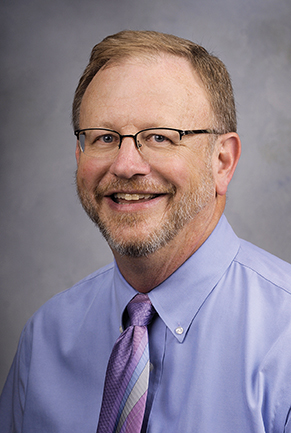 Martin Draper, former national program leader for plant pathology/integrated pest management for USDA/National Institute of Food and Agriculture, recently joined the K-State faculty as head of the Department of Plant Pathology.
A native of Iowa, Draper received his B.S. degree from Iowa State University and M.S. and Ph.D. degrees from North Dakota State University.
He was the plant pathologist and disease-free potato seedstocks manager at the North Dakota State Seed Department then director of the Plant Pest Diagnostic Laboratory and Seed Health Testing Laboratory.
In 1997, Draper became an extension plant pathologist at South Dakota State University. He accepted the position with USDA/NIFA in 2006.
"As I looked at where to go at this stage of my career, K-State was high on the list because of the department's reputation and the strength of the university," Draper said. "I also appreciate how well research and extension work together at K-State."
He said his short-term goals would be to get to know the faculty and learn more about the department.
"Long-term goals will be developed with faculty and producer input," said Draper.
Coming into a department with a strong reputation, he said his main objective is to look at gaps in expertise and to build strong teams.
---
A 'Fitbit' for plants?
K-State researchers have developed a tool called the Phenocart to capture essential plant health data. It measures plant vital signs such as growth rate and color, the same way a Fitbit wristband monitors human health signals such as blood pressure and physical activity.
In a field experiment with thousands of plots, the Phenocart is a quick and portable way to evaluate plant health. It also can help plant breeders design larger experiments.
"Larger sample size gives you more power," said Jesse Poland, assistant professor of plant pathology. "Measuring phenotypes is very labor-intensive and really limits how big of an experiment we can do."
The new tool allows for faster measurements and accelerates the breeding process. The Phenocart also can be outfitted with different sensors depending on what the scientists want to measure, including a sensor to measure how "green" their plants are, Poland said.
"The measure of vegetation index or 'greenness' is really the easiest and more straightforward way to measure the overall health status of the plant," Poland said.
Read more about Phenocart.
---
Multicultural Fellowship Program marks 10th year
For the 10th year, K-State Research and Extension welcomed students who attend 1890 and 1994 land-grant institutions and Hispanic serving institutions to the Manhattan campus for an eight-week summer fellowship.
Goals for the program include increasing recruitment and retention of domestic multicultural students, establishing mentor relationships to ease students' concerns about graduate school, and determining the factors that influence decisions to pursue graduate degrees in agricultural sciences.
The program has recruited 48 fellows from 18 institutions. After completion, 33 percent applied to K-State for graduate school, with 50 percent accepted. So far, six have completed K-State graduate degrees.
This year, five students — Amber Brown and Raymee Johnson, Fort Valley State University; Marie Armstrong, Prairie View A&M University; and Briana Austin and Philecia Biggs, North Carolina Agricultural and Technical State University — worked closely with K-State faculty on research projects related to their chosen fields.
The students, their projects, and mentors: Amber Brown, Determining the monetary value of soil carbon in the Great Plains region, Charles Rice, university distinguished professor of agronomy, and 2011 multicultural fellow Tiffany Carter (M.S. '14 grain science), agronomy graduate student;
Raymee Johnson, Case studies regarding agricultural economics, Keith Harris, assistant professor, and Yacob Zereyesusm, research assistant professor, agricultural economics;
Marie Armstrong, Parent-child interactions:Interrelations of qualitative and quantitative analysis in the context of smartphone screen time, Bradford Wiles, assistant professor, family studies and human services;
Briana Austin, Standard operating procedure for validating temperature in piglets, Lindsey Hulbert, assistant professor, animal sciences and industry, and Gabi Hernandez, California Polytechnic State University;
Philecia Biggs, The effects of time and temperature on the firmness of nonfat dairy milk, Karen Schmidt, professor, and Karolina Sanchez Alan, intern, animal sciences and industry.
Each student presented her research findings on July 28.