News Briefs
New President Speaks at Cattlemen's Day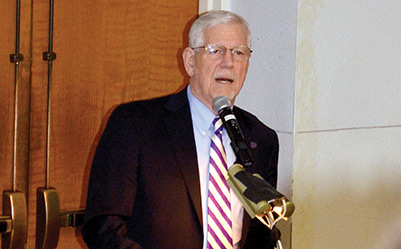 K-State President Richard Myers spoke to students, faculty, and ranchers during the 104th annual Cattlemen's Day on March 3.
Myers told the crowd he was proud of his Kansas roots and how Kansans turn challenges into opportunities. He also acknowledged his love for K-State and higher education. Myers described a K-State education as a bargain that draws hundreds of Kansas high school students because of its quality faculty.
He said he has toured agriculture facilities on campus and hopes to swing through western Kansas and talk with producers. Myers noted that K-State's College of Agriculture infrastructure needs refreshing and should be a priority because of the importance of agriculture to Kansas and the Kansas economy.
---
Weber to Lead 4-H Youth Development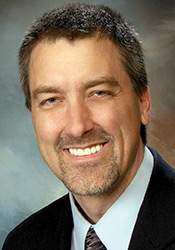 Wade Weber returns to Manhattan as the new state program leader and department head for 4-H Youth Development. He holds a master's degree in counseling and student development from K-State and had been leading 4-H programs at Iowa State University for the last seven years.
He has won numerous awards for bringing innovative approaches to youth activities in science, technology, engineering, and math (STEM); agriculture and natural resources; creative arts; precision agriculture; and animal science — all with a focus on college and career readiness.
Weber served as the state president of the National Association of Extension 4-H Agents in Iowa in 2014 and expanded 4-H youth program capacity in Iowa and South Dakota.
Before his time at Iowa State, Weber worked in Manhattan in local and regional director positions for InterVarsity Christian Fellowship/USA. In those positions, he coordinated efforts at nine different university campuses in Arkansas, Kansas, Missouri, and Nebraska and served as a program director for collegiate summer programs in Bolivia and Ukraine.


---
Alumna Directs Sorghum Improvement Center

Industry veteran Sarah Sexton-Bowser (B.S. '08 agricultural economics) was named managing director of the Center for Sorghum Improvement.
The center focuses on expanding markets for sorghum and increasing yield with research investment in such areas as plant breeding and field-level management. It also builds a diverse array of options for producers, such as increased sorghum use in livestock feeding, encouraging international sales, and experimenting in new markets.
Sexton-Bowser said the center aims to achieve major advances because farmers have not seen significant private technology investments in sorghum for the last couple of decades.
Funding for the center comes from the Kansas Grain Sorghum Commission, the United Sorghum Checkoff Program, the College of Agriculture, and the Kansas Department of Agriculture.
---
K-State Restructures Kansas Forest Service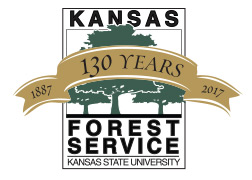 The Kansas Forest Service recently marked two milestones: 130 years as a state agency (March 10, 2017), and 107 years as a division within Kansas State University.
On Nov. 17, 2016, John Floros, dean of the College of Agriculture and director of K-State Research and Extension, announced a structural change. The Kansas Forest Service is now housed as an independent agency within K-State Research and Extension instead of under the Department of Horticulture and Natural Resources.
This shift does not affect the principle functions or operations of the agency, which are guided by 16 legislated powers and duties, and its mission of "Care of Natural Resources and Service to People through Forestry."
---
Floros Receives Wallace Kidd Award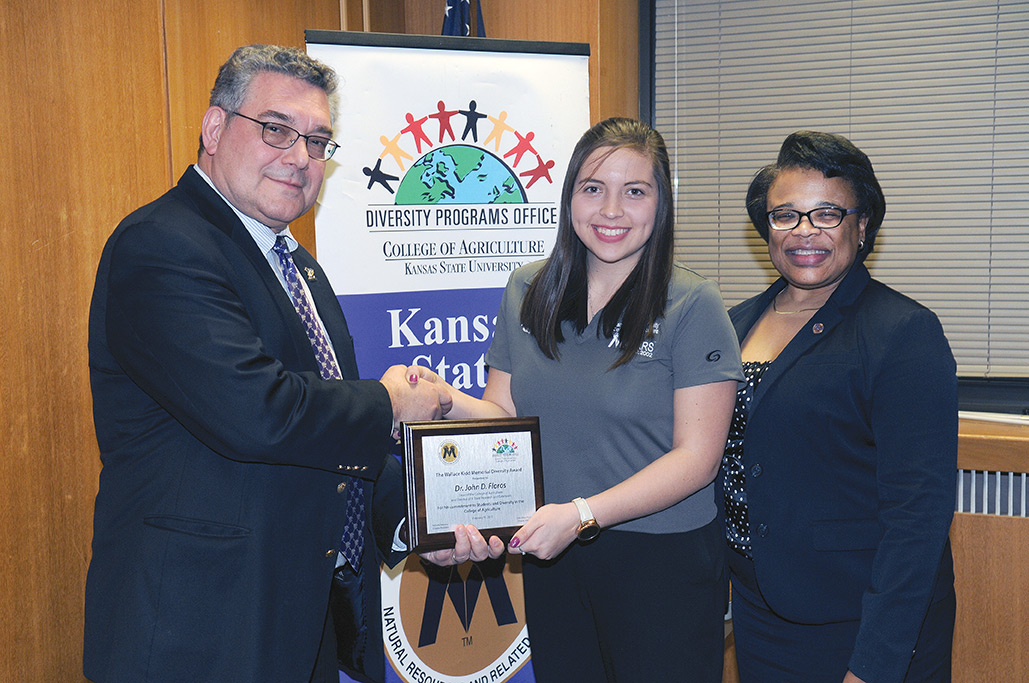 K-State's Minorities in Agriculture, Natural Resources, and Related Sciences (MANRRS) chapter presented the Wallace Kidd Award to Dean and Director John Floros on February 15. The award honors Wallace Ray Kidd, who was the first African American to receive a K-State degree in entomology (1950) and serve on the Riley County Commission.
This biennial award established in 2005 recognizes those who demonstrate a commitment to diversity on the university campus or in the community through mentoring, outreach initiatives, and other activities that advance the institution's goal of inclusion.
At the award reception, Floros said he was especially touched because this was the first award he had received directly from students. Several MANNRS students spoke about how much they appreciated Floros' support.
MANRRS President Adriana Meneses presented the award to Floros. Meneses, junior in animal sciences and industry, recently received the Carver Spirit of Innovation and Service Award. The honor recognizes undergraduate students who show evidence of traits embodied by George Washington Carver including creativity, courage, dedication, and whose achievements in their educational development inspire and motivate other students.
---
Building for the Future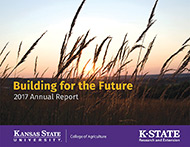 Go to www.ksre.ksu.edu/annual-reports to access the 2017 annual report and related videos.
The 20-page report shows how the College of Agriculture and K-State Research and Extension are tackling the five grand challenges facing Kansans — global food systems, water, developing tomorrow's leaders, health, and community vitality.
It also highlights the college's facility needs for the future.