Pair Receives Prestigious Awards
Poland wins early career award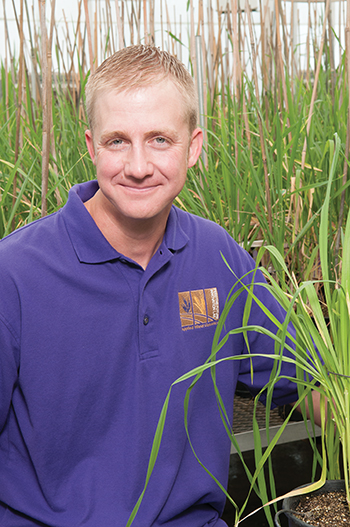 In less than six years as a research geneticist, Jesse Poland has accumulated an impressive list of accolades including being named director of the U.S. Agency for International Development Feed the Future Innovation Lab for Applied Wheat Genomics. He recently received the National Association of Plant Breeders' 2016 Early Career Scientist Award.
"This is a very nice recognition, and even better that two of my students made the nomination, which was the biggest honor," said Poland, assistant professor of plant pathology.
"I think there is a real need for well-trained students going into plant breeding around the world to work on developing new high-yielding varieties and meeting the challenge of food security in the coming decades."
Poland (B.S. '03 agronomy, M.S. '04 plant pathology) has contributed to the study of plant breeding through teaching and advising students, and communicating his research through publications and face-to-face interactions.
Two of Poland's most significant achievements are the development and refinement of genotyping-by-sequencing, a novel method for genetic characterization of wheat and other species, and the development of portable high-throughput phenotyping platforms, which help breeders and researchers maximize available data to make more accurate selections.
Poland also contributed to the development of the first physical sequence of barley, as well as the draft sequence of hexaploid wheat under international sequencing consortiums.
His nomination package was submitted by Trevor Rife, Torrington, Wyoming, and Narinder Singh, Ludhiana, India, both doctoral students in genetics.
"Jesse's desire to teach, share knowledge, and stimulate our critical thinking are the best characteristics an adviser can have, and he also encompasses all the qualities that comprise an exceptional scientist," Rife said.
---
Prasad named university distinguished professor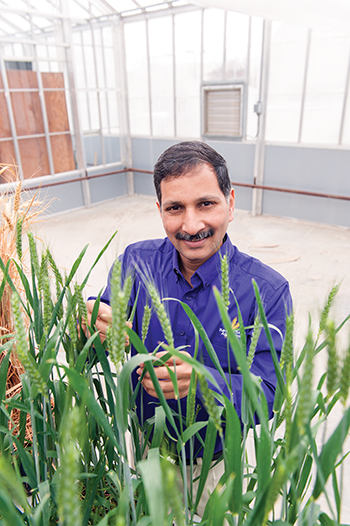 Agronomist Vara Prasad has been named a 2016 Kansas State University Distinguished Professor, a lifetime title and the highest honor the university bestows on its faculty members. He will receive a personalized plaque and medallion at the university's fall 2016 commencement ceremonies.
Prasad serves as director of the university's Feed the Future Sustainable Intensification Innovation Lab, which is funded by the U.S. Agency for International Development, or USAID.
His research focuses on understanding responses of food grain crops to climate change factors and developing crop, water, and soil management strategies for efficient use of inputs and to improve crop yields.
Prasad joined the university in 2005. He has received $62 million in grant funding to support research, education, and extension activities from local, national, and international agencies.
He has published more than 140 peer-reviewed journal articles and book chapters and his research has been cited 4,400 times. Prasad has mentored and trained more than 100 research scholars and graduate students.