Preparation Pays Off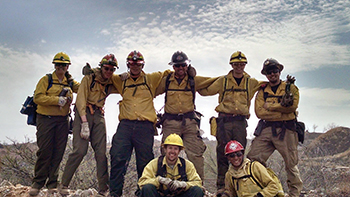 When Kansas Forest Service fire staff began its annual Hazardous Fuels Mitigation Project training in Hutchinson, the team had no idea they would soon be fighting the Anderson Creek Fire, one of the largest fires in Kansas history.
Rodney Redinger, training specialist; Ross Hauck, fire program coordinator; Jason Hartman, fire protection specialist; and Eric Ward, excess property manager, were training 86 people — both Hutchinson Community College students and experienced firefighters — to reduce fuels on public lands adjacent to property that could be harmed in a wildfire.
The plan changed when a wildfire broke out in Woods County, Oklahoma. Warm, dry air and extremely high winds pushed the Anderson Creek fire into Comanche and Barber counties in Kansas.
Christopher "Chip" Redmond, K-State incident meteorologist, noticed the fire on radar and alerted the training team. The next day, Comanche County requested their assistance to manage the wildfire. By afternoon, equipment and volunteers were packed and headed to coordinate with the Oklahoma response team.
Redinger served as incident commander. He described his job as "rigidly flexible," adapting to needs while keeping the chain of command intact.
The first job was to assess the situation. In addition to coordinating nearly 500 people and monitoring the fire and structures in its path, volunteers needed food and a place to sleep between shifts, trucks required fuel, and livestock needed feed. Medicine Lodge in Barber County had just completed a new facility that worked perfectly as an emergency operation center.
Volunteers arrived from 100 of the 105 counties, most with equipment and no expectation of being reimbursed. Kyle Jacobs (B.S. '13 agricultural education), who teaches at South Barber High School, was among the volunteer firefighters.
"Kansas Forest Service resources helped tremendously," Jacobs said. "The extra staff and equipment that they were able to bring in helped out beyond belief."
Jacobs has attended various trainings like the mitigation training in Hutchinson. He said, "My father, Jim, is a volunteer firefighter and retired teacher, and I wanted to be like him. There have been several times that we have been right there side by side fighting together."
The Anderson Creek fire consumed 367,620 acres, countless miles of fencing, herds of livestock, and several structures. Amazingly, there were no serious human injuries.
The team evaluated the event to see if they need to adjust their training. They hope they won't get a call, but they want to be ready.
The Kansas Forest Service team worked closely with the Army National Guard, the Adjutant General's group, the Kansas Department of Emergency Management, and local volunteers. As a thank you to the community for their kindness and hard work, the team planted an Oklahoma redbud at a church in Medicine Lodge.
Learn more about the Kansas Forest Service at kansasforests.org.