Notes
Iman Awards to Agronomist and Alumnus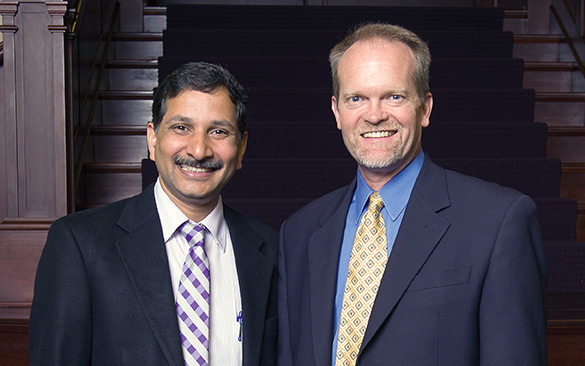 Two faculty, P.V. Vara Prasad, left, and Robert L. Larson, received $5,000 Iman Outstanding Faculty awards.
Prasad, university distinguished professor of agronomy and director of the Feed the Future Innovation Lab for Collaborative Research on Sustainable Intensification, was recognized for his research.
Larson (B.S. '85 veterinary medicine, DVM '87, Ph.D. animal science), professor and Edgar E. and M. Elisabeth Coleman Chair of Food Animal Production Medicine and executive director of Veterinary Medical Continuing Education, received the teaching award.
Prasad's research mainly focuses on understanding responses of food grain crops to changing environments — temperature, water, and climate variability — and developing crop management strategies.
His nominator, John Floros, dean of the College of Agriculture and director of K-State Research and Extension, said, "He has made, and continues to make, outstanding contributions in all areas of K-State's land-grant mission. He is one of the most productive and accomplished faculty members in the College of Agriculture."
Bonnie Rush, executive associate dean of the College of Veterinary Medicine and head of K-State's clinical sciences department, nominated Larson.
"Dr. Larson's philosophy of teaching is to equip future veterinarians and advanced trainees with problem-solving skills that will support their careers regardless of their specific path," Rush said.
For nearly a decade, Larson has served as the executive director of continuing education for the College of Veterinary Medicine. He served two terms on the K-State Graduate Council and has served as chair of the Student Affairs Committee. From 2008 to 2009, he served as the interim director of the Master of Public Health program and currently advises more Master of Public Health students than any other faculty member.
Introduced in 2007, the annual Dr. Ron and Rae Iman Outstanding Faculty Awards are sponsored by the K-State Alumni Association and are made possible through the generosity of Ron and Rae Iman.
---
Kisekka Earns Innovator Award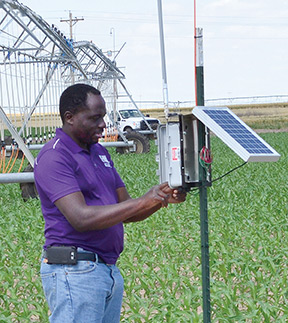 The Foundation for Food and Agriculture Research, a nonprofit organization that supports innovative science addressing food and agriculture challenges, recognized Assistant Professor Isaya Kisekka, as a "New Innovator in Food and Agriculture Research."
Kisekka's award supports his work in improving water-management strategies on farms. He is based at K-State's Southwest Research-Extension Center in Garden City.
He and a team of researchers are working to find the best ways to maximize the use of irrigation water on crops in western Kansas, including an irrigation system that attaches drip lines to existing center pivot systems. The work has implications for any region in the world and is especially important where water supplies are limited.
As one of nine recipients, Kisekka will share in a $4.8 million award over five years. Matching funds from each awardee's respective institution will reinforce the foundation's investment of as much as $300,000 per recipient. This is the first year for the FFAR New Innovator award.
---
Improving Wheat Breeding through Mobile Apps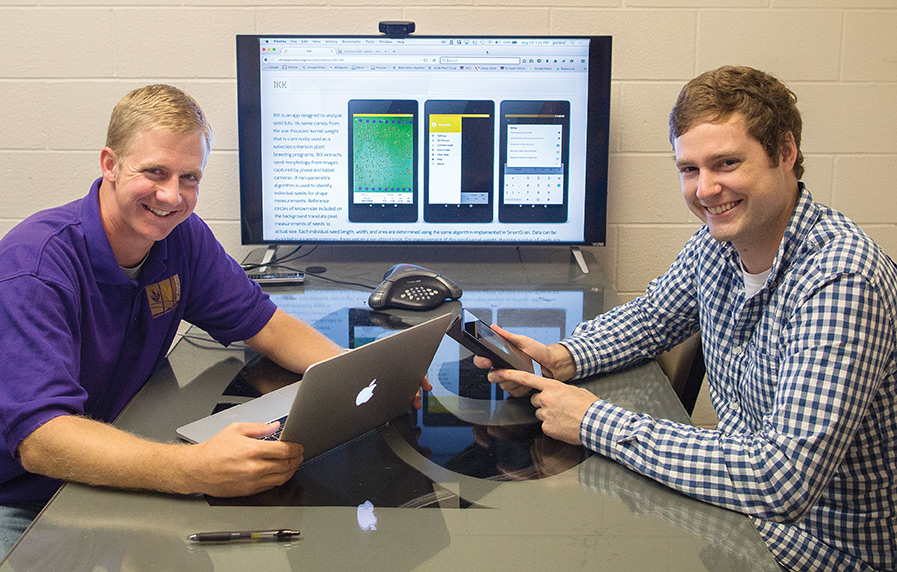 As global populations rise, food demand skyrockets, and climate variability threatens food security — access to mobile technology becomes commonplace.
Plant pathologists Jesse Poland and Trevor Rife are part of an international team developing mobile phone and tablet applications that enable breeders and scientists around the world to accelerate development of improved plant varieties.
The Basic Research to Enable Agriculture Development (BREAD) Program has $1.5 million in funding from the National Science Foundation in partnership with the Bill & Melinda Gates Foundation.
Other project partners include Cornell University, Texas A&M University, the International Institute of Tropical Agriculture, and the International Institute for Maize and Wheat Improvement.
Associate professor Poland (B.S. '03 agronomy, M.S. '04 plant pathology) and graduate research assistant Rife (Ph.D. '16 plant pathology) had developed Field Book, an app for collecting field research notes. Through the BREAD project, the team plans to develop new mobile apps to collect phenotypic plant data, such as disease resistance, plant height, or seed size in the field, much more efficiently and at a much lower cost than is currently possible.
"This is the next step for us. After seeing the rapid uptake of Field Book, it confirmed for us the incredible potential mobile applications have in the world of agriculture, and in particular for plant breeding," Poland said.
"Rapidly producing new climate-resilient, high-yielding and nutritious plant varieties is critical to improving food security, income, and economic welfare. To do this, we need to equip breeders with the tools to tackle this big task on a global scale."
The project also is part of K-State's leadership in global food systems research. As a graduate student, Rife was recognized as a 2015 Future Leader in Science by the American Society of Agronomy, Crop Science Society of America, and Soil Science Society of America for his interest and engagement in science advocacy. The 18 award winners received a trip to Washington, D.C., to participate in the societies' annual Congressional Visits Day, where they met with their members of Congress and advocated for agricultural and environmental research.
---
New 4-H Hall of Fame Inductee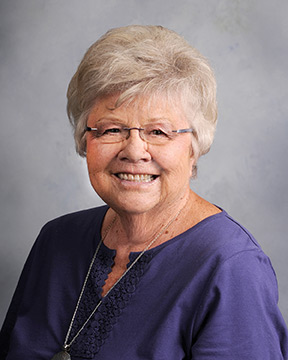 Kansas native, Ann Domsch, has spent more than 55 years serving children and families.
Her experiences with the 4-H Youth Development program as a child led her to a career with K-State Research and Extension.
For the positive difference she's made with countless children and families, Domsch was inducted into the National 4-H Hall of Fame October 7 in Washington, D.C.
In her nomination letter, Kansas 4-H colleagues wrote, "Whether it is a new 4-H initiative, 4-H agents with a programming need, or young people with an idea, Ann is the first to say 'let's go.'"
She served as the Rawlins County family and consumer sciences/4-H agent. Next, she took on the role of 4-H Youth Development specialist for southeast Kansas. Domsch retired in 2001 but returned to coordinate the state 4-H Horse Program and organize the district 4-H and Kansas State Fair Horse Show entries.
From 2005 until this year, she coordinated Kansas: Operation Military Kids, part of a national effort to support children and families of active duty, National Guard, and Army Reserve members.
Domsch is the 14th Kansan to be inducted into the Hall of Fame. Kansas has the most inductees of any state.