Building Better Wheat One Gene at a Time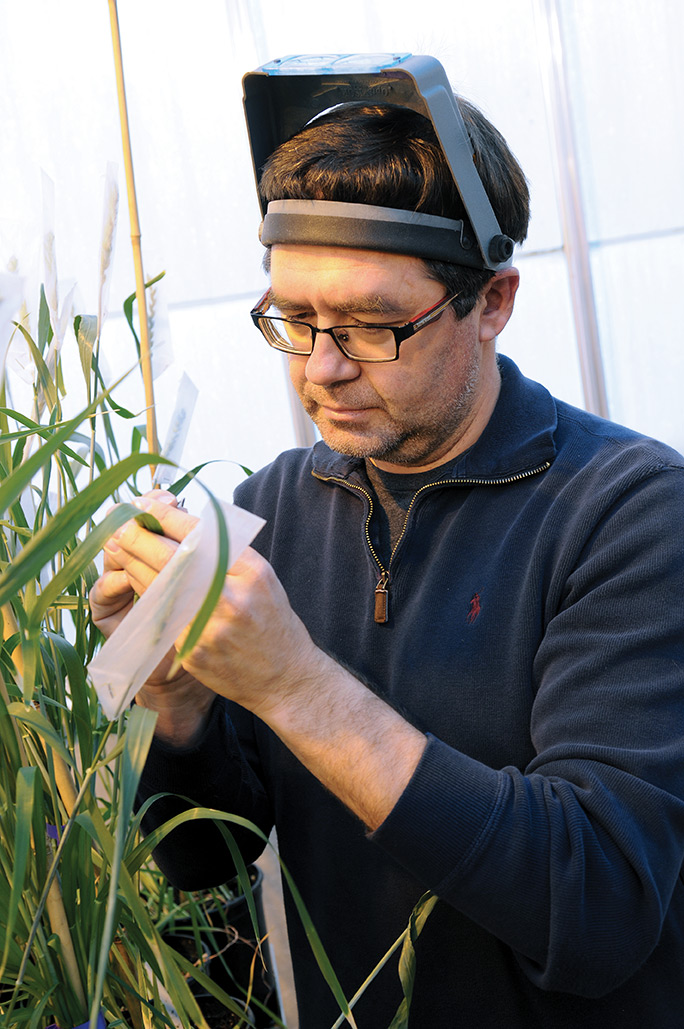 Plant pathologist Eduard Akhunov joined the Kansas State University faculty in 2007. Since that time, he has made an indelible mark on K-State, Kansas, the U.S., and the world.
During his tenure, Akhunov has worked on at least 20 grants bringing more than $10.7 million to K-State from local, state, federal, and private donors such as the Bill & Melinda Gates Foundation.
As major professor or committee member for 15 graduate students, he is nurturing scientists to continue these projects.
His research team was part of the Borlaug Global Rust Initiative that helped reduce the threat of wheat stem rust to global wheat production. They are currently developing their expertise in gene editing, a process by which they can fix wheat genes to create varieties with larger-sized grain and increased number of kernels per spike.
"Dr. Akhunov's program has done some amazing things in identifying specific genes for various purposes," said Martin Draper, head of the Department of Plant Pathology. "His work with the Fusarium head blight resistance gene (FHB1) and wheat stem rust (Sr35) disease systems have been particularly noteworthy."
Akhunov's research team has been involved with the Triticeae Coordinated Agricultural Project, or TCAP, in which they developed the genetic resources and genomic tools necessary for studying the genetic basis of yield-related traits in wheat. That project wrapped up in November 2016 but has been rolled into the Wheat Coordinated Agricultural Project, or Wheat CAP, funded by the National Institute for Food and Agriculture.
The University of California, Davis manages the Wheat CAP funding and coordinates work among 19 U.S. breeding programs. Akhunov serves as co-director.
"Our group will be developing genomic resources for wheat geneticists and breeders to move ahead with their individual projects," Akhunov said. "The Kansas wheat breeding programs will not only benefit from identifying the gene that we have in our wheat breeding lines, but we can also get genetic material from other partners and use them in developing improved varieties in Kansas."
The genes identified for impacting wheat yield will be deposited into public databases and used in breeding programs nationwide.
Katherine Jordan, postdoctoral research associate, coordinates field and greenhouse projects for Akhunov's research team.
"Dr. Akhunov is tackling big problems such as increasing yield and disease resistance from multiple directions to help feed a growing population," said Jordan. "His end goal is to improve wheat."