Beyond the Classroom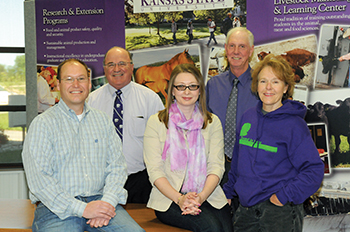 Faculty members are always learning new technologies to enhance their classroom techniques, and they stay abreast of what is happening in their areas of expertise.
They advise individual students plus club meetings and activities; write various publications for the public or textbooks; conduct research and/or have extension responsibilities; lead study-abroad trips; present at national conferences; coach judging teams; and participate on department, college, university, and national committees.
In addition to faculty duties, they play vital roles in community activities, churches, and local organizations.
Each semester, college student organizations nominate outstanding faculty. Ag Council representatives review the applications and choose the winners.
Here's a brief look at the busy lives of the 2016 advisor of the year and faculty of the fall 2015 and spring 2016 semesters.
Advisor of the year
Dave Nichols (M.S. '79, Ph.D. '81) serves as professor and teaching coordinator for the Department of Animal Sciences and Industry.
Nichols teaches Principles of Animal Science, Beef Systems Management, a course on artificial insemination, and Livestock Sales Management, which involves the annual bull sale in March.
He advises approximately 65 students and serves as advisor for the Little American Royal Showmanship Contest and has been highly involved in 4-H and youth activities.
Nichols has judged cattle shows in Texas and Kentucky, the American Royal, and numerous state fairs.
He has made various presentations, including at the 33rd World Charolais Congress in Porto Alegre, Brazil. He has also led study-abroad trips to Costa Rica, China, and Brazil.
In addition to university and judging responsibilities, Nichols owns and operates A and D Ranch, which brings a "producer's perspective" into the classroom.
Ingram's magazine included Nichols on its 2015 list of "50 Kansans You Should Know."
Fall semester faculty
Terry Houser, associate professor of meat science, teaches five classes and coaches the K-State Meats Judging Team. He advises more than 60 animal sciences and food science and industry undergraduate students, as well as four graduate students.
He conducts research on value-added meat products, including bacon and further processed meat products from beef, pork, and goat. He also looks at the impact of ethanol coproducts on fresh beef and pork quality as well as how to control injection-site abscess formation in meat animal livestock species.
He encourages students to become involved in competition teams, internships, and campus activities to help broaden their horizons.
"I teach/coach/advise many students who are on the K-State Meats Judging Team and encourage them to further their academic careers," Houser said. "I believe that hands-on learning is the most important activity. We also should challenge and encourage our students to be the best they can be in their professional and personal lives."
Instructor Irina Sheshukova brings her passion and expertise to the classroom. She teaches Concepts of Floral Design, which uses flowers and related products with an emphasis on floral design fundamentals. The popular class draws students from various K-State departments.
She teaches three sections of the course, each with one two-hour lab and two recitation sessions. The class fills quickly and usually has a waiting list. Students have requested an advanced floral design course.
"This course provides a unique opportunity for students to not only learn the subject and take part in the labs but also to take their custom-made designs home and bring happiness to their loved ones or donate them to charities," Sheshukova said.
"In the beginning of the semester, most students arrive not having any experience in the floral industry. Seeing them grow week after week and mature in their abilities to work with the flowers and create beautiful arrangements for their final projects is a very rewarding experience for me."
Spring semester faculty
Cathie Lavis (M.S. '93, Ph.D. '05), associate professor of landscape management, teaches or co-teaches seven horticulture classes. Some are taught only in fall or spring semester, because they incorporate actual work in the field. For example, students in her irrigation class installed a system at the Stanley E. Stout Center.
She advises about 35 students, the Horticulture Club, and co-coaches the landscape contracting competition team. She recently started a horticulture ambassador program to connect current students with prospective students and their parents.
Lavis also has an extension appointment. "My commitments to agriculture are guided by my work in extension," Lavis said. "My mission is to educate people on better irrigation water practices that will help sustain
our most valuable resource — water.
My courses all center around sustainable practices."
In 2013, she and arboriculture students fulfilled the requirements to declare K-State a Tree Campus USA. To maintain the annual designation, they plant trees and post informational signs by mature trees to educate the entire campus community about the importance of campus trees.
Lavis has led five student study-abroad trips and is planning one for 2017.
Instructor Ron Pope (Ph.D. '00) is faculty coordinator for the animal sciences and industry farm shop, which provides equipment and support for the research projects at the department livestock units. He also provides tours of the units, which include school field trips plus local and international visitors. This past year, he gave 46 tours to about 740 children and 289 adults.
He said, "I think it is very important to give these visitors a positive experience with animal agriculture."
Pope teaches the Animal Sciences and Industry Laboratory, plus he advises about 40 students and the Block and Bridle chapter. He came to K-State in 1977 as a research assistant at the Beef Research Unit supervising student employees. He considers many former employees as close friends, and some of their children have been in his class or among his advisees.
He noted the varied animal agriculture backgrounds of students, which can be both a challenge and a rewarding experience.
"I think it is important to work with each student as an individual," Pope said. "I try to be available for the students as much as possible. The college commencement ceremony is a highlight of the year for me, and I'm proud to see the students receive their degrees."
Don Boggs, associate dean of academic programs, speaks highly of college faculty.
"I have always been impressed with the excellence in teaching and the commitment of our faculty to our K-State students," said Boggs. "But the amount of time and energy our K-State ag faculty spend outside of the classroom is truly astounding. It is that commitment beyond the classroom that greatly enriches the K-State experience."