Upcoming Events/Updates
Henry C. Gardiner Global Food Systems Lecture Series
Sara Menker to deliver 2018 lecture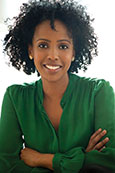 Sara Menker, a native of Ethiopia who quit a prestigious job as a commodities trader on Wall Street to form a company that aims to find solutions to world hunger, has been chosen as the fifth speaker in the Henry C. Gardiner Global Food Systems Lecture Series.
Menker will deliver the talk, "Why there doesn't need to be a global food crisis," in Kansas State University's McCain Auditorium on Oct. 8 at 7 p.m. Admission is free, but patrons are encouraged to arrive early because the lecture series typically draws large crowds.
She is the founder and chief executive officer of Gro Intelligence, a technology company that is bridging the information gap in agriculture by providing data that can help farmers and others in the agricultural industry determine the most efficient way to grow food in different regions around the world.
"Everyone talks about the importance of big data, often without a tangible way of getting good information," Menker said. "What we do at Gro is make big data analysis possible because we are helping our clients make sense of the fragmented, messy, large world of agriculture data. And the potential impact of this is huge. Not only can we support our clients to spend more time on analysis and far less on data procurement, but by bringing all this data together and making sense of it all, we can also help tackle major issues around forecasting crop yields and food security on a global scale."
Her hope is that by making best use of available information, areas of the world where there is an abundance of uncultivated arable land can help to meet the growing food needs of a world in which the population is expected to reach nearly 10 billion people by the year 2050.
"Our initial focus was in Africa because the data needs were more severe there," Menker said. "When I began to conduct research and ask farmers about their crop insurance and forecasting yields, the questions could not be answered. I realized this was a systemic problem not only in Africa, but globally, and that tackling supposed African issues meant addressing the fragmentation of agricultural data on a global scale."
Menker earned degrees in economics and African Studies at Mount Holyoke College and the London School of Economics. She also obtained an MBA from Columbia University.
The Henry C. Gardiner Global Food Systems Lecture Series aims to provide science-based education about the global food system. The series allows university students, faculty, staff, and Kansas citizens to interact with U.S. and international food industry leaders. Kansas State University and Gardiner Angus Ranch of Ashland initiated the lecture in 2015.
---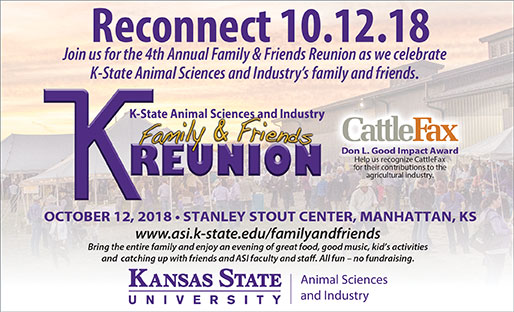 2018 Calendar of Events
September 3 – University Holiday (Labor Day)
September 7-16 – Kansas State Fair
September 20 – K-State Stocker Field Day, Beef Stocker Unit
September 28 – Grain Science Friends and Alumni Golf Tournament
October 8 – Henry C. Gardiner Global Food Systems Lecture, McCain Auditorium, 7 p.m.
October 12 – ASI Family & Friends Reunion, Stanley Stout Center
February 7-8, 2019 – Women Managing the Farm Conference