Paying it Forward
Curt (B.S. '73 animal sciences and industry) and Sheryl Frasier (B.S. '73 elementary education) reflected on their memorable undergraduate years at Kansas State University and looked for ways they could impact future K-Staters.
They chose to name the KSU Foundation as owner and beneficiary of their life insurance policies, designating future support for K-State students to study overseas and for the Alumni Association to create the Alumni Excellence Award to honor exceptional K-State alumni.
"The award will recognize alumni whose careers, service, and achievements exemplify the spirit, values, and excellence of the university," Curt said. "We have so many alumni who deserve this type of recognition."
The couple wanted to invest in studying abroad after witnessing the effect that experience had on their children.
"They gained such special insight. It impacted who they are today and how they will be able to help others who are less fortunate than themselves," Curt said. "Studying abroad also allows the passion K-Staters have for others to be felt outside of our state and nation.
"As alumni and friends, we have many opportunities during our lifetimes and through our estate plans to assure others can benefit from what K-State offers.
It is a special place which can impact so many."
Advancing global foods leadership with secondary major
Frontier Farm Credit has donated $100,000 to help launch a new universitywide secondary major in global food systems leadership. The gift also helps celebrate the centennial of the Farm Credit System.
"Frontier Farm Credit and Kansas State University each have a long history of serving agriculture," said Parry Briggs (B.S. '05 agricultural economics), regional vice president in Frontier Farm Credit's Manhattan office. "This gift recognizes our shared interest in agriculture and improving global food systems for future generations."
Any student with a primary major in any discipline is eligible to participate in the secondary major. The program offers five different tracks: economics and entrepreneurship, food production and processing, policy, sustainability of natural resources, and community engagement.
"This program will provide students from a variety of backgrounds with a better awareness of food and agriculture," said John Floros, dean of the College of Agriculture and director of K-State Research and Extension.
"It will also provide them with the knowledge and experiences that will make them excellent prospects for employers or graduate schools. We appreciate Frontier Farm Credit's continued generous support of K-State faculty, students, facilities and now, programs."
---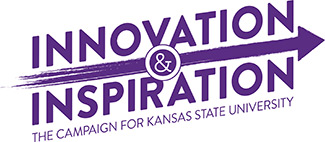 The Innovation and Inspiration Campaign supports K-State's goal to become a top 50 public research university by 2025. The College of Agriculture's $100 million target will fund these priorities:
Student success — $40,000,000
• General undergraduate and graduate scholarships help students pursue a quality education.
• Study abroad experiences prepare students to work for companies with a global focus.
• Diversity in the student body and workforce generates ideas to meet future challenges.
• Extracurricular support provides hands-on experience, such as judging teams and presentations at national meetings.
Faculty development — $23,000,000
• Endowed professorships and chairs allow the college to attract and retain outstanding faculty.
• Research supports agriculture, the state's largest industry, to meet the challenge of feeding more people without additional resources.
• Faculty need quality resources and professional development opportunities to excel in their discipline and help students.
Facility enhancement — $12,000,000
• New buildings with advanced technology are essential for training future scientists and leaders.
• Renovations improve safety and usability of aging buildings and labs.
Excellence funds — $18,000,000
Provide deans and department heads with flexibility to pursue opportunities or address emerging needs for students and faculty.
Programmatic support — $7,000,000
Address additional funding needs to maintain essential existing programs.
Contact: Kim Schirer, 800-432-1578 kims@found.ksu.edu