From the Dean and Director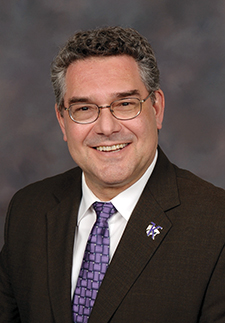 As we near the end of the semester and commencement, I like to reflect on our accomplishments. A recent survey by Niche.com ranked the College of Agriculture fourth in the 2018 Best Colleges for Agricultural Sciences in America.
Shortly after I came to K-State, we established our 2025 goals, which included becoming the Top 5 College of Agriculture in the nation. To date, we have met and surpassed our goals.
Student achievements
Our bright and talented students are central to all our efforts. They choose K-State not just to launch their careers but also to make a difference in a world that needs them to be innovators and problem solvers.
With 35 organizations and 19 competition teams within the college, students have numerous leadership opportunities. Our teams consistently win and place at regional, national, and international contests where they foster valuable industry contacts. Teamwork, critical thinking, and time management are among the skills strengthened through team participation.
The annual Legacy Sale is a tremendous learning experience that showcases the best of the university's purebred bull and cow genetics. Having research facilities adjacent to the main campus increases undergraduate research opportunities that help students understand and evaluate data. Whether they go on to graduate school, return to the ranch, or venture into industry, these students will use data every day to make decisions.
Internships reinforce what students learn in class and often lead to full-time positions. We had 101 employers participate in the annual Agri-Industry Career Fair, which shows that businesses are eager to offer internships and jobs to our students.
Outstanding faculty
The college has a reputation for excellent advising. Faculty mentor students not only in the classroom but also through one-on-one advising and student organizations.
Participation in professional organizations brings new ideas and learning opportunities into the classroom. Undergraduate and graduate students as well as faculty make presentations at various conferences across the country. Our faculty consistently hold leadership roles in national organizations and high-profile committees. They also earn prestigious awards for their innovative teaching, research, and extension programs.
Research and outreach
As the university builds momentum to become a Top 50 research university, the College of Agriculture and K-State Research and Extension lead the way by carrying out crucial work on improving global food systems, conserving water, living healthier lives, revitalizing communities, and developing tomorrow's leaders.
Agriculture accounts for $67.5 billion, or 44.5 percent of the Kansas economy. To improve productivity, producers can access information in multiple formats through K-State Research and Extension's integrated system.
Alumni success
Last year's graduates, December and May combined, comprised the largest graduating class in the college's history. Our graduates are making a difference in Kansas, the nation, and the world.
I'm impressed by the generosity and accomplishments of our alumni and friends. The recent donation to create the Harold and Olympia Lonsinger Sustainability Research Farm provides tremendous opportunities for research, teaching, and extension programs. The College of Agriculture raised a record $20 million last year. Thank you for your continued support.
I believe the articles in this issue clearly illustrate the tremendous value of a K-State College of Agriculture education.
Go Cats!

John D. Floros
Dean and Director