From the Dean and Director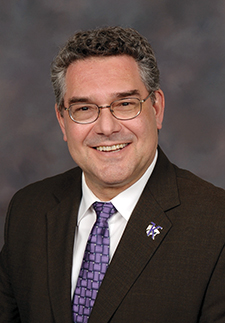 Now in my fifth year as dean and director, I paused to review progress across the College of Agriculture and K-State Research and Extension.
Student Success
Of course students immediately come to mind. Our enrollment has stabilized after about 13 years of steady increases. The last four years rank as the four highest enrollments in the college's history, and agriculture student numbers are now about 50 percent higher than 7–8 years ago.
I can site similar statistics for student retention and success. Even with such increased student numbers, job placement remains as high as ever, about 96–97 percent.
As shown elsewhere in this magazine, our students are continually recognized for their success in the classroom, research labs, and as leaders across campus. Our many competition teams allow students to put what they learn in the classroom into practice and help build networks for internships and job opportunities. Our excellent faculty prepare students to meet the challenges of the future.
The quality of our faculty is recognized on campus, across the country, and internationally. They are frequently invited to address, serve on, and chair national committees and organizations. Their expertise and contacts enhance the classroom experience for students.
Research and Extension
We successfully compete for and obtain grants in areas important to Kansas, including developing more drought-resistant crops, preserving the Ogallala Aquifer, and improving water quality.
Our focused research areas also include precision agriculture, beef and dairy cattle production, swine nutrition, food safety and security, local foods, agribusiness and risk management, pest and disease management, and post-harvest grain storage and processing. Collectively, last year, our faculty brought in almost $60 million to support their programs, an astonishing increase of about 250 percent compared to 5 years ago.
Through our statewide network, K-State Research and Extension personnel are sharing our research results directly with Kansans. We constantly look at more efficient ways to communicate with new audiences, while also serving our longtime stakeholders. We recently rolled out a new "4-H Grows Here" campaign to reach more Kansas youth.
Global Efforts
K-State now boasts four Feed the Future Innovation Labs — Collaborative Research in Sorghum and Millet, Applied Wheat Genomics, Reduction of Post-Harvest Loss, and Sustainable Intensification — with more than $100 million in funding from the U.S. Agency for International Development. With four FTF Innovation Labs, K-State stands at the top nationally, second only to the University of California, Davis.
Generous Support
With help from our students, alumni, and friends, our fundraising efforts have grown tremendously. During the last 4–5 years, we have raised $10–15 million per year to support students, faculty, and many other programs, an amount 2–3 times higher than before.
Our third annual Henry C. Gardiner Global Foods System Lecture on October 3 will feature Professor Jay Famiglietti from the University of California, Irvine, who will discuss Water, Food, and Energy: Interwoven Challenges to Sustainable Resource Management. The lecture series, free and open to the public, offers diverse views to enrich our students' understanding of important food systems topics.
I'm proud of what we have accomplished and look forward to continued success.


John D. Floros
Dean and Director