From the Dean and Director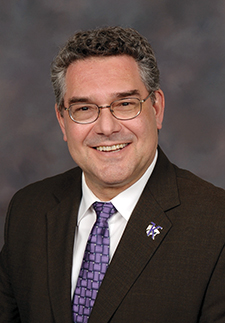 Thank you to the alumni, faculty and staff, students, and stakeholders who took part in my five-year review. I appreciate your comments and support to continue as dean and director. It has been my privilege to serve you, the College of Agriculture, K-State Research and Extension, the university, and all Kansas citizens through the last five years.
I look forward to continuing my service for the next five years. My vision remains steadfast: to be a top five College of Agriculture in the nation, and to be a top destination for education, research, and extension.
March 2017 marked the 130th anniversary of the Kansas Agricultural Experiment Station, the research arm of K-State Research and Extension. It funds research projects at research facilities across the state plus 20 academic departments in the colleges of Agriculture, Arts and Sciences, Engineering, Human Ecology, and Veterinary Medicine. This year, we will continue to emphasize and improve our research enterprise.
Meeting Needs
Since 2012, the College of Agriculture has received more research award dollars than any other K-State college. In 2016, the college and K-State Research and Extension accounted for about 55 percent of the university's total research expenditures. We are able to attract grant funds because our faculty are very competitive and focus on topics relevant to Kansas, the nation, and the world.
Agriculture continues to be the largest employer in Kansas, contributing 43 percent of the state's economy. We must honor our land-grant mission by educating tomorrow's leaders, conducting relevant research, and distributing pertinent information through our statewide network of county and district offices.
Looking Ahead
Enrollment is stable and the placement rate remains at 97 percent. Staying in touch with alumni and other stakeholders provides valuable feedback to make sure our curriculum adapts to meet industry needs. Leadership positions in college organizations and competition teams, study-abroad opportunities, and internships also ensure our students are career ready.
As state funding decreases, tuition and the need for scholarships increase. The college provided about $1.5 million in scholarships this year. Fellowships and professorships that help fund faculty in various departments enable us to hire and retain high-quality faculty. We appreciate your financial support in these important endeavors.
Each semester, students from each department are invited to speak to my advisory council and leadership team. The council is always impressed with the quality, knowledge, and professionalism of our students. Many undergraduate and graduate students are working on complex research projects; they are the scientists of tomorrow.
Daryl Buchholz and Steven Graham recently retired. They brought great experience and tremendous service to
K-State. We will miss both of them, but we want to wish them many happy and active years ahead.
Gregg Hadley accepted the position of associate director of extension, "replacing" Daryl Buchholz. For the last five years, Gregg served as assistant director for agriculture, natural resources, and community development. I welcome Gregg to our leadership team as we continue toward our vision of making K-State Research and Extension a global leader in education, research, and extension.
I look forward to seeing many of you at events, including the Sept. 11 Henry C. Gardiner Global Food Systems Lecture on Feeding the World, Sustaining the Planet.
Go Cats!


John D. Floros
Dean and Director