Sharing Experiences
Distinguished Young Alumnus Talks About Life After K-State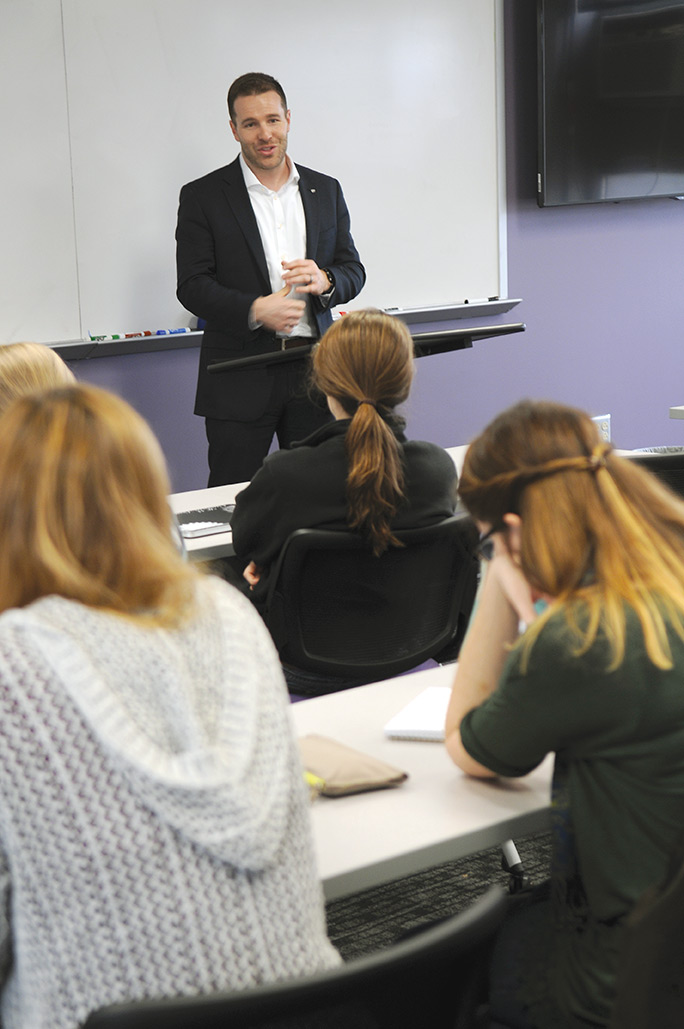 Former student body president Dalton Henry was named a 2017 Distinguished Young Alumnus by the K-State Alumni Association's Student Alumni Board and board of directors.
Henry (B.S.'10 agricultural communications and journalism) serves as the legislative director for U.S. Rep. Roger Marshall. Prior to that role, he was the director of policy with U.S. Wheat Associates.
"I loved my time at U.S. Wheat, but the opportunity to work for my home district congressman and to broaden the portfolio of issues that I work on was too good to pass up," Henry said. "My role is focused on the legislative side of the office, covering a half dozen issues including ag and energy for the congressman and coordinating coverage of other issues within our office."
In addition to serving as student body president in 2009–2010, Henry was a member of Alpha Gamma Rho fraternity, Blue Key Honor Society, College of Agriculture Ambassadors, Agricultural Communicators of Tomorrow, and the Agricultural Economics Club.
"I was really fortunate to work in Manhattan for five years right after I graduated," he said. "I had built such a personal connection to campus and the people there that staying connected was really rewarding.
"Now that I've been in D.C. for a couple of years, I always look forward to having K-State groups come through the office and of course football season, when D.C. area alumni gather for watch parties."
"As any graduate of the college knows, it really is a special place," he said. "I think one of the most remarkable things is that it has kept all of the things that make it great despite the world changing around it and the college growing by 50 percent since my time as a student.
"When I've had a chance to be back on campus or connect with current students interning in D.C., it is clear that the college continues to prioritize a world-class student experience, along with family atmosphere and research that matters to Kansans."
As part of the award process, Henry gave a keynote address and visited student groups and classes.
"Dalton's message resonated with me because he had similar interests when he was at K-State that I do currently," said Jamie Morrissey, senior in agricultural communications and journalism with a minor in political science.
"Listening to someone who is successful in my chosen career field and who also comes from the same educational background was relatable and enlightening.
"I enjoyed listening to him speak on current issues that are important to agriculture coming from the practitioner's perspective. We can talk about issues in class, but it is very different when you are actively working to make those changes in policy on a daily basis."
Two awards are presented annually. Henry is the fourth College of Agriculture alumnus to receive the award since it was established in 2013.