Sage Advice from Alumni Fellows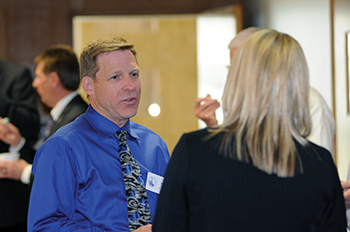 Choosing a career path can be daunting. Advice from those who have successfully made those tough choices often inspires students. For that reason, Kansas State University annually recognizes an Alumni Fellow from each college and invites him or her to campus to discuss current business and industry trends and meet with students and faculty.
The College of Agriculture selected David Rock, manager of channel development for the United States and Canada for John Deere.
Steve Goll, director of research and development/processed meats business units at Tyson Foods Inc., was honored by the Graduate School. Both spoke to multiple classes during their two days on the Manhattan campus.
Five words
Rock, a native of rural Hope in Dickinson County, earned a bachelor's degree in agricultural mechanization in 1980, which included a variety of business and economics classes. He completed a master of agribusiness in 2003. He also serves on the Dean and Director's Advisory Council.
As he spoke to classes, he emphasized five words. The first two — unexpected and patience — describe his 37-year career at John Deere.
During his career with John Deere, Rock had held 18 different positions in seven states, done project work in several foreign countries, and was transitioning to a new job as region operations manager.
Having so many different opportunities and experiences is not what he "expected" when he joined the company.
He asked the students if they wanted a job or a career. "I wanted a career not a job, which is where patience comes in," Rock said.
By patiently working a variety of jobs, he learned about John Deere and gained valuable experience. He also realized that the company's values and goals matched his desire to work with production agriculture and concentrate on the needs of John Deere dealers and customers for productive and effective mechanization.
The remaining three words of advice for success were differentiation, reputation, and margin.
"Differentiate yourself and stand out from the crowd," Rock said.
He encouraged students to develop a worldview by getting to know students and faculty from around the world.
To build a good reputation, he recommended developing expertise, being consistent, having a "get-it-done" attitude, valuing integrity, showing initiative, and being known as a problem solver.
His final word was margin, which he described as having the capacity to do more, to take on more responsibility.
"Leave your thumbprint on things, don't accept things as they are," Rock said.
Products and patents
Steve Goll completed a bachelor's degree in animal science and a master's degree in meat and animal science at the University of Nebraska–Lincoln before coming to K-State for his doctorate. As a doctoral candidate, he taught classes and managed laboratories.
After completing his Ph.D. in 1988, Goll joined Oscar Mayer/Kraft Foods as associate director of research and development. He holds six patents related to the development of Lunchables and Claussen Pickles. He also led strategic planning for the areas of Technology, Operations, and Procurement for the Meat and Pizza divisions.
In 2004, he joined Tyson Foods in Springdale, Arkansas, where he is responsible for all development and culinary activities for processed meat projects including new products, quality improvements, brand maintenance, and optimization.
Throughout his career, Goll has been active in the American Meat Science Association and was recently elected president of the organization.
While on campus, Goll presented a seminar then visited with students about his career choices.
He explained that Lunchables — a prepackaged lunch often including Oscar Mayer meat, crackers, and Kraft cheese — were developed to help busy moms. The company later realized that busy moms also enjoyed eating them and developed an adult version.
"It can take 18 to 24 months to develop a product from concept to shelf," Goll explained.
Because Goll holds several patents, students were curious about intellectual property rights. They also asked about transitioning from school to industry and how to combine research interests with management.
Goll encouraged them "not to be afraid to pursue opportunities and establish mentor relationships."
"Steve Goll was an excellent speaker," said Macy Sherwin, senior in food science and industry from Lenexa. "As a student, it is encouraging to know that although life may throw 'crucible' experiences your way, it is possible to not only survive, but thrive.
"By having alumni return and share about their success in industry, it allows students to see that our dreams are attainable. The question and answer segment of the lecture was invaluable, and I really appreciated Steve's honest feedback."