College as Family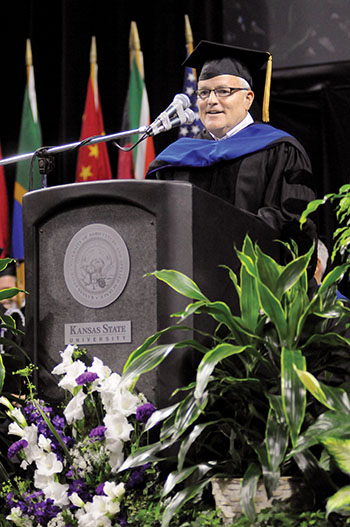 On April 29, the Agricultural Alumni Board recognized Robert Broeckelman, Distinguished Alumnus; Anne Hazlett, Outstanding Young Alumna; and Shannon Washburn, David J. Mugler Outstanding Teacher.
Distinguished Alumnus
Robert "Bob" Broeckelman was not able to attend the reception because of a family commitment in Atlanta, Georgia. He sent an acceptance letter, read by John Coen, board vice president.
"I am truly honored and deeply humbled by this honor," wrote Broeckelman. "It means so much because KSU helped shape my life."
He closed with "K-State is a family, and I'm proud to be part of it."
As a student, Broeckelman served as rush chairman for Alpha Gamma Rho chapter. He earned a bachelor's degree in agricultural education in 1970 and a master's degree in adult and occupational education in 1972.
He taught vocational agriculture for five years in Norton. From 1977 to 1981, he served as executive secretary for Kansas FFA and Young Farmer organizations.
For the next six years, he managed employment and trainee development for Farm Credit Bank of Wichita. Broeckelman completed a doctorate at K-State in 1988 and was promoted to director of Human Resource Services for Kansas, Oklahoma, Colorado, and New Mexico.
From 1994 to 2007, he directed the employment and training area for USAgBank throughout nine states. In 2008, he was promoted to vice president of recruiting and selection for FCC Services Inc.
He retired from Farm Credit in 2014, but continues working as director of business development for Dale Carnegie Training.
He and his wife created the Dr. Bob and Bunny Broeckelman Agricultural Education Scholarship to support Kansas' agricultural education students.
Broeckelman spoke at the College of Agriculture commencement on May 14.
Outstanding Young Alumna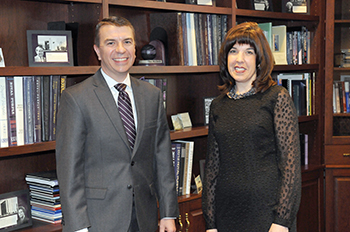 Anne Hazlett said she remembers visiting K-State and meeting her new "family" 700 miles from her Indiana home.
"My family still jokes about Calvin Drake, professor of animal sciences, taking the time to drive us around campus and Manhattan," Hazlett said. "I'm thankful for the knowledge, mentoring, and networking opportunities I received at K-State."
She now serves as Republican chief counsel to the U.S. Senate Committee on Agriculture, Nutrition and Forestry under Chairman Pat Roberts of Kansas. In this capacity, she is responsible for assisting members of Congress and their staff in developing legislative policy and drafting legislation pertaining to issues affecting production agriculture and rural America.
Previously, Hazlett was director of agriculture for Indiana, where she managed the State Department of Agriculture and advised Gov. Mitch Daniels on agriculture and rural policy. She also served as chief of staff to Indiana Lt. Gov. Becky Skillman.
Hazlett worked as legal counsel to the U.S. House and Senate Agriculture committees during development of the 2002, 2008, and 2014 farm bills. She also worked for several farm organizations, including the Indiana and California Farm Bureaus.
She graduated magna cum laude in 1995 with a bachelor's degree in agricultural journalism. While at K-State, she was active in Agriculture Ambassadors, Block and Bridle, Agricultural Communicators of Tomorrow, and the Rodeo Club. In addition to her Wildcat education, Hazlett holds a law degree from Indiana University and a master's degree in agricultural law from the University of Arkansas.
David J. Mugler Outstanding Teaching Award
As he accepted the teaching award, Shannon Washburn reflected on the importance of the personal connection he had with Associate Dean Dave Mugler.
"I was a teaching assistant for Dr. Mugler's Ag Orientation class," said Washburn. "I had 10 minutes every Tuesday walking with him to class. What a valuable time to learn from him. He was a wonderful example of how to balance work and family."
Washburn became assistant dean in June 2015. He previously served seven years as a professor and associate professor in the Department of Communications and Agricultural Education. In addition to teaching and advising, he traveled internationally for educational seminars for agriculture teachers and research projects funded by the U.S. Agency for International Development and the National Science Foundation. He also helped K-State Research and Extension agents improve their presentation skills and served on the Agricultural Alumni Board.
From 2002 to 2008, Washburn taught at the University of Florida, Gainesville, where he coordinated a statewide Agriscience Teacher Professional Development Continuum and various 4-H and FFA youth career development opportunities. He also led international faculty development programs for Haitian and Egyptian faculty.
He was a graduate assistant at the University of Missouri, Columbia, for two years while working toward a doctorate in agricultural education. He was an instructor in K-State's Department of Secondary Education and earned a master's degree in 2000.
Washburn taught classes and advised the Hugoton FFA for three years after completing his bachelor's degree in agricultural education in 1995.
His ability to connect with students and his breadth of experience in teaching, advising, and international experience makes Shannon Washburn a worthy recipient of the David J. Mugler Teaching Award.