Notes
'70s
Keith Heikes (B.S. '79 dairy production received the 2017 Kansas Dairy Leader Award. He has 20 years experience with Genex Cooperative Inc. He previously was general manager for NOBA Inc. in Ohio and was a dairy specialist for the Kansas Artificial Breeding Service Unit at K-State.
Maureen Olewnik (B.S. '79 life sciences, M.S. '83, Ph.D. '03 grain science) has been named coordinator of the global food systems initiative. She previously served as principal for innovation and industry affairs, senior vice president for food safety services, and vice president of food safety and technical services at AIB International. She has been elected president of AACC International, formerly the American Association of Cereal Chemists.
---
'80s
Shad Marston (B.S. '86 agricultural education) is the K-State Research and Extension, McPherson County agriculture and natural resources agent. He recently was the agricultural educator at Moundridge High School in Moundridge, Kansas.
Gregg Doud (B.S. '89 animal sciences, M.S. '91 agricultural economics) was named chief agricultural negotiator in the office of the U.S. Trade Representative by President Trump. Doud was president of the Commodity Markets Council, served as a senior staff member of the Senate Agriculture Committee for Sen. Pat Roberts and Sen. Thad Cochran, chief economist for the National Cattlemen's Beef Association and worked for U.S. Wheat Associates and World Perspectives.
---
'90s
Wendy Hughes (B.S. '91 animal sciences) is the K-State Research and Extension, Rice County director. She had been the 4-H program assistant.
Beth Gaines (B.S. '91 agricultural journalism) is now the executive director of the Kansas FFA Foundation. She secures funding for scholarships, leadership enrichment programs, and recognition awards for Kansas FFA members and agricultural education programs.
Mark Fowler (B.S. '92 milling science and management, M.S. '06 agricultural economics) is the new vice president of overseas operations for U.S Wheat Associates. He garnered various international experience working for Cargill, Seabord Corp., and 12 years with K-State's IGP Institute.
Abbey Nutsch (B.S. '94, Ph.D. '98 food science), assistant professor of food science, received the 2017 K-State Global Campus Outstanding Advisor Award.
The U.S. Secretary of Agriculture appointed Anne Hazlett (B.S. '95 agricultural journalism) assistant to the secretary for rural development. She will oversee the Rural Utilities Service, the Rural Business Service, and the Rural Housing Service within USDA and report directly to the secretary.
---
'00s
Shannon Blocker (B.S. '00 agricultural education, M.S. '09 agronomy) is K-State Research and Extension, Pottawatomie County agriculture and natural resources agent. She had been the horticulture agent in the Frontier Extension District.
J.J. Jones (B.S. '04 animal sciences) has been appointed interim president of the Kansas Agriculture and Rural Leadership program. Jones is a graduate of KARL Class 10.
Sarah Reasoner (B.S. '04 animal sciences, M.S. '14 biomedical science), animal sciences and industry distance program coordinator, earned the 2017 Friend of K-State Global Campus Award.
Amanda Tomlinson (B.S. '04 agricultural communications and journalism), technical editor in the Department of Communications and Agricultural Education, won the Educational Aids Blue Ribbon for the American Society of Agricultural and Biological Engineers. Her role was setting up the website plus planning and editing a video series.
Jessie Vipham (B.S. '09 agribusiness) joined the K-State animal sciences and industry department as an assistant professor conducting research for the Feed the Future Innovation Lab for Collaborative Research on Sustainable Intensification.
Natalie Anderson (M.S. '12 animal sciences) is the communications coordinator for the Kansas Foundation for Agriculture in the Classroom. She previously was brand manager for Certified Angus Beef LLC in Wooster, Ohio.
---
'10s
Nicholas Sevart (B.S. '11, Ph.D. candidate food science), was one of 15 students from around the world to receive a $2,000 travel scholarship to attend the International Association for Food Protection's annual conference.
Ariel Whitely (B.S. '14 horticulture) is the K-State Research and Extension, Shawnee County horticulture agent. She had been the production supervisor at Free State Growers in Linwood.
Jessica Barnett (B.S. '14 agronomy and biological systems engineering) is the K-State Research and Extension, Johnson County agriculture and natural resources agent. She recently worked as an agronomist and agricultural engineer for Agro Engineering in Alamosa, Colorado.
Second-year veterinary student Samantha Boyajian (B.S. '15 animal sciences), Gardner, and third-year veterinary student Sohaila Jafarian (B.S. '11 animal sciences) joined 70 veterinary students and 20 veterinarians in Washington, D.C., for the American Veterinary Medical Association's Legislative Fly-in.
Garrison Gundy (B.S. '15 agronomy), master's student, received the College of Agriculture Richard Elmore Brown Graduate Teaching Award.
Cassie Wandersee (M.S. '16 agriculture education and communications) earned the outstanding thesis award from the Association for Communication Excellence.
Cassandra Homan (B.S. '17 horticulture) is the K-State Research and Extension, Post Rock District horticulture agent.
Tyler Cates (B.S. '17 agricultural education) is the plant manager for Blueville Nursery in Manhattan.
Barrett Simon (B.S. '17 animal sciences) is the K-State Research and Extension, Post Rock District livestock agent. He recently worked for Opportunity Livestock in Manhattan.
---
In Memoriam
Kenneth Corke (B.S. '48 animal sciences), 95, Goodland, died Feb. 4, 2017. He was a World War II veteran and retired co-op feed mill manager. In retirement, he worked for many local farmers and volunteered in his community.
W. Gale Mullen (B.S. '50 agronomy), 91, Erie, died May 10, 2017. He served as an agent in Brown, Russell, Allen, and Neosho counties. From 1961 to 1982, he was an area extension agricultural economist for the Kansas Farm Management Association.
Maurice McClure (B.S. '53 animal sciences), 89, Phillipsburg, died June 8, 2017. He was the father of Greg McClure (B.S. '80 animal sciences), K-State Research and Extension, Riley County agriculture and natural resources agent.
Herman Westmeyer (M.S. '65 animal sciences), 104, Manhattan, died May 8, 2017. His extension career spanned from 1936 to 1978 minus four years serving in World War II. He was a county extension agent in Lane, Barber, Harper, Harvey, and Ford counties; extension beef cattle specialist on campus and the southeast area; and southeast area extension director.
---
Alumni helped organize competitions and coach students when K-State hosted the North American Colleges and Teachers of Agriculture Judging Conference in April. Front row (l-r) with graduation years and current employer or K-State department: Chelsea Ahlquist '14 Cloud County Community College; Cathie Lavis '93, '05 Horticulture and Natural Resources; Dana Minihan '03 Kansas Department of Agriculture; Teresa Douthit '00, '01 Animal Sciences and Industry; Alyson Lister '12, '14 College of Agriculture Academic Programs. Standing: Kim Kerschen '12, '14 Agronomy; Chris Mullinix '96 Animal Sciences and Industry; Jessica Bramhall '16 Wilbur Ellis Company; Brad Ramsdale '92, '95 Nebraska College of Technical Agriculture; Erin Bush '16 Agronomy; Curtis Bensch '01 Oklahoma Panhandle State University; Kim Williams '88 Horticulture and Natural Resources; Drew Cotton '04 Black Hawk College; Jason Ellis '98 Communications and Agricultural Education; James Lattimer '02, '12 Animal Sciences and Industry; Kevin Donnelly '72, '74 Agronomy. See Competition in the Little Apple for more information.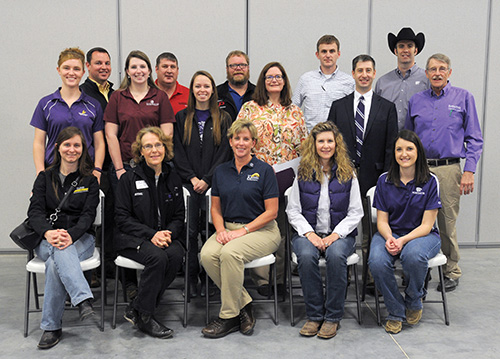 ---
Thank you to the readers who noticed the caption error on page 28 of the spring 2017 issue. It was Charles Norton, not Harold Roberts, handing the ice cream cone to Lynn Dickey. Here's a note from Heath Schesser (B.S. '01 horticulture). — Editor.
I was surprised to see my grandfather, Dr. Charles L. "Charlie" Norton in a picture along with Lynn Dickey and Harold Roberts, my grandfather's best friend.
Dr. Norton, or Grandpa Charlie, taught for many years at KSU in dairy science, was department head at one time, and coached the judging team for many years. He was so influential both nationally and internationally, that he was inducted into the National Dairy Shrine, which is the dairy industry's Hall of Fame.
I spent many summer days growing up in Manhattan going to the Call Hall Dairy Bar, and you can bet there was always K-State ice cream in grandpa's freezer. While attending K-State, I would cap off a tough test with a strawberry cone from the Dairy Bar. It was, and still is, a very special place to me.